Driven by automation and connectivity, the rise of Industry 4.0 will inevitably change how we work. But contrary to widespread fears, it doesn't mean the end of the human worker. For many companies embracing the Fourth Industrial Revolution, people remain at the centre of their business operations.
Today a rise in wearable devices is creating a new generation of tech-augmented workers, or the "Worker 4.0". By enhancing human performance, these devices mean employees are safer, stronger, better connected and more efficient, with less time spent on repetitive, physically demanding tasks and more on data analysis, giving added value to the company.
Reality Check
As AR and VR technologies develop, the huge volume of digital data that smart products generate can actually be used in real world scenarios. From hosting remote meetings to carrying out maintenance, these technologies are revolutionizing the workplace, with progressive tech companies rolling out an ever-growing number of products to streamline business operations and boost profitability.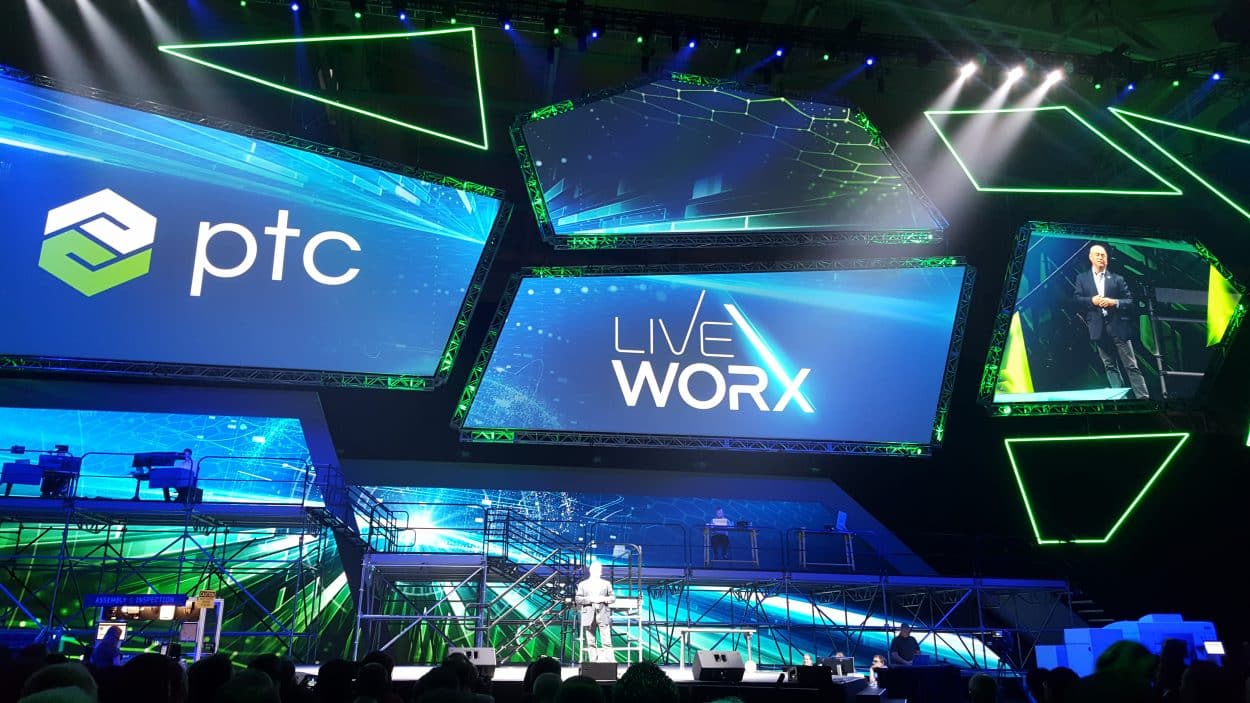 Computer software PTC is one such company. During their annual tech conference in Boston, their CEO Jim Heppelmann presented several AR solutions aimed at assisting industrial companies into their digital transformation journey like Vuforia Expert Capture. Officially launched at Hannover Messe last April, this software acts as a mentor for industrial operators. Its guides them throughout their tasks whether it is inspection, maintenance or training. The operators wear an helmet, for example a Microsoft Hololens and the system overlays virtual elements on the physical world, for example a production line, telling them what they should do, what tool to use, what part to inspect.
During its keynote, Heppelmann explained the goal of such new tech for the industrial world.
When we marry digital with human — which is what AR is all about — we get vastly more productive workers, thanks to the ability of the digital world to monitor, control, and optimise the world of humans.
Specialized in AR-related business software, the German start-up Ubimax's flagship product is Frontline, a wearable computing platform. Integrating a range of Ubimax software pertaining to production, deployment, operation and quality control, it works with smart glasses like Vuzix M300 and Microsoft's HoloLens.
Ubimax's PR and marketing manager Julia Widmer explained:
Using Frontline, Samsung has increased production speed by 22% and reduced their error rate by 10%, while shock absorber manufacturer KONI has increased order picking accuracy to over 99.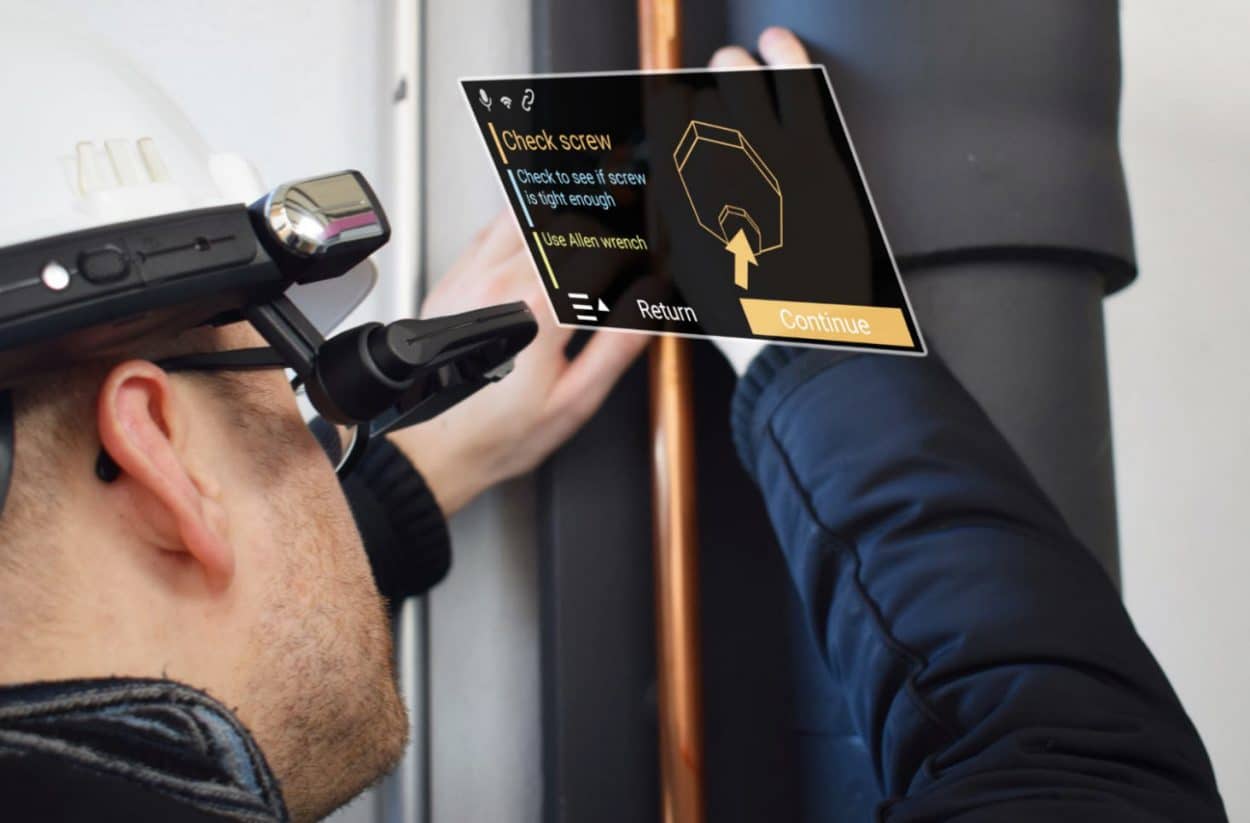 Super Specs
Workplace AR is enabled by a combination of software and hardware and involves smart helmets. And according to PTC's Heppelmann, "the concept of smart glasses is exploding". DAQRI, Microsoft HoloLens, Vuzix all target manufacturing, maintenance and construction industries. An increasing number of companies are already integrating Microsoft's Hololens into their day-to-day operations. Maintenance technicians with German multinational ThyssenKrupp use the device to give themselves hands-free, remote access to site-specific elevator information and expert advice, reducing both service time and downtime.
The DAQRI DAQRI Smart Glasses are a lightweight pair of glasses connected (by cable) to a powerful portable miniature computer. With a 44-degree field of view, the headset contains multiple sensors to position the wearer in a given environment. For Jason Haggar, DAQRI's vice president for global partner and developer programs:
AR is hugely beneficial at the intersection of high value assets – such as buildings and industrial equipment – and complex tasks. It can significantly boost worker efficiency and accuracy in design, building, operating and retrofitting.
Power Without Pain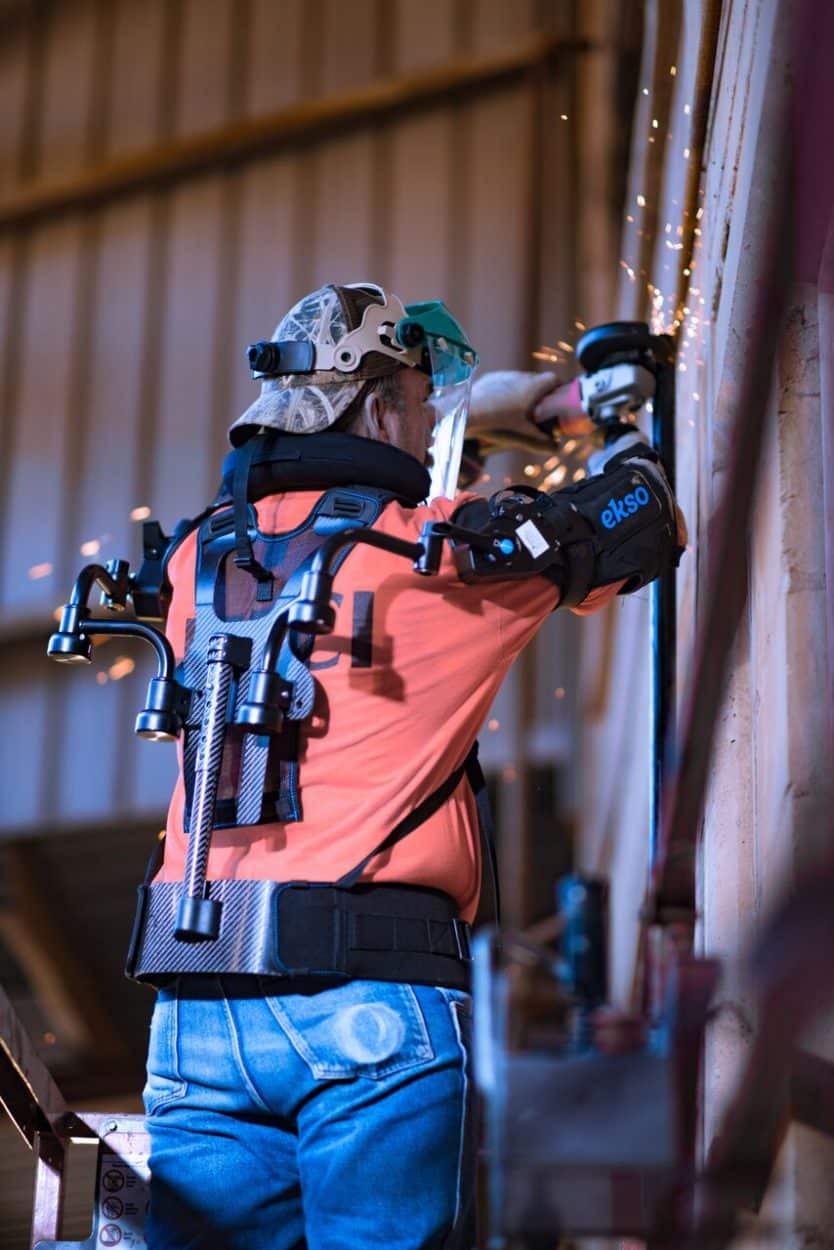 Underpinned by stronger connections between the digital and real worlds, the Worker 4.0 concept is about improved data access and analytical capabilities. But it also about maximizing (and safeguarding) human performance in other ways too.
Developments in robotics technology mean human workers can now perform superhuman feats. Founded in 2005, California-based Ekso Bionics produces some of the most innovative robotic exoskeletons on the market. The company's EskoZeroG gravity balancing arm helps workers lift tools weighing up to 16 kg, while the EksoVest is an upper-body exoskeleton that helps workers lift lighter loads. By the end of 2019 a full-body version of the vest could be available to enable workers to carry heavier loads without needing specialized vehicles.
The ComHAND system, from French start-up SiaTECH, uses state-of-the-art digital sensor technology to control industrial machinery. Operators interact with the machinery using simple, intuitive arm motions, which are interpreted and transmitted by means of a motion sensor bracelet and control ring. In addition to increasing efficiency (with productivity gains of up to 20% over conventional remote control units), the system also improves worker safety and ergonomic comfort.
Enhanced safety is also a key benefit of BIONEAR, launched in 2016 by French tech company Cotral Communication. Designed for workers operating in noisy environments, these smart earbuds protect hearing through intelligent noise reduction, while simultaneously allowing workers to communicate and control connected devices with their voices.
Daniel Allen contributed to this report.