Human-robot collaboration is fast becoming a norm in automation, particularly among smaller manufacturers. With the collaborative robot offering flexibility and affordability, the industrial world has embraced the concept of a "cobotic" future.
Mark Gray, area sales manager in the UK and Northern Ireland for Universal Robots, says the original concept of the "cobot" was to make robots for smaller outfits.
These companies would traditionally have found robots too expensive and would not have had the required specialist skills to use them.
Cobots have now been adopted by larger organizations too and are present in the automotive, food packaging, plastics, pharmaceutical, fast-moving consumer goods and logistics industries.
People are starting to wake up to the possibility of cobots as a completely new stream of automation – and this will only improve as industry 4.0 promotes their connectivity to other devices.
Replacing the Repetitive
The original founders of Denmark-based Universal Robots were seeking to resolve labor shortage issues within manufacturing, Gray explains:
They wanted to build a six-axis robot arm which could work alongside people without the need for a cage or machine guard around it. They identified there were a lot of small manual tasks that could be carried out by the robot and came up with a range of robotic arms that were quick to install, very simple to program and could work alongside people.
The company now has some 21,000 cobots deployed across the world. Its UR3 is "a small desktop robot" for assemblies; the UR5 is capable of moving parts in and out of machines, while the UR10 can be employed for end-of-line packing.
Gray stresses:
We want to make people's jobs easier. We do not want to replace jobs but to encourage the use of cobots to replace dirty or repetitive tasks.
Kostal Automotive Electrical Systems has integrated cobots from Universal Robots into its UK base where it is developing a program for automotive testing and packaging of components.
Kevin Dunkley, equipment manufacturing manager, says:
The cobots were easy to integrate and are able to work alongside people at the speed we require. They are never off sick and they don't need rests; they are very precise and do the same job – day in and day out – to the same quality level." For him, "this is the way the world is going and we plan to bring more in.
Safety First
Features such as sensors, speed restrictions and payload limits make cobots suitable for humans to work alongside.
Darius Wilke, director of European Business at US-based Rethink Robotics, says from the beginning their Sawyer cobot was designed with safety in mind.
It has force-sensing capabilities that prompt it to stop moving when it comes into contact with another body. None of our customers need cages in their factories, which frees up a considerable amount of space to be used for other tasks.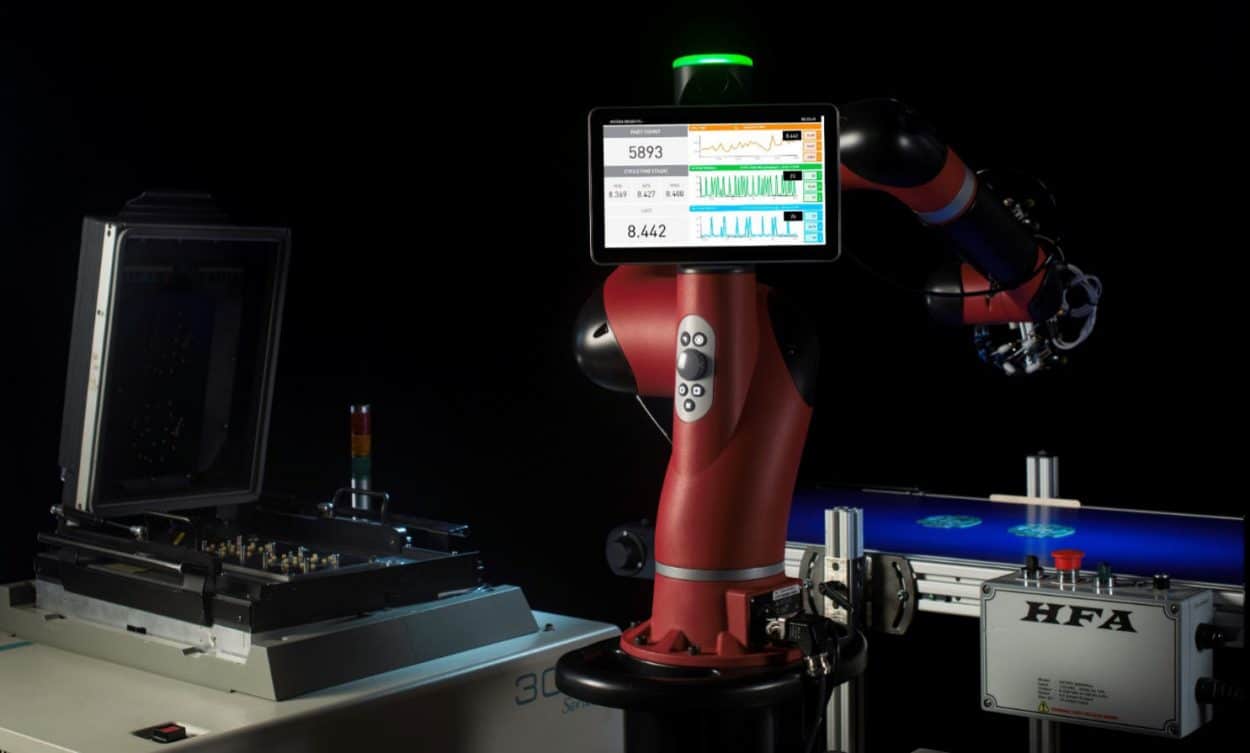 He explains the technology behind Sawyer:
Its arm also has seven degrees of freedom, which gives the robot the ability to adapt to unique tasks and maneuver with efficiency.
Sawyer is powered by the Intera software program, which gives operators and line managers data at a glance, like cycle time, part count, speed and force.
Intera Insights displays key performance indicators through a customizable dashboard on the robot's on-board display, allowing manufacturers to optimize cycle time with improved vision or leverage in-house vision systems.
No Experience Necessary
The Intera Insights allows workers with no previous coding experience to train the cobot. Workers can program Sawyer to fill a box up with a certain part, and to stop when finished. Sawyer will only resume the task when a human can collect the box and give the robot a gentle push to resume.
He adds:
Sawyer thrives in industries that rely on product customization, including the plastics, packaging, electronics and automotive industries.
An Intelligent Assistant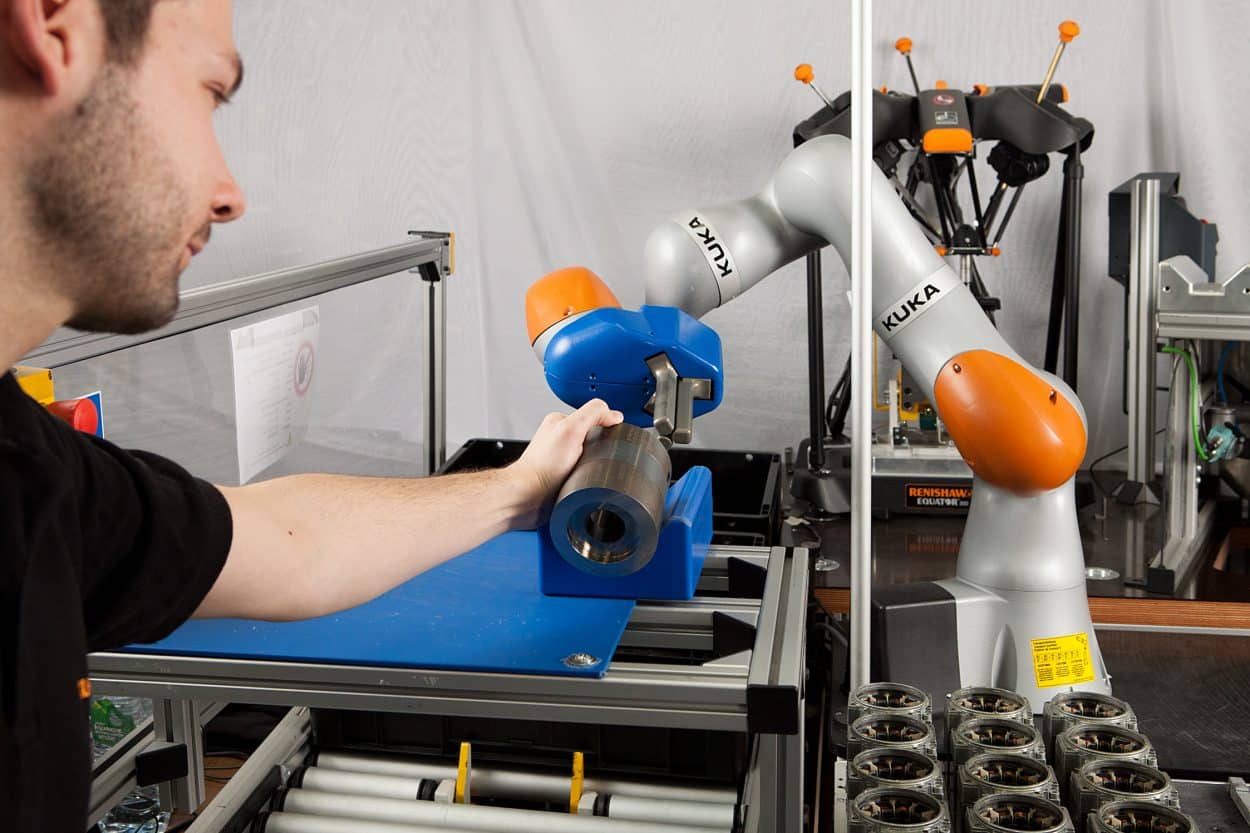 Global automation corporation KUKA developed its lightweight robot LBR iiwa – intelligent industrial work assistant – with seven axes. It is based on the human arm and can be operated in position and compliance control. This, combined with the integrated sensor systems, endows it with programmable sensitivity.
Its high-performance collision detection function and integrated joint torque sensors in all axes make it suitable for delicate joining processes and allow the use of simple tools. It is ideal for confined installation situations and is easily integrated into existing production systems. It can even be used in the interior of a vehicle, moving backwards and forwards to carry out screw fastening tasks.
Looking Ahead
KUKA insists the human operator remains the cognitive force, working creatively and as a strategist – while the robot brings its repeatability, strength and endurance to the collaboration.
For the company's spokesperson,
Its abilities will keep improving. Robots will continue to work better with humans, master gesture control and voice control, become aware of their environment and intuitively integrate into variable processes. Intelligent machines will be mobile and able to learn, share knowledge and act in swarms – thus playing a pivotal role in the factory of the future.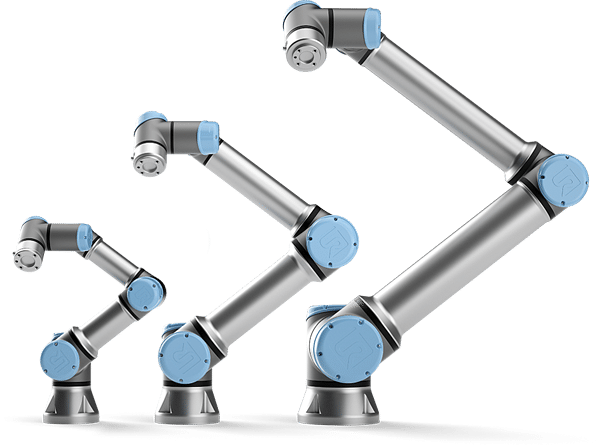 How to Choose the Right Cobot?
Read our buying guide and make the smart choice.