If electric vehicles are to become the norm, new weight-saving polymers, thermally efficient designs and other energy-saving innovations will be required. Some of them were unveiled last month at K Fair in Germany.
Ever since 400,000 people put down US$1,000 each to pre-order a Tesla Model 5 in April 2016, the automotive industry has known one thing—consumers want electric vehicles, and they want them sooner than anyone expected. Since just 1% of the 89 million vehicles projected to be manufactured this year are electric, some serious supply-side innovation is required.
Towards Electromobility
A big complaint about electric cars is that their range rarely exceeds 100 km on a single battery charge. Cue the lightweight automotive designs unveiled at October's K Fair in Düsseldorf.
Jochen Hardt, VP of Global Marketing, Automotive & Transportation at Covestro says:
With acceleration, weight plays an important role, which is why real-life use of electric cars differs so much from the catalogue battery life, which doesn't take this into account.
Covestro's design concept for a contemporary electric car has polycarbonate wrap-around glazing as part of a slim, seamless. Lighter than glass and metal, polycarbonate could help extend range.
This is only a prototype, but using polycarbonate instead of glass saves 30-50% on weight, about the same as for steel. Polycarbonate also has thermal insulation properties, so you would also spend less energy on heating.
Cars with some of these features are expected to be on the road within 3 to 5 years.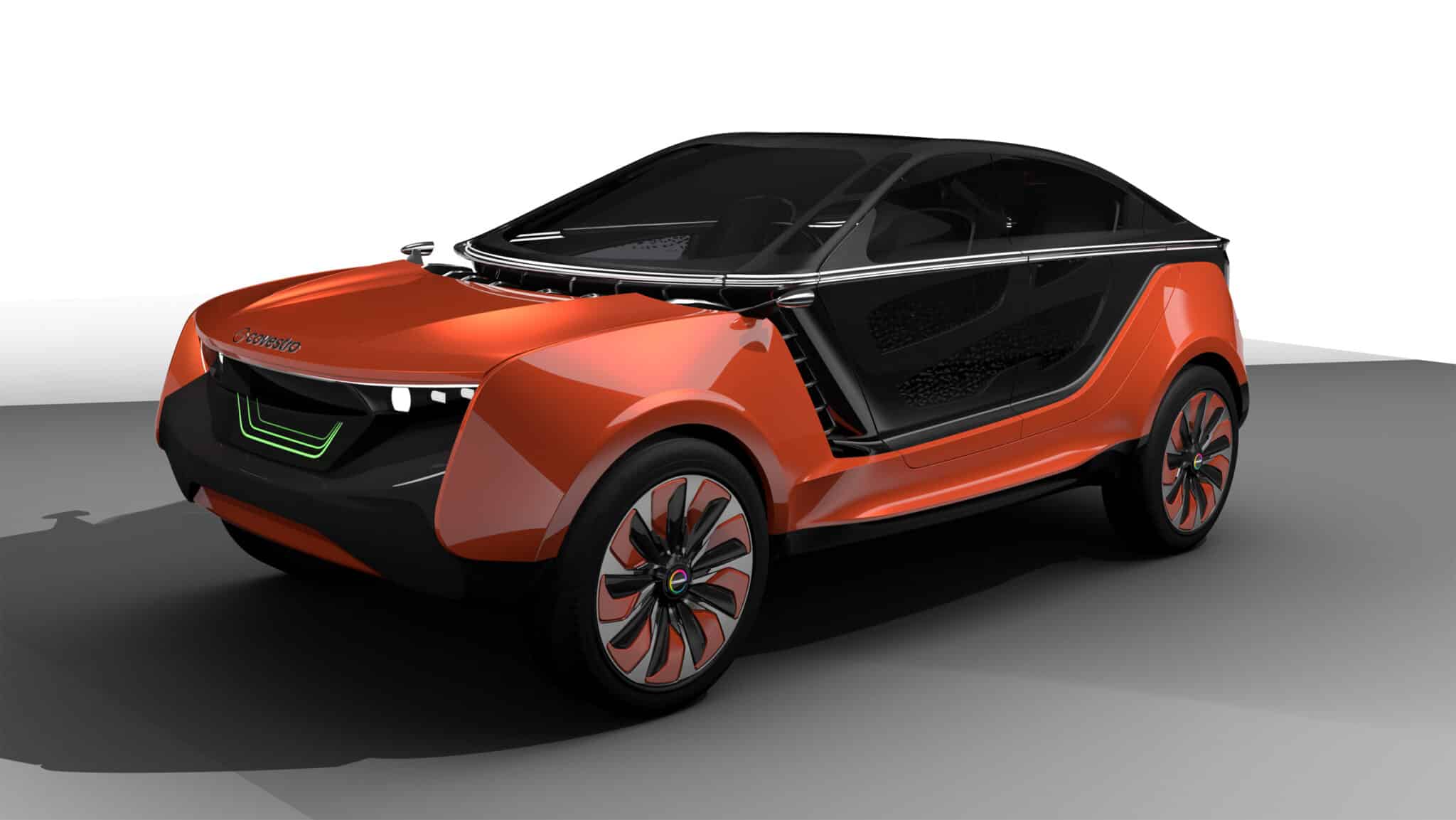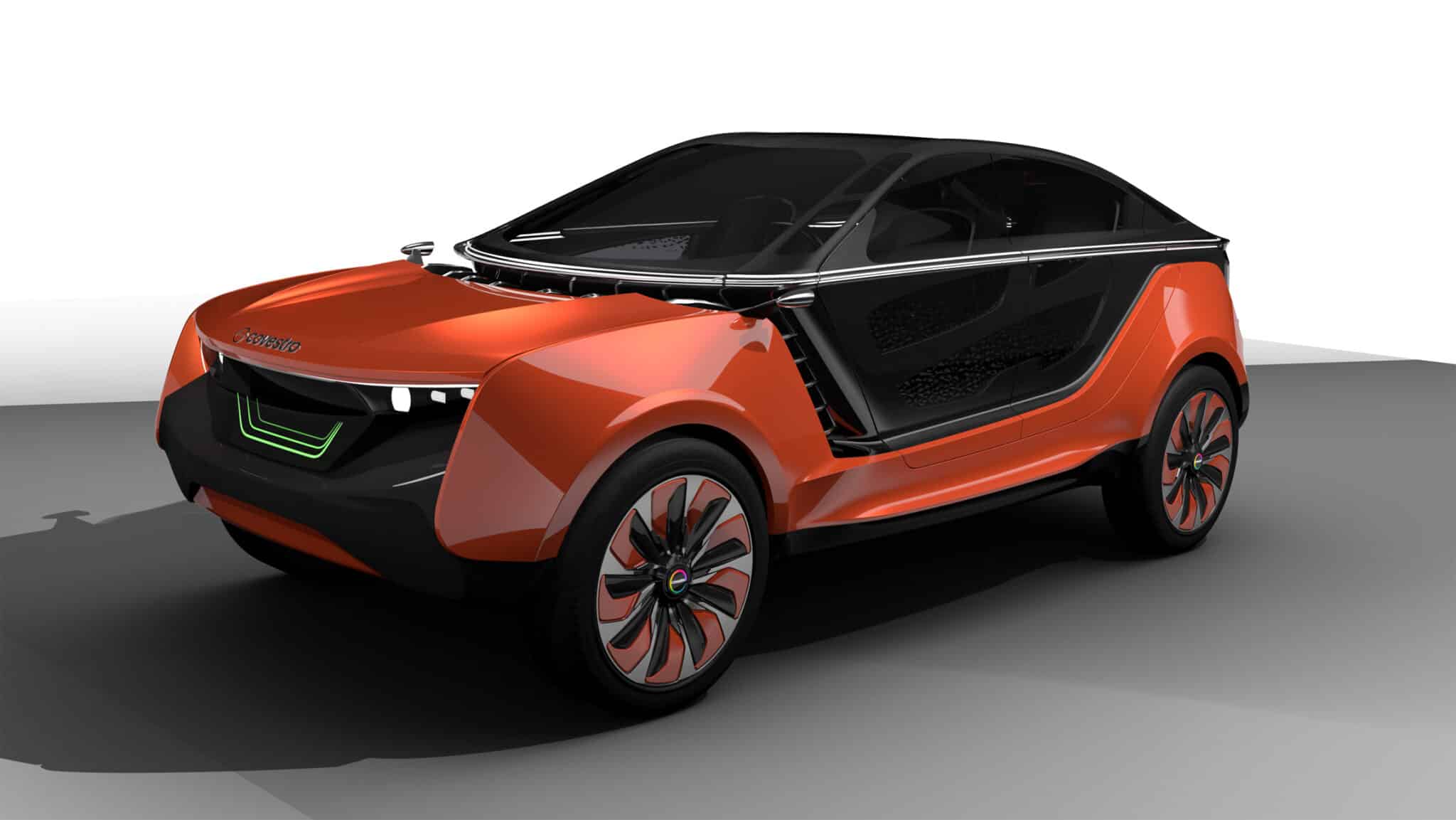 Chemistry Concept
Chemistry-driven solutions to the weight problem were also shown off at the fair by Floatility. Their E-floater is a streamlined electric scooter that weighs less than 12 kg and is 80% polymers.
BASF also presented its RN30 non-electric concept race car with Hyundai Motors. The vehicle incorporates BASF's Elastolit rigid integral foam and its Infinergy expanded thermoplastic polyurethane. The use of such lightweight plastics in motor racing has long informed the development of electric vehicles.
Crash Cages
However, polymers can offer much more to electric cars than lightweight designs. Also at K Fair was the new eS2 two-seater electric scooter from Vicenza, Italy-based Askoll. It makes extensive use of a new material called Pocan AF 4110 from LANXESS for the battery housing.
This blend of polybutylene terephthalate and acrylate styrene acrylonitrile reinforced with glass fibers is highly flame-retardant. That's critical for electric vehicles, because batteries that store as much energy as is found in combustion engines must be able to survive an impact without causing a catastrophic lithium fire.
Similarly, Covestro's demo of its Greenpack Li-Ion battery module and cell holder used its Bayblend polycarbonate matrix to isolate each cell. It's another attempt at developing an industry-standard crash cage that will help make electromobility practical.
Electric Era
Frank Lutz, Chief Financial Officer at Covestro evaluates the new thirst for electric cars:
It's a market with huge potential. In many countries, there now exists the political will to replace internal combustion engine cars with electric cars.
In China, electric ownership is only 1.25%, but it's growing at a rate of 120% per year.
Last October, Germany's Bundesrat passed a law enforcing a ban on sales of new vehicles powered by gasoline or diesel engines beyond 2030.
It remains to be seen if that will happen, but we expect more governments incentivizing electric cars.
Regardless of politics, the materials science industries are already in the driver's seat.