Cobots are appearing on the factory floor, setting the stage for a new division of labor. And it's no surprise that this is one of the leading themes at this year's Hannover Messe.
In a statement prior to the opening of the fair, Marc Siemering, Director of Hannover Messe, evoked the role of robotics in the industry of the future. "Robotics is the key to enhanced competitiveness and flexibility in industrial production. Companies such as Fanuc, Güdel and Kuka will be showcasing their latest generation of robots and highlighting the key role played by robotics in the context of the fourth industrial revolution."
The pioneers and early adopters
The automotive industry first pioneered this human-machine collaboration. A couple of years ago, BMW started to deploy cobots on car door assembly lines. In 2013, Volkswagen introduced cobots to install glow plugs in its engines. Last February, Audi introduced 1.40 m tall, two-arm cobots on its Ingolstadt, Germany assembly lines.
Cobots are now entering the aerospace industry. Boeing and Airbus are increasingly interested in using collaborative robots for the assembly of entire wing sections. Boeing already deployed two cobots on its 777 assembly line in Seattle. Airbus recently launched the Futurassy project in its factory in Puerto Reale, Spain. Nextage, a semi-humanoid, two-arm cobot designed by the Japanese firm Kawada, is being used to assemble A380 elements.
Manufacturers in other sectors are falling under the spell. "In the consumer goods, food and logistics industries, there are early adopters of such cobots," Jose Saenz, Director of VALERI, the European industrial cobot project, told DirectIndustry. ABB's YuMi, which is also showcased at Hannover Messe, is designed specifically for small parts assembly in the electronics industry.
My colleague is a productive cobot
"This idea of humans and robots working together has a lot of potential. It could lead to a revolution," Saenz explained. Launched in 2012, the VALERI project was set up to design an autonomous, 300 kg cobot for the aerospace industry, in partnership with the German robotic supplier Kuka. OmniRob is a mobile robot that can navigate and perform independently thanks to Kuka's autonomous Simultaneous Localization and Mapping (SLAM) software. This enables the cobot to map its environment and determine its position within it.
According to Saenz, the potential lies in the cobots' productivity and high efficiency. "Cobots are here to help humans in their daily tasks and to enhance productivity. They are designed to carry heavy loads (starting from 40 kg) and assist the human worker in very repetitive, dull, time-consuming, arduous or dangerous tasks or for work that cannot be automated. Cobots are thus good for assembling or lifting things, but always under the surveillance of the operator," he warned.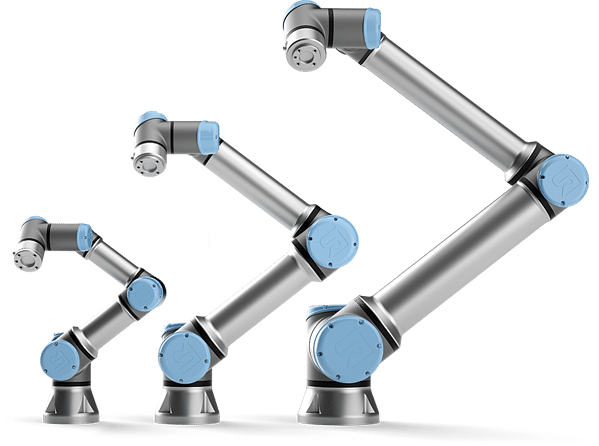 How to Choose the Right Cobot?
Read our buying guide and make the smart choice.
Cobots also work faster and offer increased flexibility. Designed by Kuka, LBR iiwa is an articulated arm that can be moved by the operator from one task to another without reprogramming.
For a very long time, robots were considered a danger and had to be separated from human workers by fences or cages. But that was before. Cobots are now designed to work safely alongside humans in the workplace without barriers. Unlike older generation robots, they are responsive. Equipped with innovative sensors and cameras, they are aware of their surroundings, can sense that humans are nearby and avoid collisions.
"Collaborative robots need to respect that rule of ergonomics and the fact that the humans work at their own pace. This is what cooperation means."
Switzerland-based Stäubli designed a welding robot that stops when someone gets close. ABB's YuMi has two soft, padded arms for smooth interaction with the operator.
For Jose Saenz, safe cooperation also requires another important element: a reasonable working speed. "The robots should not go super fast, because it will scare the humans who are working with them. Collaborative robots need to respect that rule of ergonomics and the fact that humans work at their own pace. This is what cooperation means."
The cobot Saenz is working on goes further in combining safety and productivity. "We integrated safety components and tactile sensors around the entire robot. When the operator touches the robot in certain areas, it executes commands. People can also be extremely close to it while it is operating without the robot having to stop. We did this to have high productivity."
The project has now entered the collision testing stage to determine how hard and at what speed a robot can bump into a person. "We are working with a medical university doing tests on people of different weights, on different parts of the body. The idea is that, should the robot come in contact, a bump or a bruise is the limit."
A cobolution?
So, is a cobolution taking place? "Unfortunately, despite the potential, development is slow in coming," stated Saenz. There is first an uncertainty on the standards. A new technical specification on the use of collaborative robots, ISO/TS 15066, is in the works. This technical standard will provide guidance (minimum separation distance, maximum safe speed). But more knowledge on the limits regarding contact forces that are allowable while working with cobots are needed before releasing an international cobot standard.
Beyond that, it is the schema of any industrial revolution that is being reproduced. "For example, during the 20th century, it took a whole generation to replace steam engines with electric motors in the factories," explained Saenz. "When you change the way you produce things, it always takes a while. And this is what we are looking at now."