With the high-speed development and continuous upgrading and optimization of mobile communication technology, people are more eager for fast and efficient communication methods. Communication engineering as a major project in the field of information construction and development, in which, communication tower construction occupies an important position.
By HGTECH
As a witness to social and economic development, the construction of communication towers plays a key role in promoting social and economic development. The surge in demand for tower construction projects has put the production capacity of its basic components to a severe test.
To promote production capacity and achieve efficient production, it is essential to rely on high-end intelligent cutting equipment. Many companies have chosen laser cutting equipment with a high degree of automation. As a hot choice at the moment, laser technology plays a rather important role in the metal processing industry with its outstanding processing technology and efficiency-first advantages.
With over 50 years experience in laser industry, HGTECH is the pioneer and leader of laser industrial application in china, world's leading provider both of laser equipment and intelligent manufacturing solutions.
We have worked with a number of communications tower construction companies around the world whose main business is the construction of communications towers and the processing of metal components, mostly long and heavy shaped metal tubes. Our goal is to help our customers increase their production capacity of heavy tubes and save on consumables and production costs.
The HGTECH three-chuck laser tube cutter, especially suitable for heavy tube processing, has significant advantages in the process of heavy metal tube processing: it can support the loading and unloading of extra-long whole workpieces, support the cutting of extra-long heavy metal tubes, and the three-chuck collaborative operation achieves zero tail material in tube cutting, saving a large amount of production costs.
The perfect combination of laser technology and tube processing technology demonstrates to the world that HGTECH has the R&D, manufacturing and technical competence in the industry.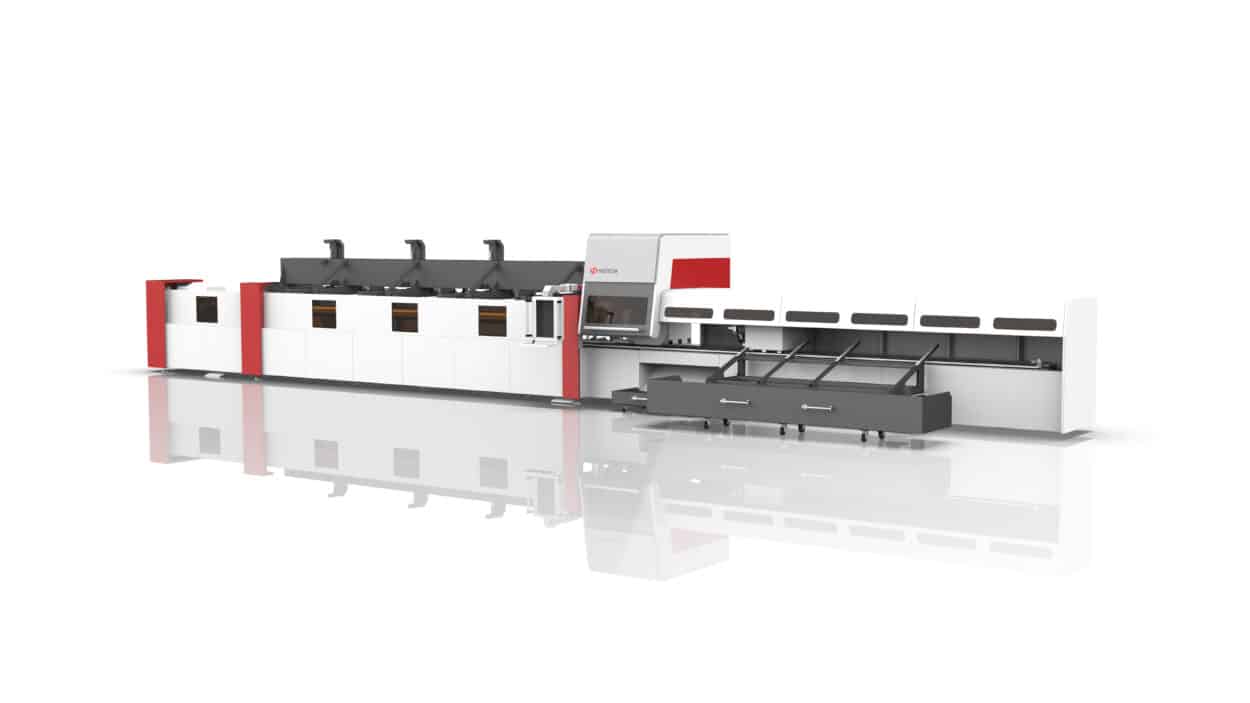 The superior performance of our equipment comes from our strong production strength. Once we receive a production task order, our intelligent production park will respond quickly and strictly supervise the whole process from equipment manufacturing to assembly, and professional engineers go into the front line to strictly control the quality of the equipment.
After intense and orderly installation and commissioning of the equipment, and through strict quality inspection procedures to confirm that the equipment meets the requirements of the factory, the equipment will be arranged for delivery as soon as possible.
In addition, we also provide excellent after-sales service. We have 4 R&D centres and 23 service centre all over the world that ensure quick respond to customer's problem.
To meet the diversified needs of metal processing, and the rapidly expanding metal processing market. HGTECH will keep focusing on the quality of equipment, technological innovation and after-sales service to improve the global sales network system, to give customers better quality and service, to deliver more high-end quality laser equipment and to help metal processing flourish.