To accommodate larger air-flow capacities, Prevost has expanded its Prevost Piping System (PPS) range to include a 100 mm – 4" pipe, compatible mounting accessories and a full line of installation tools. With its innovative design, the PPS network stands out for its reliability, high performance, increased efficiency and most notably, a dramatic decrease in pressure loss.
A Powerful Network
The 100 mm -4" diameter line was designed for large industrial and commercial applications requiring higher flow rates.
The larger diameter pipe along with high-capacity (hp/cfm) compressors, distribute consistent airflow throughout the network to supply all the workstations.
To adapt to the complexity of large networks, we have developed specific components that allow you to create your custom network.
The Compact Connect Concept or CC Concept is specially designed to outfit compressor rooms or to meet specific space constraints
A Fully Customizable Solution
Scalable, customizable and modular – the Prevost Piping System (PPS) compressed air network can adapt to any facility configuration.
The wide selection of fittings allows unrivaled customization and design possibilities, especially for compact spaces and compressor rooms. The PPS system is quick to install and can be easily disassembled for maintenance or be expanded upon for future growth.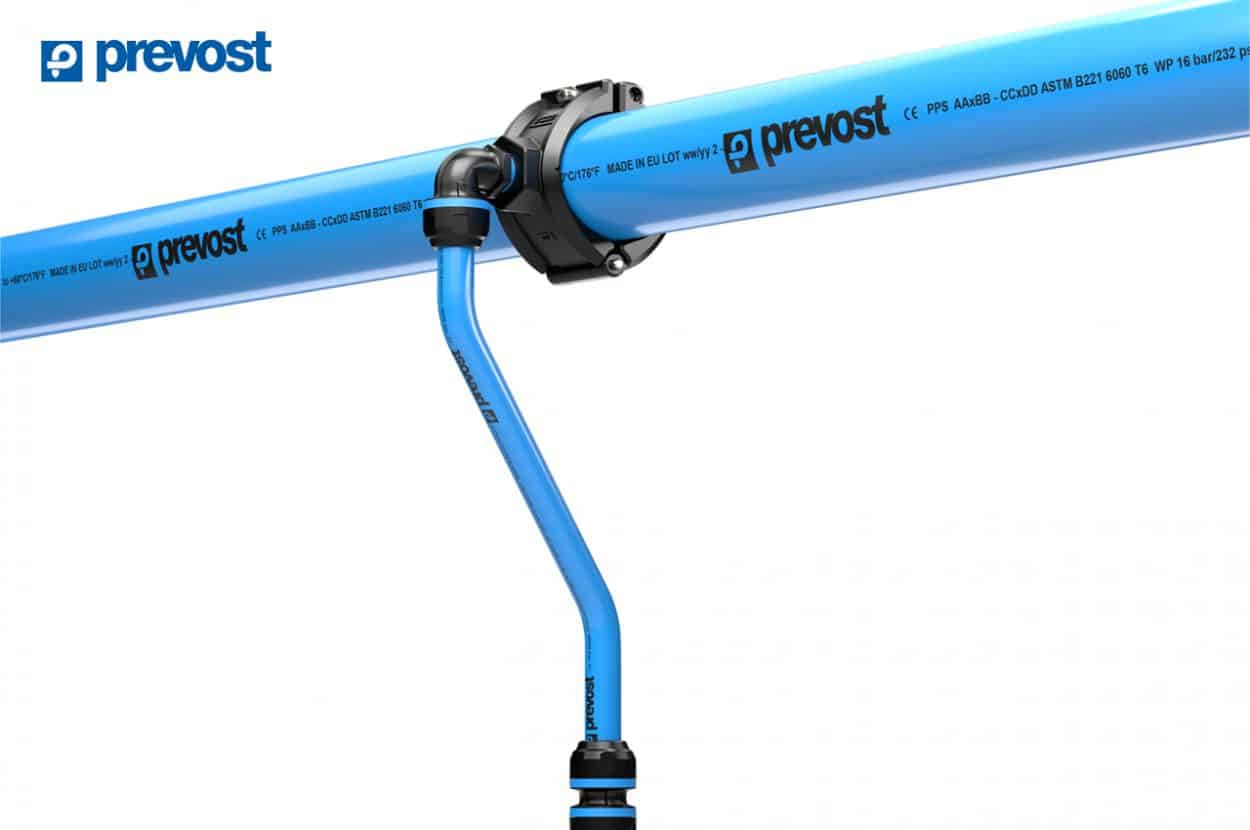 Complete Security
Light, compact and resistant, PPS and CC Concept fittings offer perfect sealing, increased resistance to shocks and are constructed of durable 100% aluminum material.
In the event of an emergency, the air network can be instantaneously de-pressurized with our remote-controlled pneumatic safety valve.
Pneumatic safety valves (PPS1 VP) offer a working pressure between 2.5 to 16 bar (36 to 232 psi), provide laminar flow and are optimized to reduce pressure drops. The 100% aluminum design provides maximum reliability and durability.
Two easy shut-off switch options are available for remote pneumatic activation, valuable time and productivity is saved:
push button
key switch for added security.
Simplified Installations
The new size includes a dedicated range of accessories and installation tools for facilitating even the most complicated networks. For example, the design on the collar allows the 100 mm -4" diameter to effortlessly connect.
We developed a new tool which allows technicians to drill directly into the pipe while it is still under pressure.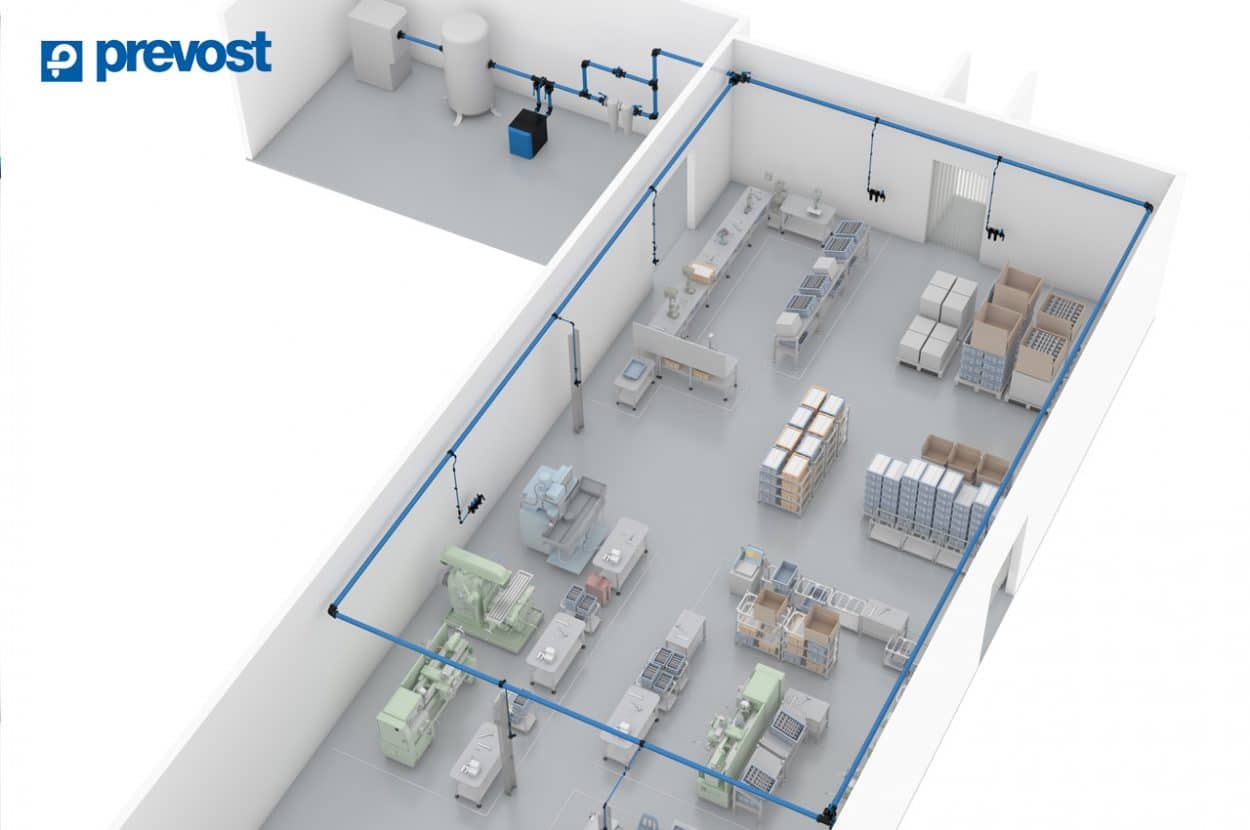 Constructed of Reliable and Durable Material
All products in the PPS range are 100% aluminum. Light and yet strong, extruded aluminum PPS tubes are stainless, fire-resistant and designed to limit pressure drops as much as possible.
Available in lengths of 4 and 5.5 mm (13.12 ft. and 19.7 ft.), they are 100% compatible with compressor oils.
Three color options are available:
Blue tubes – compressed air – RAL 5012
Gray tubes – empty – RAL 7001
Green tubes – neutral gases – RAL 6029
All the components of the Prevost Piping System compressed air network come with a 10-year warranty and benefit from TÜV SÜD, and ATEX directive certifications.

Pressure Drops and Energy Saving
The PPS compressed air network has many advantages. Its innovative design reduces pressure drops, a phenomenon which in traditional systems can cause more than 30% energy loss between the compressor and the distribution points. This allows significant energy savings.
Prevost services:
The company offers support for your compressed air network installation project.
Designing a high-quality network can be complicated, which is why we help you throughout the process. For complex or integrated installations, our teams accompany you from start to finish.
The services include designing, providing materials lists and full quotations in 3 steps:
A complete blueprint to visualise the entire system throughout a building
A detailed diagram of each drop with corresponding part numbers
A comprehensive bill of materials for the entire air system including a list, quantities and pricing information.
This information provides a detailed plan and assists installation teams.
Ask for the plan of your installation project