As the 2024 Paris Olympic Games approach, the stage is set for groundbreaking innovations in transportation. Two prominent players in the electric vertical takeoff and landing (eVTOL) industry, Volocopter and AutoFlight, are preparing to showcase their cutting-edge technologies during the event. In partnership with Groupe ADP, these companies are poised to revolutionize urban air mobility and set a new standard for sustainable transportation.
Electric air taxis will fly over Paris during the 2024 Olympics next summer. Groupe ADP announced that the French capital will be the first city to offer eVTOL services this summer.
Volocopter and Groupe ADP's Vision for Electric Urban Air Mobility
Groupe ADP, a global leader in airport operations, and Volocopter, the pioneer of urban air mobility, announced they will introduce eVTOL aircraft services in Paris for the 2024 Olympic and Paralympic Games. Through extensive collaboration with the French Civil Aviation Authority and Paris Region, this will provide an additional mode of transportation for the general public during the Games.
Volocopter and Groupe ADP have invested nearly 2 years in comprehensive testing at the Pontoise testbed, Europe's most advanced airfield for sustainable air mobility. Located on the Seine River, just outside of Paris, Pontoise Vertiport encompasses critical infrastructure components such as dedicated takeoff and landing areas, a state-of-the-art passenger terminal, maintenance hangars, and control areas.
The tests have focused on crucial aspects such as safety, airspace integration, acceptability, and passenger experience. The insights gained during this testing period are now being put into practice, bringing the concept of urban air mobility to life in Paris.
For the 2024 Olympic Games, Volocopter plans to launch three connection routes and two tourist round-trip flights, utilizing several eVTOL aircraft. A Volocopter's eVTOL can convey one passenger at a time. The routes include connections between Paris-Charles de Gaulle airport and Paris-Le Bourget airport, as well as a connection over the densely populated urban area of Paris from the Vertiport of Austerlitz barge to the Paris Heliport. Additionally, a route from Paris Heliport to the Airfield of Saint-Cyr-l'École (Versailles) will be validated for tourism purposes.
Volocopter's eVTOLs offer zero-emission operations as it is powered entirely by batteries. The aircraft has undergone rigorous testing, including over 1,500 test flights, and meets the same stringent safety standards as traditional airliners. In 2019, DirectIndustry had the opportunity to attend Volocopter's first public flight test in Singapore's Marina Bay (watch our video here).
Besides, the low noise emissions of Volocopter aircraft make them four times quieter than helicopters during flight, ensuring a positive impact on urban soundscapes.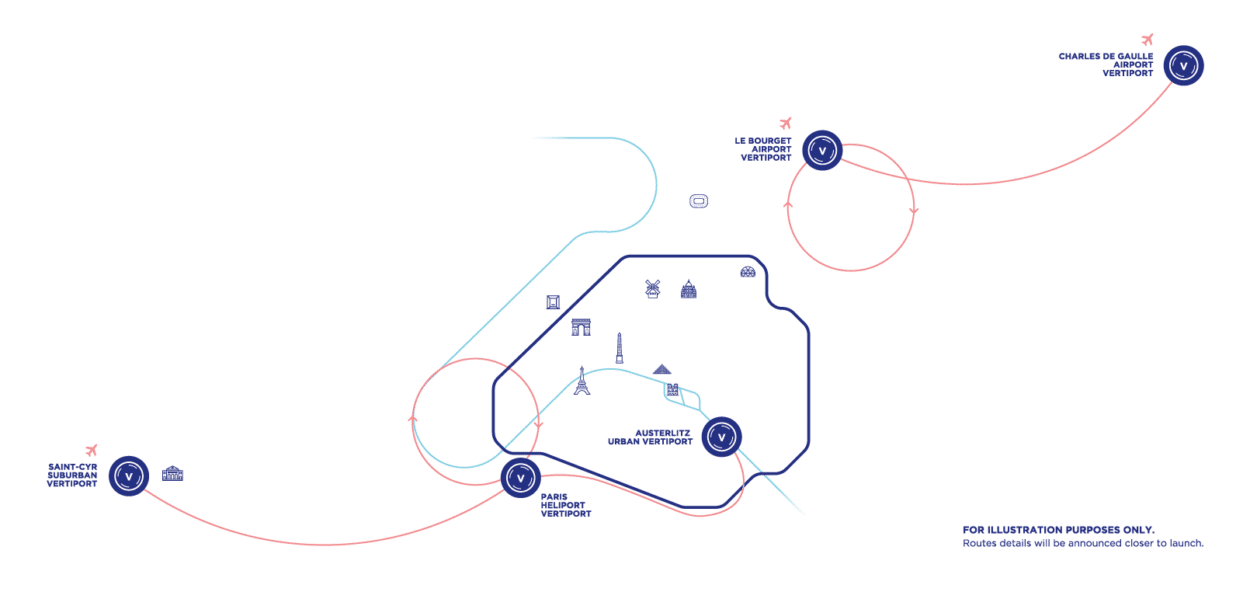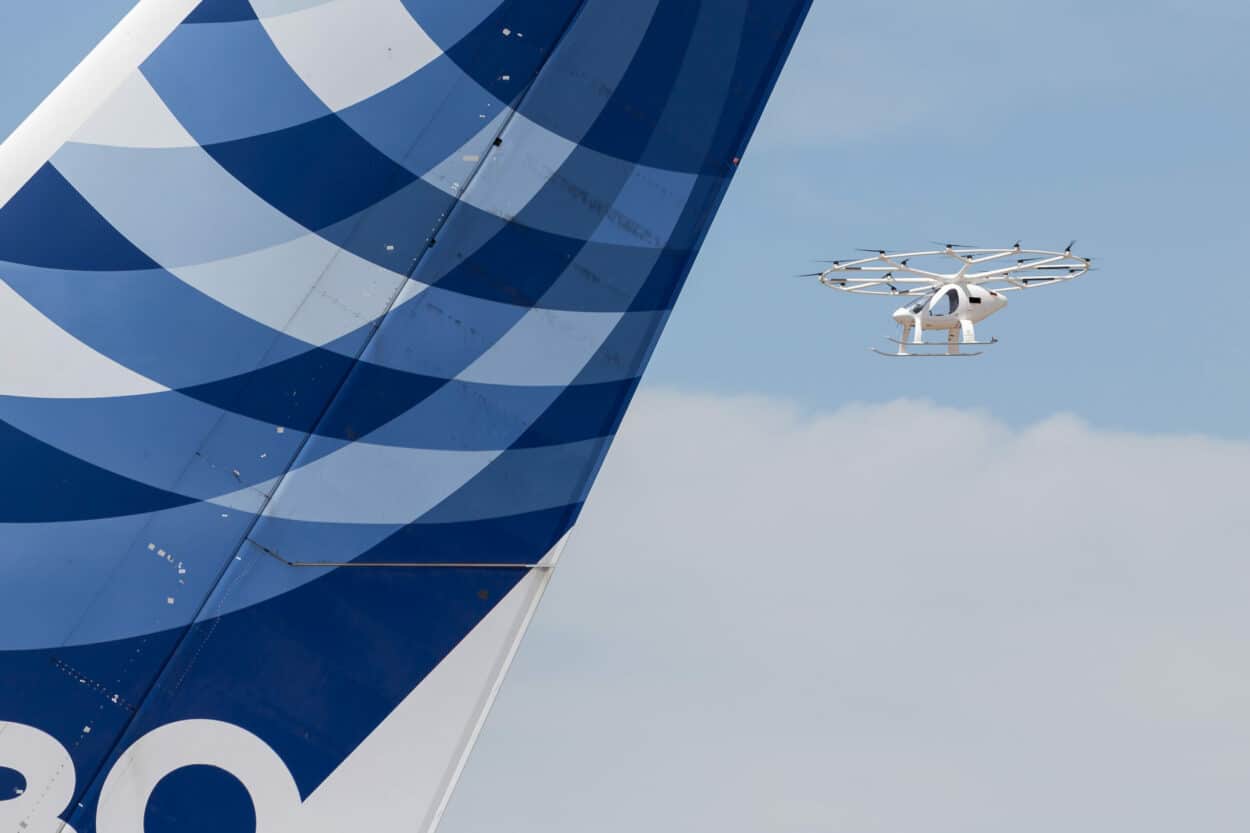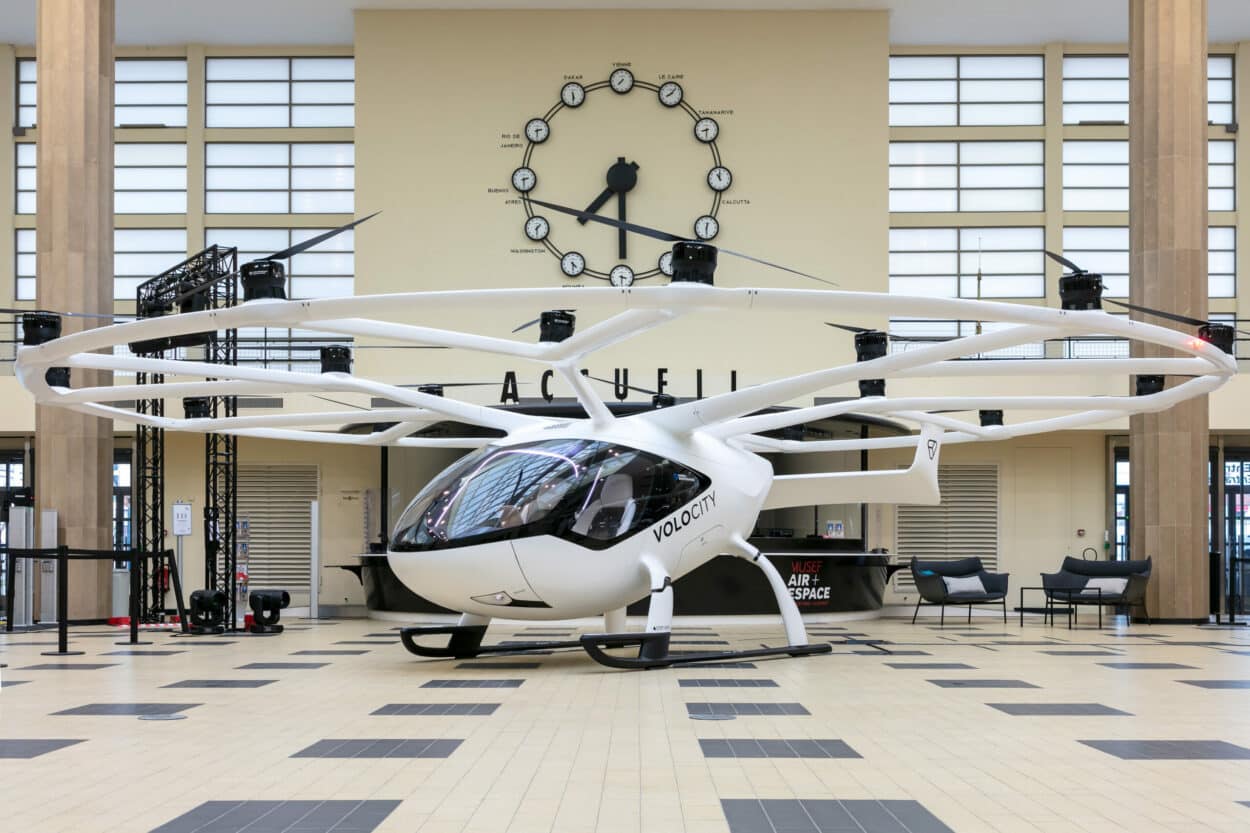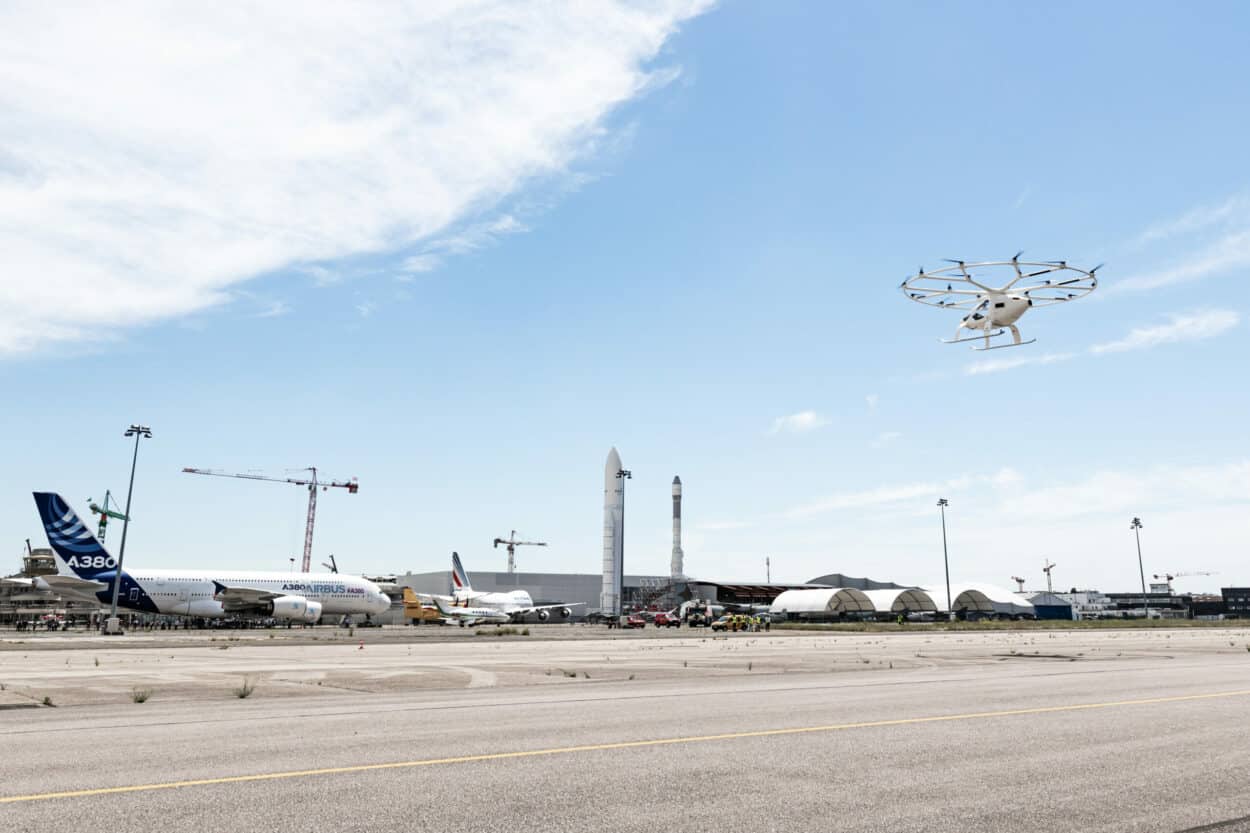 AutoFlight and Groupe ADP Sign a Memorandum of Understanding
AutoFlight, another player in Advanced Air Mobility solutions, has joined forces with Groupe ADP to conduct experimental piloted flights using their Prosperity I eVTOL aircraft. Both organizations have signed a Memorandum of Understanding (MoU) to experiment eVTOLs during the 2024 Paris Olympic and Paralympic Games on Pontoise Vertiport.
AutoFlight's Prosperity I fixed-wing aircraft represents a significant advancement in efficiency, boasting a world-record 250 km range. The energy consumption of Prosperity I is comparable to that of an electric car, making it an environmentally friendly transportation solution. AutoFlight has successfully mastered the transition phase from vertical to horizontal flight, ensuring optimal trip length reduction and asset utilization in urban environments.
Will the implementation of eVTOL operations during the Olympics pave the way for a future where electric air taxis and sustainable logistics become integral parts of urban mobility? In any case, five vertiports will be strategically located across Paris, ensuring comprehensive coverage of the entire Paris region within the next ten years. Each vertiport will feature passenger terminals and takeoff/landing spots, incorporating the knowledge gained from the Pontoise testbed.