LABVOLUTION, the trade show that presents the latest trends and advancements in laboratory technology, analytics, and biotechnology, opens today in Hannover, Germany. We selected 3 new technologies that are showcased at the fair.
LABVOLUTION takes place from May 9th to May 11th in Hannover, Germany.
RELATED ARTICLE
1/ The Precellys Evolution Touch Tissue Homogenizer
BERTIN Technologies SAS, France
French company BERTIN Technologies SAS is introducing the Precellys Evolution Touch tissue homogenizer, a new time-saving solution for biological sample preparation. According to the company, this is the most advanced tissue homogenizer available today, designed for fast and efficient preparation of biological samples.
The Precellys Evolution Touch can homogenize any biological sample, whether it is animal, human, or plant, regardless of whether the tissue is hard or soft. The device uses a multidirectional movement of the beads in the tubes, resulting in 3D bead-beating homogenization. The company claims this is the most efficient and reproducible method compared to conventional methods such as mortars and pestles, sonication, mixers, or high-pressure homogenizers.
The device's speed can be set up to 10,000 rpm, and its new touchscreen user interface allows the machine to be operated even with gloves on. Users can use six different tube volumes, ranging from 0.3 to 50mL, and prepare between one and 96 tubes at a time.
This product is designed to save valuable time in routine and R&D projects, especially in fields such as pharmacology, medical research, forensics, microbiology, or agronomy, where tissue homogenization or cell disruption is crucial for the extraction of proteins, drugs, metabolites, RNA, or DNA. According to BERTIN, it takes only a few seconds to prepare samples, even for the hardest tissues such as teeth, bones, or hair.
2 / The VIAFLO 96 and VIAFLO 384 Pipettes
INTEGRA Biosciences, Germany
INTEGRA Biosciences which manufactures laboratory equipment is unveiling the VIAFLO 96 and VIAFLO 384 pipettes which are compact, affordable, and easy to use. Both systems are capable of handling a wide variety of applications and volumes, with ten different pipetting heads available, each with different volume ranges and numbers of channels.
According to INTEGRA Biosciences, the VIAFLO pipettes offer unparalleled flexibility, allowing plates to be filled either manually or with hands-free automatic mode. With up to three deck positions, users can gain even more productivity. The pipettes are designed to be used with 96- and 384-well plates and are suitable for a wide range of applications in fields such as molecular biology, genomics, proteomics, and drug discovery.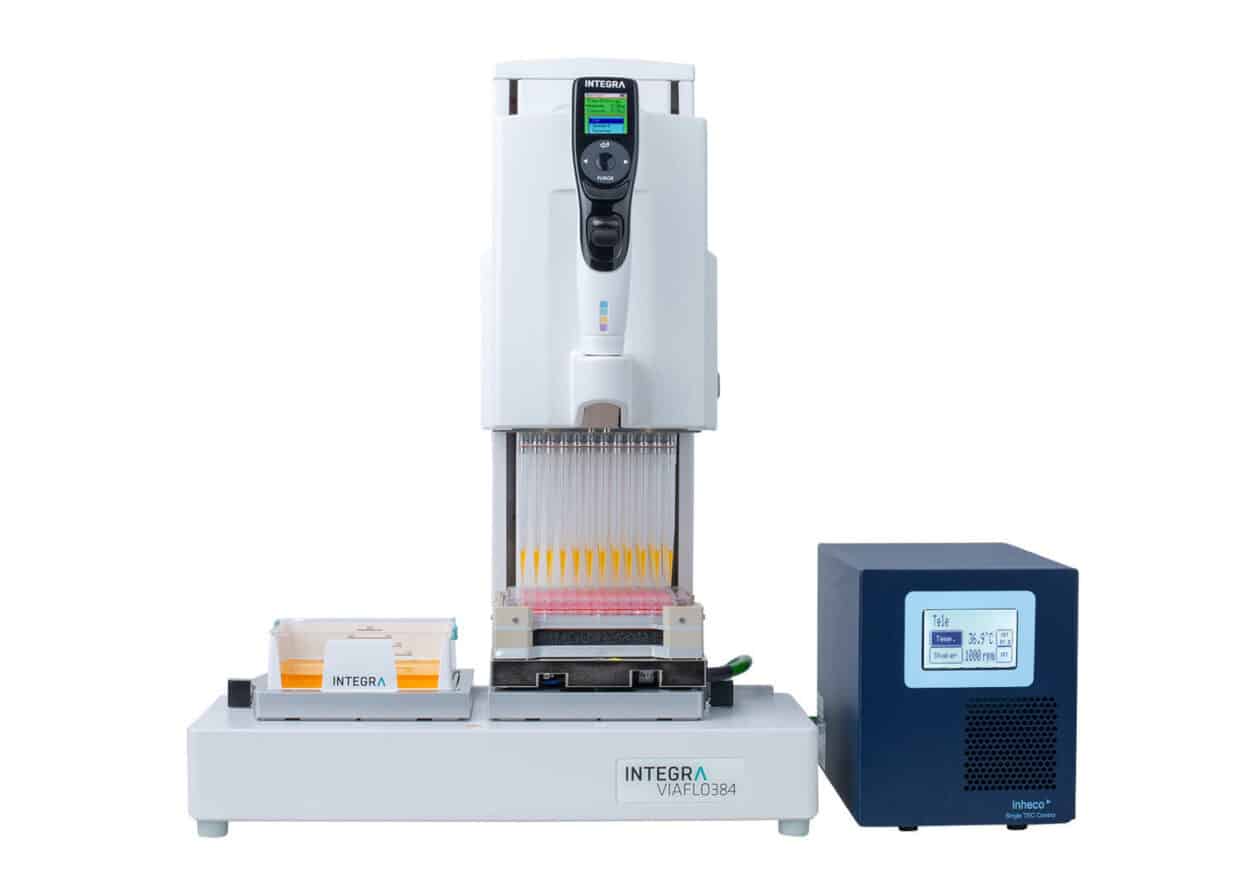 3/ The Celloger Mini Plus
Curiosis Inc., South Korea
South Korean company Curiosis Inc. is showcasing the Celloger Mini Plus, a live cell imaging system that enables researchers and scientists to monitor and analyze living cells over a long period, even in a hot and humid environment.
One of the biggest challenges in maintaining the performance of high-tech devices that operate in hot and humid environments is ensuring that they remain functional and reliable over time. Curiosis claims to have overcome this challenge with the Celloger Mini Plus, which is designed to provide an environment fit for cell cultures and live cell imaging.
The Celloger Mini Plus is a compact and user-friendly device that features advanced fluorescence and bright field microscopy, autofocusing, and real-time multi-position imaging technology. It is also equipped with a high-power LED illumination system that provides optimal cell illumination for the best possible image quality.
The Celloger Mini Plus can perform time-lapse imaging of cells, enabling researchers and scientists to observe the dynamics of cell processes such as cell division or cell migration. The device is also designed to be easy to use and does not require extensive training.