French company MOTEN Technologies has developed a new intelligent product with the aim of preventing debilitating musculoskeletal disorders (MSD) from occurring in the workplace.
The company is employing novel sensor technology that relies on the detection of muscle vibrations by using equipment mainly employed in seismic exploration.
Maxime Projetti, Ph.D., CEO of MOTEN Technologies, which specializes in data-driven ergonomics, explains:
"Monitoring human muscle function is of great interest in a diverse range of applications, especially for ergonomic assessment in the workplace. Existing sensors rely on electromyography (EMG) that detects the electrical activity of contracting muscles. However, this method has several disadvantages that make it not suitable enough for monitoring muscle activity outside the lab, e.g. in the workplace or during prolonged physical exercise. During my Ph.D., I designed miniaturized accelerometers based on MEMS technology (micro-electro-mechanical systems) for seismic exploration."
This technique, called 'mechanomyography' (MMG), has, according to him, significant advantages compared to the EMG technique:
"Better signal-to-noise ratio, less sensitive to sensor positioning, insensitive to perspiration and electrical interference, while bringing the same level of information."
Objective Measurements
The solution includes six wearable sensors that are used in tandem with an app to visualize and monitor muscle effort and fatigue during work. It is particularly suitable for those in construction, automotive, logistics, and healthcare work.
For Dr. Projetti,
"A muscle is composed of a group of fibers that can change their length and volume during a contraction and emit small vibrations in the process. These low-frequency vibrations are detected by the MOTEN sensor system at the skin surface. In simple words, the stronger the contraction, the stronger the vibration we measure with our sensors. Moreover, the frequency distortion over time gives information about muscle fatigue."
With data about muscle activity, safety experts can objectively measure the physical workload of workers performing repetitive and/or heavy physical tasks. Workers can put the sensors in a docket station where all the data is then sent to a cloud for processing.
"We use a proprietary AI to process the data and provide complete key performance indicators about muscle force and fatigue during the job, taking into account the biomechanical characteristics of the measured muscles and persons."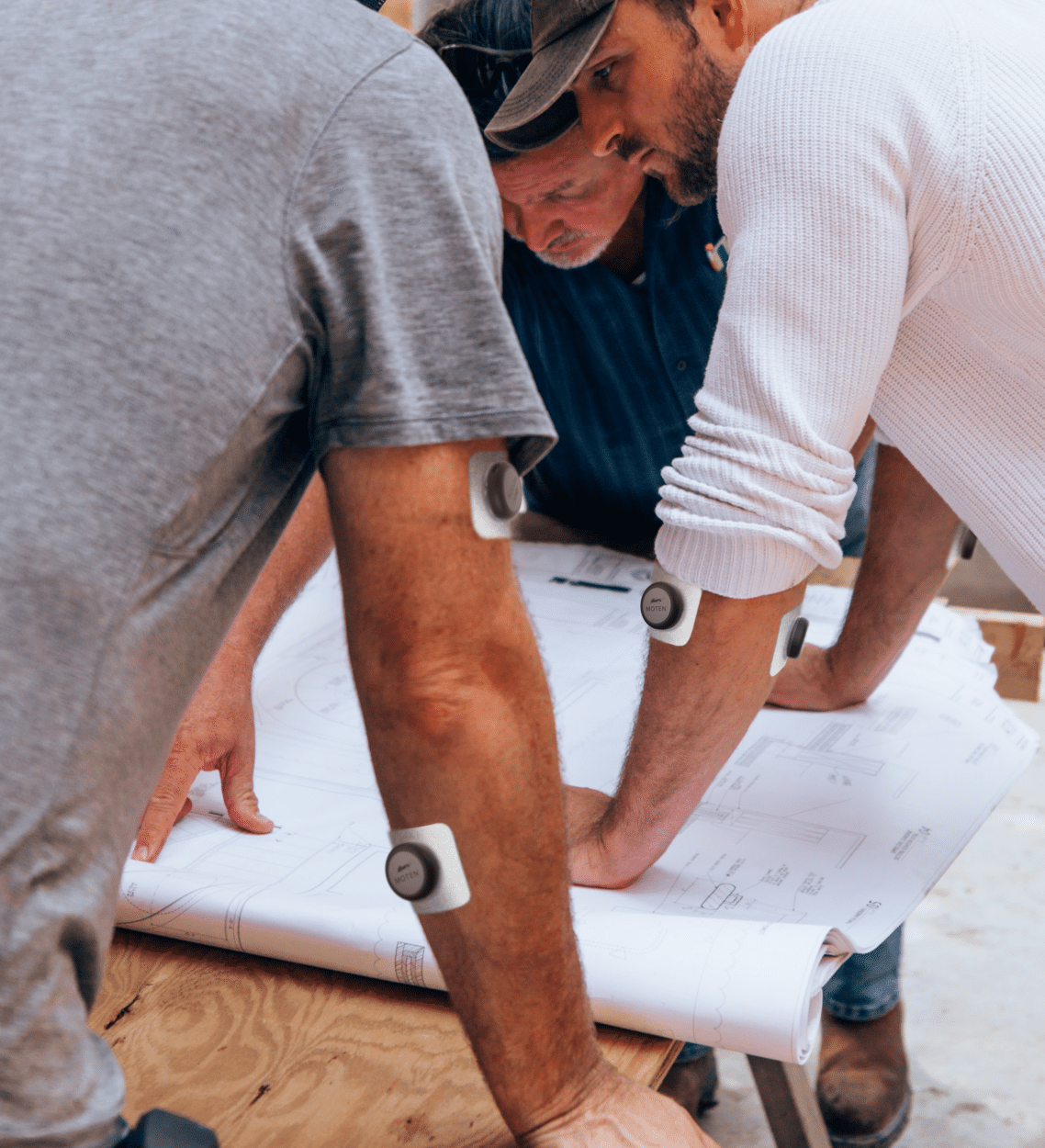 Comparing Data
Safety experts use MOTEN's solution to map physical risks in the workplace. They can highlight any workstation that needs immediate attention in terms of risk of MSD. Furthermore, they can evaluate the impact of any modification applied to the workstation:
"For instance, we see more and more industrial exoskeletons being tested to alleviate the workload on specific workstations. But how can we assess the actual efficiency of this equipment? With MOTEN's solution, safety experts can compare the muscle data before and after using the exoskeleton and make a decision based on objective data."
An All-in-One Sensor
MOTEN is already working with French firefighters and with clients in France and Germany.
Subway company RATP in Paris, France, has been equipped with MOTEN's solution since 2022 as an enabler to evaluate new assistive solutions for its maintenance operators.
"With a brand new version of our product to be released in Q1 2023, MOTEN is now reaching distributors and partners specialized in biomechanical measurement and robotics to push its solution further. We are also opening new market opportunities with physical therapy experts and athletes."
The new version will integrate the measurement of the human body moves along with the measurement of muscle activity within the same sensor system.
This all-in-one sensor, combining muscle effort and human motion, will bring a complete characterization of any biomechanical risk factor.
"With these new possibilities, we will progressively extend our reach from MSDs risk prevention towards the optimization of muscle function for workers in the industry, but also athletes, firefighters, military infantry."