Residential heating systems are a major source of carbon emissions in the European Union, with fossil fuel-based heating accounting for approximately 80% of heating systems. If electric heat pumps are a more environmentally friendly option, they are not always efficient enough to warrant replacing gas heating in every household, especially when compared to newer boilers. Two European start-ups are developing a new generation of heat pumps that use thermoacoustic technology. They could offer a more efficient and eco-friendly solution.
Residential heating systems are one of the main culprits of carbon emissions in the European Union. According to recent estimates, about 80% of residential heating is still based on fossil fuel, as most houses use gas boilers to heat water. Electric heat pumps, especially when paired with renewable energy sources, would represent a better option, but their efficiency, when compared to recently developed boilers, is not always high enough to justify swapping out gas heating in every home.
French Company Equium Develops Thermoacoustics Heat Pumps
A new generation of heat pumps based on thermoacoustic technology could soon change all that. French startup Equium sits at the forefront of the new wave of startups applying thermoacoustics to heat pumps. The company recently unveiled a new heat pump core that can produce about 3 to 4 kW of heat for every kW of power drawn into the system. The device makes it possible to build refrigerant-free heat pumps capable of heating water for domestic usage up to 80° Celsius while also reaching lower temperatures for air cooling.
The ability to reach higher or lower temperatures and the lack of an on/off cycle are two main advantages of Equium's thermoacoustic heat-pump solution and the main reason why thermoacoustic heat pumps can reach a better Season Coefficient of Performance (SCOP) than traditional pumps.
In the pump core, an acoustic wave emitted by hi-fi speakers is used to compress or expand helium contained within a vessel at a pressure of 30 bars, which heats or cools down the water in the pump core. Using a non-toxic and non-flammable gas such as helium instead of refrigerants is another benefit compared to traditional pumps' HFC/HFO fluids.
According to Philippe Loyer, Product Manager at Equium,
"At Equium, we develop the 'core' of the heat pump that will be integrated by our pump manufacturing partners. One of our partners is ARKTEOS, a medium-sized company based in France. We are also in discussion with a bigger company for scaling, and we expect to go to market in 2024".
In the Netherlands, BlueHeart Energy Works on the Same Tech
In the Netherlands, a spin-off from the Organisation for Applied Scientific Research (TNO) called BlueHeart Energy has been working on the same technology, and it aims to bring a finished product to the market in 2024 as well. The system works like Equium's, with acoustic drivers compressing and expanding helium within a sealed tubular circuit to achieve heat exchange.
Both solutions are almost completely silent despite using sound waves to compress or expand the gas. Sealed and acoustically isolated inside the pumps, the sound drivers emit only a slight buzz, with an expected average noise level of less than 30 dB.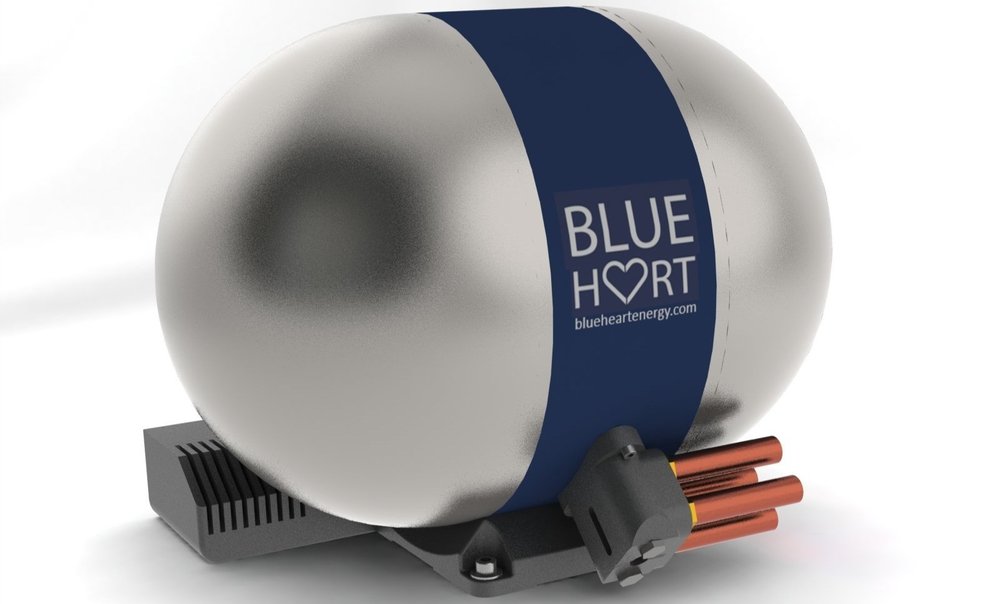 An Ecological Alternative To Current Heat Pumps
Equium is convinced that thermo-acoustic heat pumps can become broadly available as a viable alternative to current technologies in the next few years. For Loyer,
"Acoustic heat pump will replace traditional heat pump based on refrigerant for thermal comfort. There is no limit to large-scale development. It's just a question of time, scaling, and industrialization."
Blue Heart Energy shares a similar view. According to David Rodés, director for business development at BHE,
"Our device has been designed to be mass-produced. Given its unique features, we expect a rapid adoption to be applied for all sources (air, PVT, ground, district heating, and water) and to provide DHW and space heating and cooling for both new and existing houses."
The Dutch startup also believes that the heat pump engines can potentially disrupt the technological status quo beyond residential applications.
"We aim to make thermo-acoustics the standard technology for refrigeration, powering air conditioning systems, car refrigeration or refrigerated transportation, among others, contributing to a faster path to decarbonization."
RELATED ARTICLE