Steve Ward from Emerson explains how advanced industrial software is helping design engineers enhance the functionality of HMI, creating flexible and effective solutions to increase operator efficiency and improve plant performance.
By Steve Ward, Director, Application Engineering EMEA at Emerson Automation Solutions
The importance of well-designed human-machine interfaces (HMI) in enhancing operator performance – and, indeed, the overall operational effectiveness of a plant – should not be underestimated. HMI designed with poor graphics, improper use of color, and a lack of visibility into trends and equipment health status can result in suboptimal operating practices. If operators are unable to see at a glance if the process is running well or if there are abnormalities, the likelihood of them making errors increases, which could lead to costly plant inefficiencies or even a catastrophic safety incident.
Modern, high-performance HMI should be intuitive, easy to navigate, and designed around the needs of the operator, which requires a deep understanding of how they monitor and control the process. When designed using innovative industrial software platforms such as Movicon™ from Emerson, today's HMI can display information in a way that makes it easy for operators to scan for anomalies and identify areas that require further investigation and action. This not only minimizes human error but also speeds operator response times and improves problem and alarm resolution, thereby leading to safer operations and higher productivity.
Best practices in the design of high-performance HMI can be enhanced by advanced technologies such as HTML5 and augmented reality (AR) that increase interface functionality even further.
Web-based HMI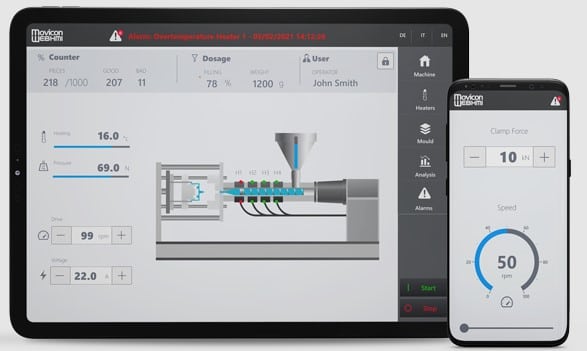 The widespread adoption of mobile devices and the need to provide greater access to operational data, both inside and outside an organization, has changed the demands on HMI functionality and accessibility. It is now possible to securely access HMI via a web browser, on any device with Internet access, thereby creating a cost-efficient solution that enables users to monitor and control machines and processes remotely, from mobile devices. This makes operational data accessible to a wider range of stakeholders and smooths the flow of information throughout an organization.
Emerson's Movicon WebHMI software platform enables design engineers to develop web-based HMI applications, built on HTML5 technology and thus accessible on mobile devices via a web browser. This allows authorized personnel to remotely view the same data and graphics as operators in a control room, enabling them to make informed decisions at any time and from anywhere. Single sign-on (SSO) user authentication enables users to gain secure access. Identity verification can then be performed using two-factor authentication.
Augmented Reality HMI
The integration of AR and the introduction of wearable devices are redefining the HMI. AR enables an operator's physical world to be enhanced with computer-generated content via a wearable device. Adding information in real-time to the user's surrounding environment helps to minimize the risk of errors and leaves the operator's hands-free to perform whatever production or maintenance tasks are required of them.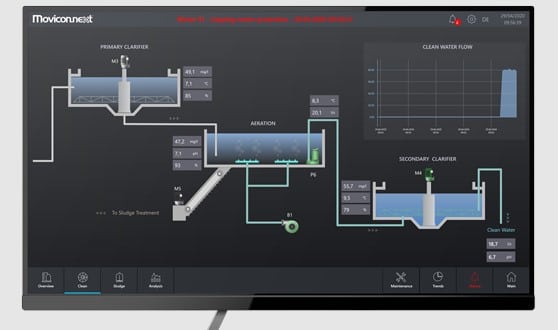 AR is integrated into Emerson's Movicon.NExT™ HMI software platform, with applications that support wearable AR devices such as Android smart glasses and Microsoft HoloLens, based on Windows 10. The wearable devices can display any type of real-time and historical data, and the AR capability enables operators to speak with a machine, ask for information and give commands, as well as interact directly with the system using hand gestures to control processes. Furthermore, the machine can ask the operator to execute commands and give step-by-step instructions to carry out on-the-spot operations, to save time and avoid mistakes.
The AR HMI technology uses a video camera and artificial intelligence to recognize equipment or parts of a plant. The technology will operate on any mobile device with a video camera and HTML5 browser, and will automatically display HMI project windows containing relevant information, thereby making the management of complex plants much easier.
To learn more about Emerson's Movicon software platform for developing high-performance HMI, visit www.Emerson/Movicon.