Opta is a new family of micro Programmable Logic Controllers (PLCs) for industrial IoT applications, developed by Arduino in partnership with Finder, an Italian manufacturer of relays for the commercial and industrial sectors. It was launched during SPS in Nuremberg last month.
A household name among hobbyists and manufacturers, Arduino started building its industrial presence with the Arduino Pro lineup in 2020 and the introduction of the Portenta H7 Board. Opta takes this experience further as the brand's first industrial-grade IoT solution. 
According to Arduino Co-Founder Massimo Banzi,
"At Arduino, we realized that a lot of people were already employing our solutions in industrial settings for uses we hadn't originally intended. Opta is the first brick we are laying to combine industrial-grade and robust IoT hardware with the simplicity of the Arduino programming ecosystem." 
Engineers can program the DIN Rail-compatible Opta either with the standard Arduino IDE, which allows users to write programs called sketches using a particular flavor of C\++ or Python. The board is also compatible with five IEC-61131-1 industrial programming languages, including Ladder and Sequential Function Chart for users from a more traditional PLC programming background. Opta can also connect to Arduino's IoT cloud platform for easy remote control over the internet.
Along with the simplicity of Arduino's programming platform, Opta's main selling point is its array of connectivity options. The board is available in three configurations: Opta Lite, with Ethernet and USB-C; Opta Plus, which adds RS485 for serial communication; and Opta Advanced, with all the previous, plus WiFi and Bluetooth LE.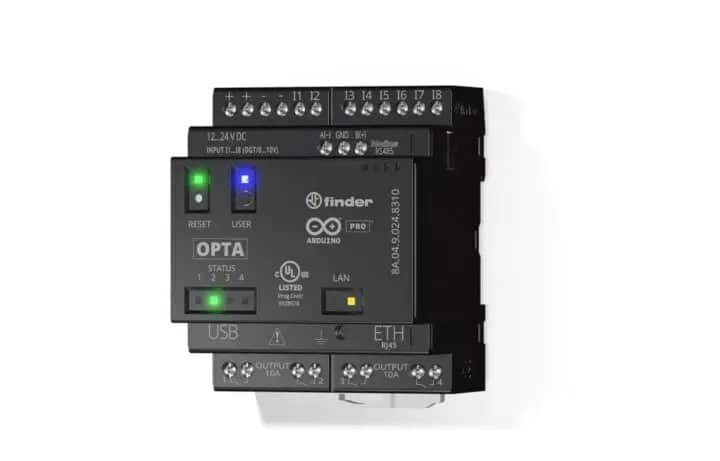 An Affordable Solution 
Due to the implementation of these communication options, Arduino Opta has encountered some initial criticism from the community of industrial PLC experts, as they would never use WiFi and Bluetooth to communicate with a device controlling expensive and dangerous equipment. Lost or delayed data packets, a common occurrence with these technologies, are a severe operational and safety threat in mission-critical environments.
On the other hand, the skepticism seems rooted in a slight misunderstanding about Opta's target. While PLC experts can still find ways to implement the board in their setups, the ideal users are industrial engineers and technicians who might already be familiar with the Arduino environment. By adopting Opta, they can implement an easy-to-use and affordable PLC in their stack without the long learning curve required by other established solutions. For Mr. Banzi,
"We believe that the industrial PLC market was ready for disruption. More advanced PLC-users probably won't migrate because of Arduino. But, a large market of small and midsize businesses would like to start building industrial IoT applications but lack the competence or the resources to invest in complex PLC technologies. With Opta, they can now start doing just that, most probably with the staff they already have in-house."
Bill Curtis, an IoT analyst with Moor Insight & Strategy, tells DirectIndustry that he wasn't surprised by some of the negative reactions to Arduino Opta.
"Large industrial customers are understandably suspicious of WiFi and often reluctant to deviate from trusted industrial suppliers such as ABB, Siemens and Schneider. At the same time, innovative industrial equipment manufacturers are looking for new, lower-cost, off-the-shelf platforms that simplify software development and IT integration by using standards-based Internet protocols over Ethernet and, where appropriate, WiFi. These new platforms are expanding the machine control market while mission-critical manufacturing continues using mainstream PLCs."
The company has not disclosed the price of the solution yet. They say Opta will be available later this month.