When Amazon acquired Kiva Systems in 2012, two French engineers decided to come up with their own solution to improve supply chain and warehouse efficiency.
Concerned that the robotics company's revolutionary warehouse system would not be widely available, Romain Moulin and Renaud Heitz designed their own autonomous mobile robot system.
Case Study: Carrefour
The pair, who launched Exotec in 2015, came up with the Skypod, a robotic order preparation system that uses a fleet of robots that is able to move in three dimensions.
And today their system supports more than 30 industry-leading brands across e-commerce, grocery, retail, manufacturing, and third-party logistics, with customers including Decathlon, Carrefour, Gap, and Uniqlo.
CEO Mr. Moulin says:
"French multinational retail corporation Carrefour faced a rapid surge in e-commerce demand, especially when it came to kerbside pickup. It knew that in order to improve its drive-through experience it needed to increase its throughput while maintaining an extremely low error rate on customer orders. To help address those issues Carrefour turned to Exotec to outfit a micro fulfilment centre (MFC) with our Skypod system."
Mr. Moulin says that wih Exotec, Carrefour was able to reduce picking error by 3.5 times and doubled the number of products it could store in the MFC.
"Most importantly Carrefour reported that customer satisfaction with kerbside pickup quadrupled following the Exotec deployment."
Robots Functioning as a Fleet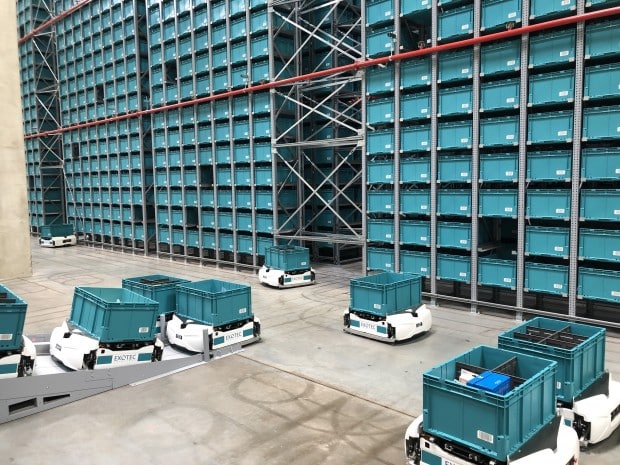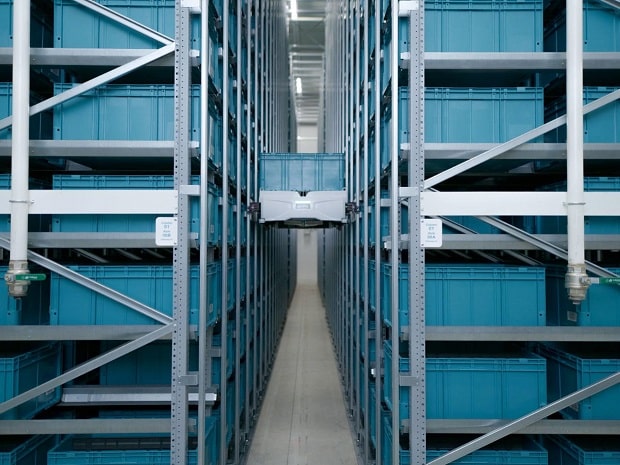 The Skypod system, which increases warehouse throughput up to five times, utilizes robots that can climb to a height of 36ft to enable high-density inventory storage, he explains:
"It is fully modular which allows customers to deploy in a matter of months and easily expand their systems without interrupting production by simply adding robots, stations, or racks. The systems drastically improve working conditions for human operators by reducing highly repetitive, physically intensive tasks such as excessive walking, lifting, and bending."
Skypod robots function as a fleet, selecting and collecting bins from the storage units and delivering them to operators, helping them to prepare orders faster.
They are constantly assigned new tasks and are programmed to prioritise the most urgent orders.
The proprietary Astar software synchronises the robots, which can each carry up to 30kg and move at the speed of up to four metres per second.
An Innovative Articulated Arm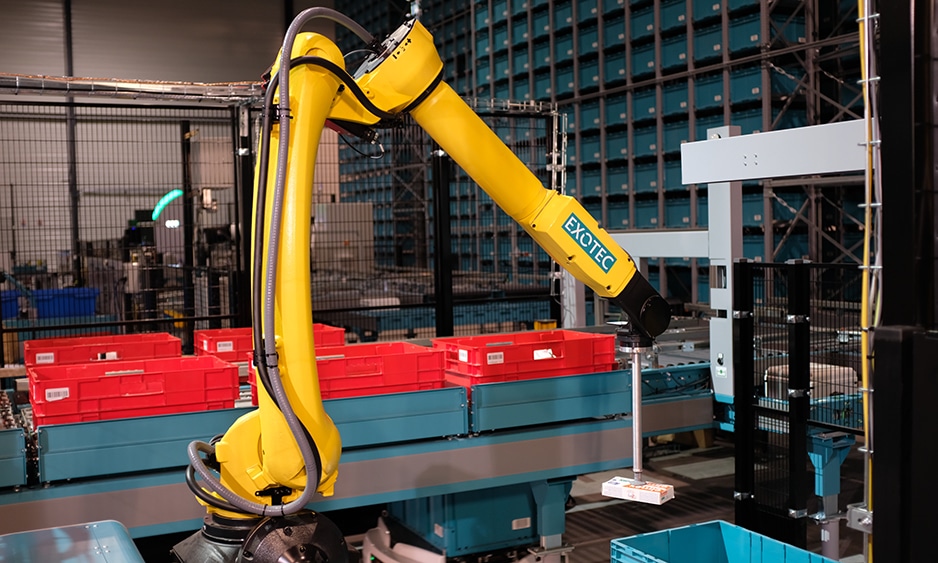 The latest innovation from Exotec is the Skypicker, an articulated arm that can be integrated into the Skypod system. Mr. Romain explains:
"The Skypicker is able to move solid objects weighing up to 2kg and with a minimum surface of 2.03 x 2.03 cm, at a speed of two meters per second. It allows for the simultaneous preparation of four orders and transfers to the next station for order completion with manual picking or packing."
The company says the Skypicker can reach up to 600 items per hour and ensure sustained order picking for products without handles.
"These account for 30% to 50% of the items in the cosmetics, health, high-tech, cultural and food sectors."
The Skypicker is also controlled by the Exotec's Astar software; it works within an enclosed, secure environment that guarantees the safety of the operators.
"Astar synchronizes the articulated arm with the robots operating in the warehouse and defines which bin to send to the picking station. All this is supported by a high-resolution camera and sophisticated visualization algorithms."
RELATED ARTICLES