With the world population set to increase by 30% by 2050, there is a huge drive currently taking place to establish how these extra mouths will be fed. French company Futura Gaïa is developing a vertical agriculture solution on living soil that could help grow sustainable food in urban areas.
As land is a finite resource for growing food, other options are fast being developed and one of these is indoor farming in urban areas.
Investors are queuing up to support viable options in this key area. As a matter of fact, indoor farms not only provide food, they do so using less inputs such as water and chemicals.
One such enterprising company that is well on its journey to developing indoor farms is French-based Futura Gaia. Two years ago the company closed its first funding phase after raising €2.5 million and already has its first farm in operation.
Future Gaïa: No Pesticides and a Reduced Carbon Footprint
Futura Gaia was formed in April 2019 by Nicolas Ceccaldi and Pascal Thomas with a solid commitment to offering healthy products with high nutritional value and guaranteed traceability.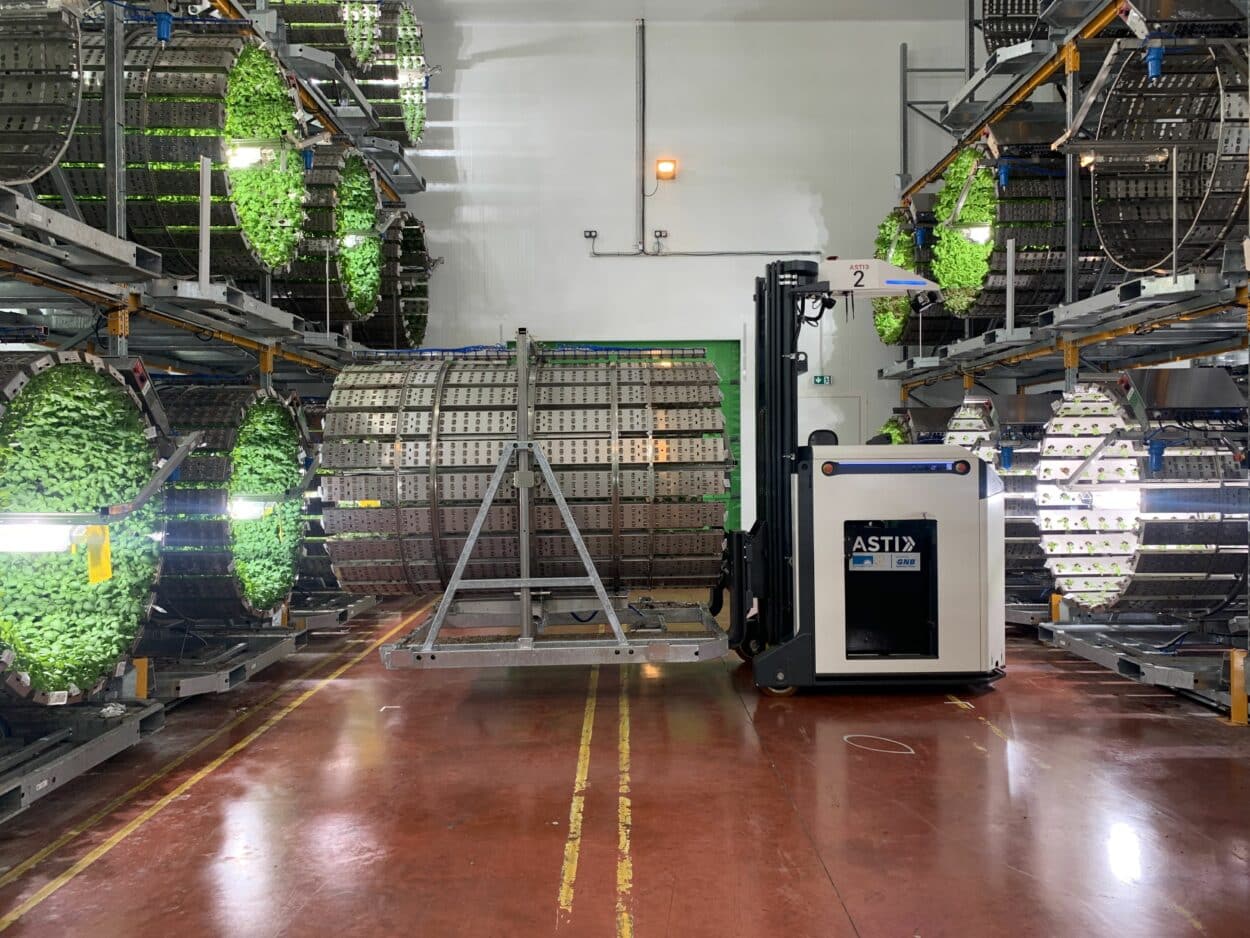 The company's other goals are to avoid waste and guarantee affordable and stable prices all year round, produce food locally without chemicals leaving a limited environmental footprint and 'unsurpassed sobriety' to preserve drinking water resources.
Company co-founder Pascal Thomas said:
"Our main goal is to help the agriculture industry to feed a growing population without using too much water and no pesticides. We design and sell turnkey indoor farms, then we sell a monthly package 'Farming As A Services' that include software, recipes and agronomical services and supervision."
Pascal says the company is concentrating on three major markets; the food industry, cosmetics and pharma. The first farm is already up and running in Tarascon in France since March 2021.
The Rotative Geoponics System
Explaining the main advantages of the system, Pascal said:
"We are using rotative geoponics. Plus, we have a high level of automation with different robots. With our system of farming, we have noticed the yields and plant quality are very high compared to hydroponic systems".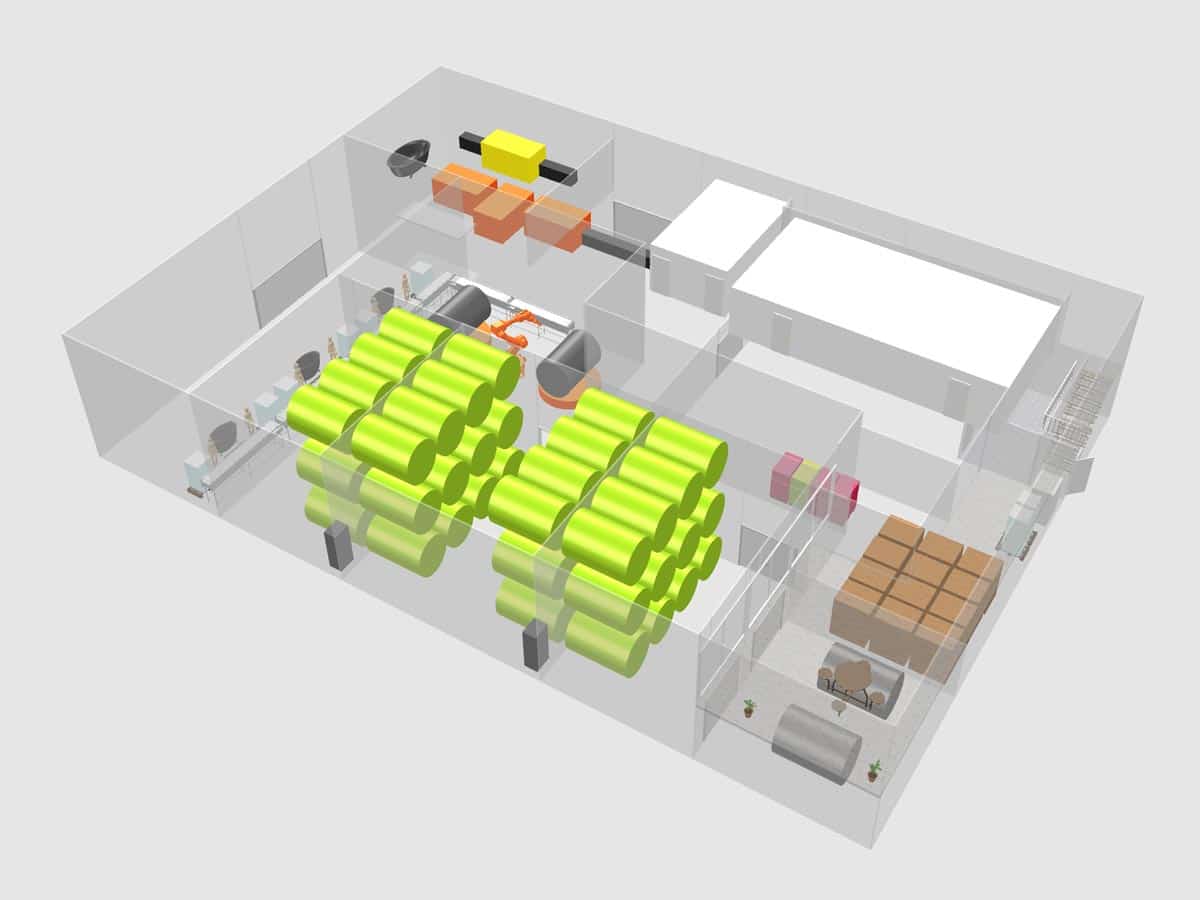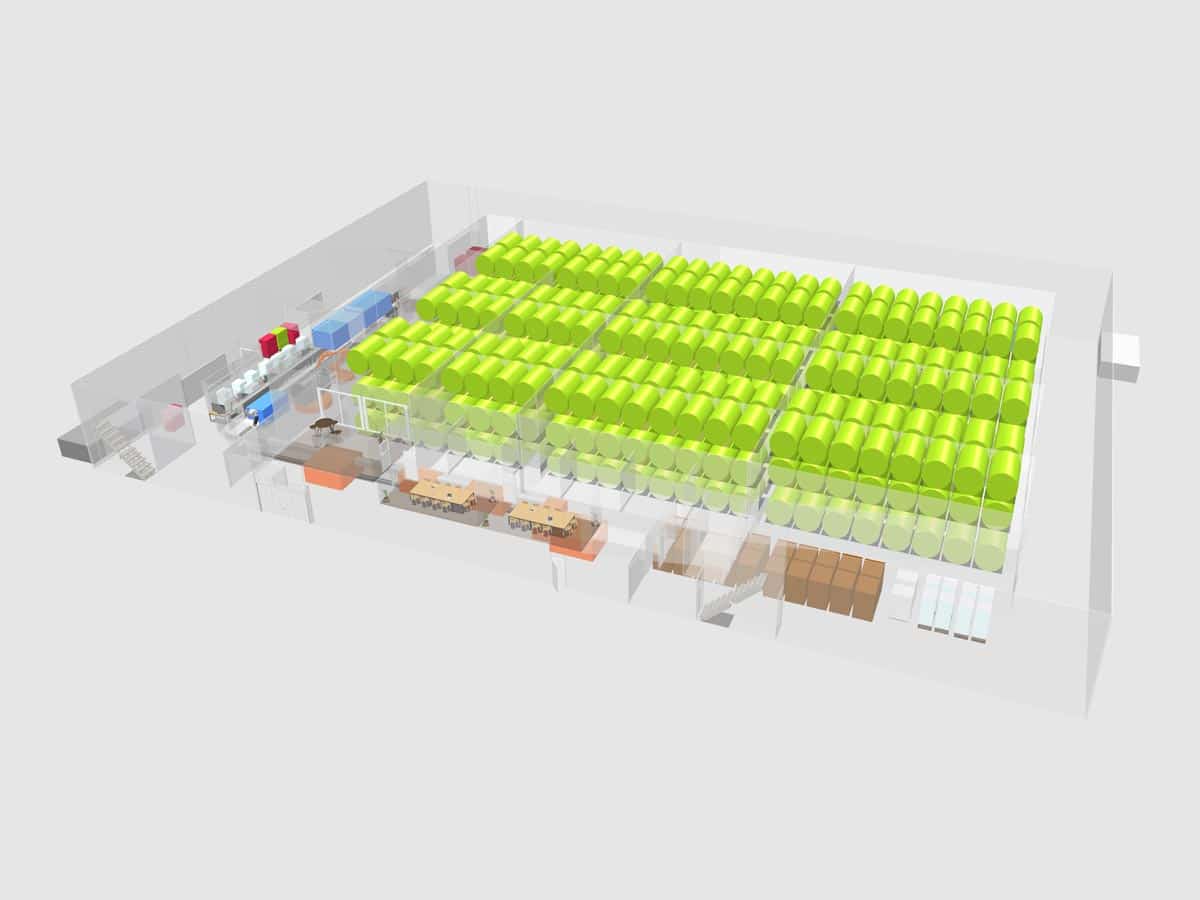 The rotative geoponics system is simple. Barely sprouted plants grow inside large rotating cylinders that contain a thin layer of soil. The cylinders then rotate at the pace set by a computer that also controls the level of water and nutrients.
The living soil where the plant grows benefits from a micro-dosing of nutrients and a minimum of water. The rotating geoponic, therefore, creates a climatic environment with ideal conditions for the plant to grow.
The vertical farms in rotative geoponic can be installed in existing buildings, for example on industrial wastelands. The great thing with this system is that it allows the cultivation of plants in potting soil, vertically, and no longer in a flat model, as for traditional agriculture.
Reducing the Use of Water
In some areas of the world, water availability is a major hurdle for farming systems, but this can be seen as an opportunity by Futura Gaia, Pascal emphasized:
"We are using a minimal quantity of water, half of the amount used when compared to hydroponic systems. We are a very competitive solution regarding water."
The company's focus is on growing lettuce and herbs (basil, cilantro and parsley) in systems that use little or no artificial light. A Gigrow System beams artificial light in the center of a range of cylinders which ensures homogeneity.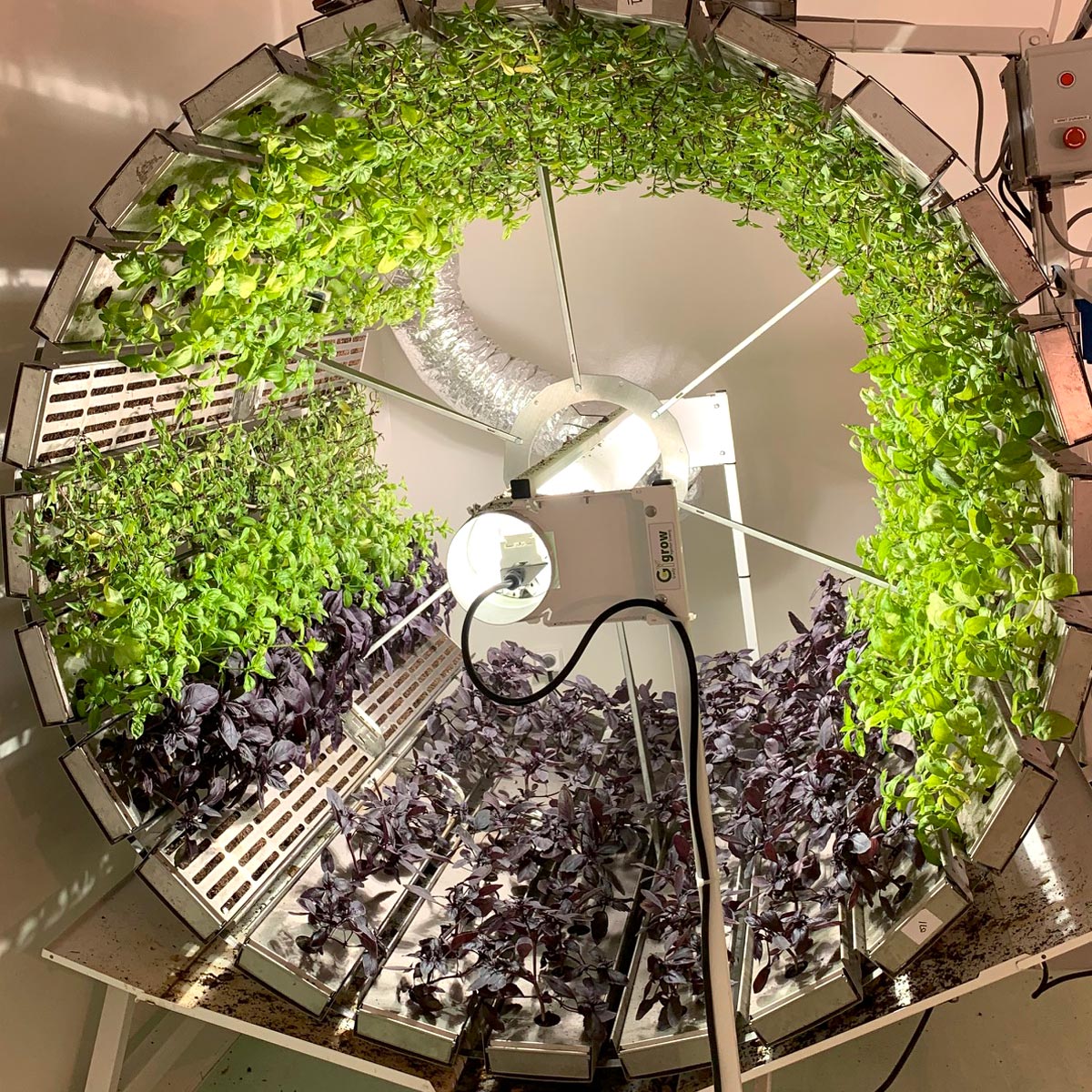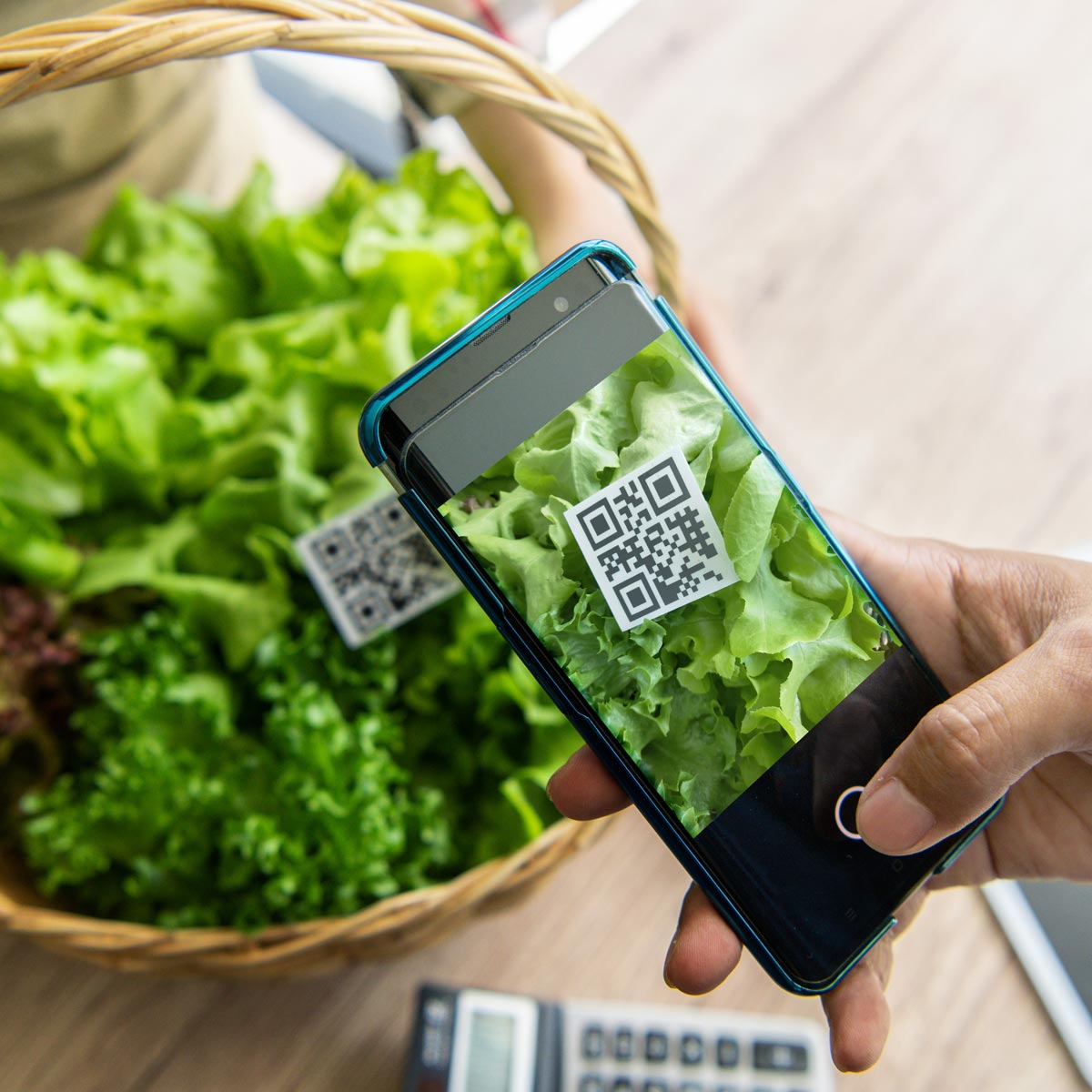 All the seeds used by Futura Gaia are certified organic or untreated seeds. They use a choice of the best varieties for weight and color, all of which are a selection of non-GMO varieties.
During the growing phase, auxiliary insects are used to combat pests and bumblebees are used for pollinating strawberries. All production is carried out without pesticides, fungicides and chemical insecticides.
Besides, traceability is made available to the customer thanks to data collected from seed to harvest.
Aiming at Food Sovereignty
These indoor vertical farms combining precision agronomy and cutting-edge technology also have another key advantage. They could increase the local supply of healthy agricultural products at a time when food sovereignty has become a major issue.
The war in Ukraine currently reminds us that many countries are dependent on the rest of the world for their food supplies. For example, half of the fruits and vegetables consumed in France come from other countries. Solutions such as Futura Gaïa could contribute to reducing this dependency.