More than two years since its introduction, Jean-Pierre Mouly, Group Business Consultant at Zetes, discusses the progress of the FMD (the Falsified Medicine Directive) and outlines some of the outstanding practical challenges still to be addressed to achieve efficient logistical compliance.
By Jean-Pierre Mouly, Group Business Consultant at Zetes
What Is the European Falsified Medicine Directive (FMD) entails?
The EU's Falsified Medicines Directive – or FMD for short – aims to reduce the risk of counterfeit products entering the medicine supply chain. It came into force on 9th February 2019. "Falsified" covers not only counterfeit medicines but also false information about a medicine's source. All medicines packs must be tamper-proof and feature a 2-D barcode containing a unique serial number as well as a product code, batch number and expiry date.
The requirement of the Directive necessitates each actor in the medicine supply chain – from the manufacturer to the point of dispensing (whether that be pharmacies or hospitals) – to implement verification and, where relevant, decommissioning of sale units (prescription medications) via a centralized European database. Each unit of medication is attributed a unique identifier (Serial Number) at the time of manufacturing and the concept of commissioning/decommissioning consists of making unit boxes available (commissioning) or unavailable (decommissioning) to end-user patients in Europe.  
As a point of dispense, the pharmacy will read the Serial Number to check that the status of the box about to be given to the customer or patient is "active" and to trigger its decommissioning (de-activation) once it is handed to the end-user, thus indicating that the box is now considered to be out of the logistics circuit. Should another check be requested for the same number after it had been decommissioned, the person concerned would then be notified immediately and could report a suspicion of fraud or falsification.
Since the FMD was implemented, what are some of the main challenges faced by stakeholders within the medicines logistics chain?
The system works very well but generates operational inefficiencies with high volumes of medicines needing to be decommissioned or checked.
There are parts of the supply chain where the number of units to be scanned is very high, creating a heavy workload for operators and an operational inefficiency (box by box scanning). This applies in particular to operations involving the return of medicines for destruction, exports of large quantities of medicines outside Europe, and hospitals receiving large quantities of medicines. All these events require all of the units concerned to be decommissioned.
That is why, in the case of hospitals, the European Commission allows a procedure in which the hospital may refer to an aggregation number to trigger the de-activation of all of the individual units linked (aggregated) to that number.
However, as the European database is not able to keep track of these aggregation files, each participant in the chain is responsible for exchanging these aggregation numbers with their partners, using electronic exchanges modes with the same level of security as those used between the participants and the European database.
The problem remains, however: the wholesaler or dispatcher supplying the hospitals must create the aggregation by scanning all the boxes placed in a crate, the crate bears a unique aggregation number, and the digital message of the content sent must be generated.
Certain laboratories have started creating serialized crates, with the list of serial numbers of the units contained being drawn up at the end of the production line, but most of them do not because this requires a very large investment relative to the small proportion of boxes that will eventually need to be decommissioned on mass.
This small proportion compared to the entire production for Europe, however, still represents huge quantities of units for the distribution sector.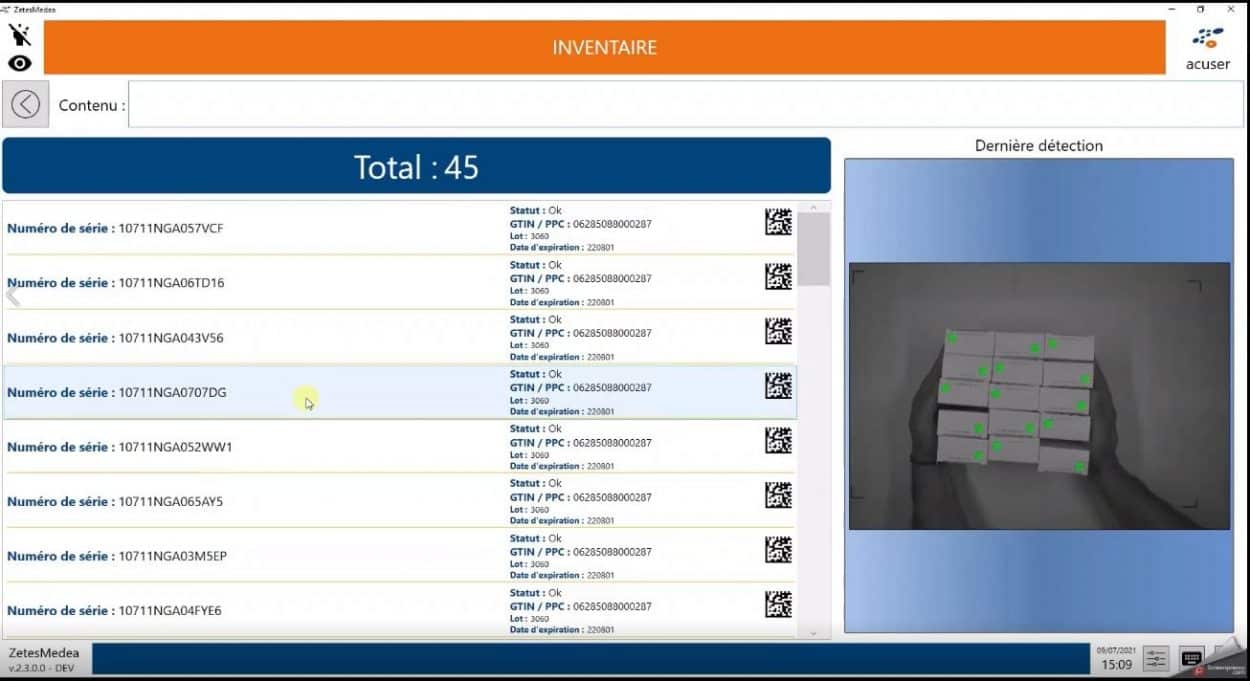 What solutions have been developed to overcome these efficiency challenges faced by medicine distributors, wholesalers, dispatchers and hospitals?
We have already mentioned "mass reading". Our customers are looking for a way to make the capturing of serial numbers more efficient, which is extremely labor-intensive and time-consuming when performed by manually scanning one box at a time. Innovative technology can now facilitate much greater operational efficiency. 
To help our many customers throughout Europe, Zetes has developed a unique portfolio of dedicated ImagedID workstations which combine specialized machine vision and algorithms for rapid decoding of multiple Datamatrix codes affixed to medicine packages. 
The images, processed in real-time, are analyzed by our high-speed algorithms, which can detect and decode dozens of serialized codes in a fraction of a second, visually highlighting any irregularities to the operators.
Operators can then create lists of serial numbers of the goods in each crate/pallet for decommissioning by our FMD solution (certified by all European databases), or used to create aggregation files and sent to hospitals via a highly secure and controlled method, where their decommissioning can be initiated.
Tailored to suit specific needs, Zetes FMD traceability is available in a "Distributor" version as well as a "Hospital" version, to give every participant the most efficient solution according to their rights and obligations under the Directive.
How does the solution integrate into existing processes?
The mass reading stations are intended to be made available to operators in a dedicated area of the warehouse. These are pre-integrated, portable stations that can be easily adopted in the field.
In terms of integration with the customers' existing information system, these stations can either be used as a stand-alone solution or controlled through an ERP or WMS. Our solution is also natively integrated into the Zetes FMD platform to track the operations performed and, where necessary, to track communications with the European databases and hospital solutions.
We can very easily set up on-site demonstrations and quickly establish the return on investment for the company. Just make an appointment with our experts, who will be delighted to visit you to examine your existing processes and present our support levels for this type of project.