NASA's mission DART took off on Tuesday night (22H21 local Tuesday, 06H21 GMT Wednesday) from the Californian base of Vandenberg on board a Falcon 9 rocket of SpaceX. The objective is to crash a spacecraft at 24,000 km / h against a near-Earth asteroid. This historic test is meant to help humanity protect itself from a potential collision in the future.
The DART (Double Asteroid Redirection Test) mission is unprecedented. NASA intends to change the trajectory of a 163 meter-long asteroid in order to be ready for the day when an object of this type will really threaten our planet.
For Tom Statler, DART program scientist:
"For the first time, humanity will change the motion of a natural celestial body in space."
The asteroid, which is not a threat to Earth, is called Dimorphos and is in fact a moon, in orbit around a larger asteroid, named Didymos (780 meters in diameter). To circle Didymos, Dimorphos currently takes 11 hours and 55 minutes. Scientists expect to reduce its orbit by about 10 minutes.
"Now that's a very small change, but it could be all that's necessary to deflect an asteroid on a collision course with Earth if we should ever need to do that, provided we discover that asteroid early enough and we have enough lead time."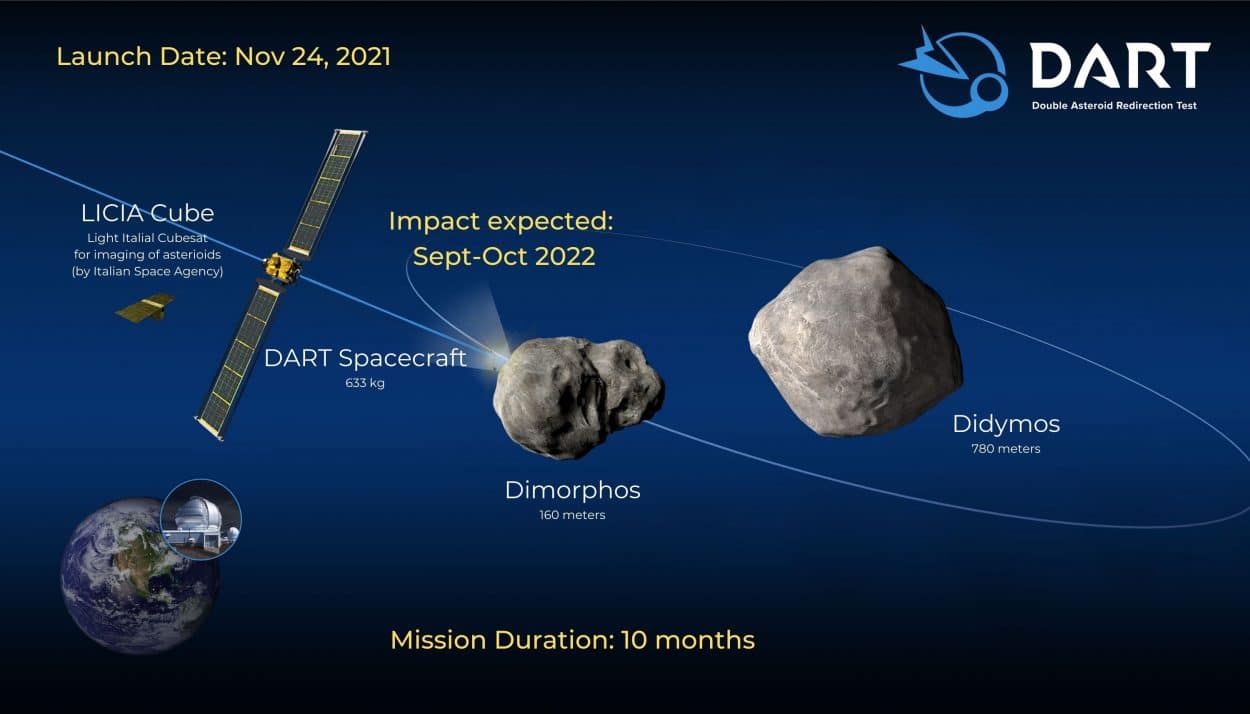 The mission spacecraft is smaller than a car, flanked by two long solar panels. It is scheduled to strike the asteroid next fall, in about ten months. Dimorphos will then be located eleven million kilometers from Earth.
The effect of the impact is not currently known because it depends on the composition of the asteroid. Scientists do not know if Dimorphos is made of solid rock or more porous rock. More info on the asteroid will appear on the images transmitted by Licia Cube, a small cubesat developed by the Italian Space Agency, only one hour before the collision.
Three minutes after the impact, Licia Cube will fly over Dimorphos, to observe the effects.
The DART mission is costing NASA about $330 million in total. SpaceX has won $69 million for the launch.