Researchers at ETH Zurich are building a 22.5-​meter-tall green architectural sculpture using four collaborative robots and artificial intelligence.
A team of researchers at ETH Zurich in Switzerland is working with AI and robots to create a 22.5 meters high green architectural sculpture named Semiramis, after the Babylonian queen to whom the ancient Hanging Gardens of Babylon have been attributed.
The structure will consist of five geometrically wooden pods supported by eight thin steel pillars and is being built thanks to innovative digital methods.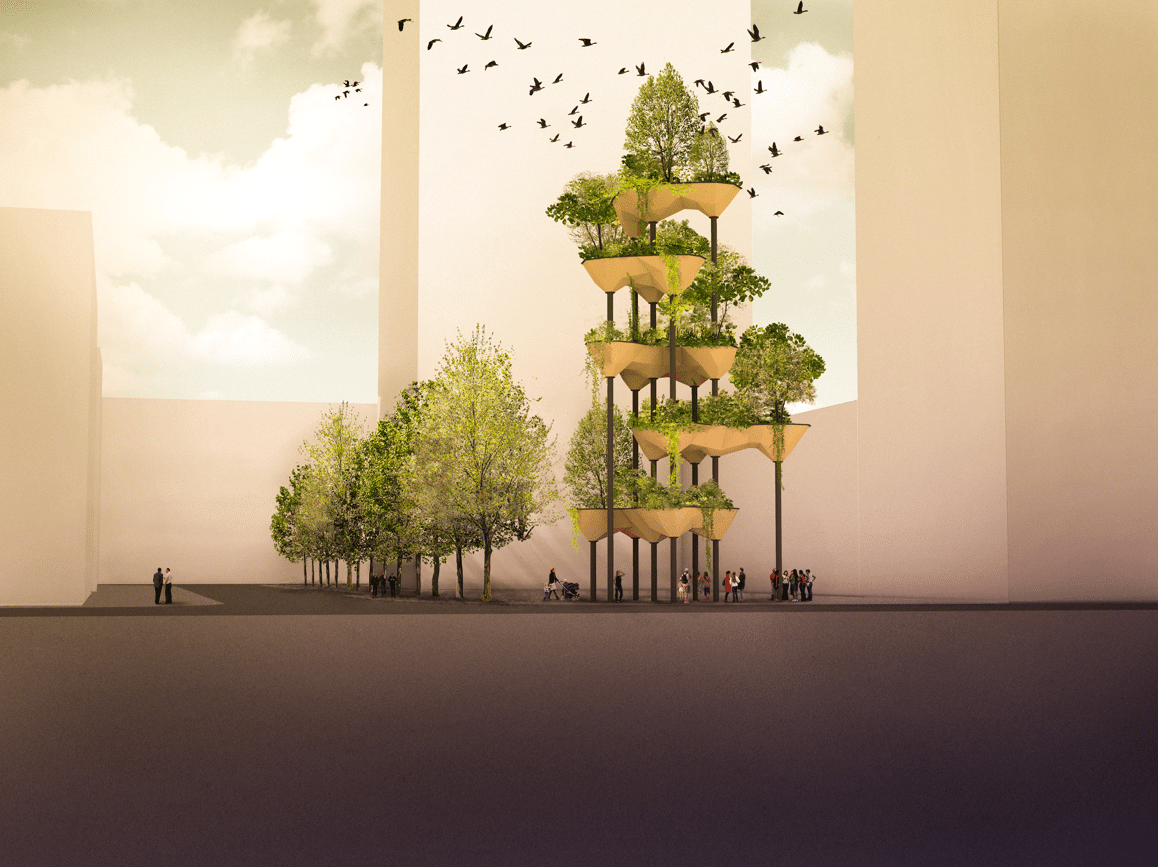 An AI Design
A custom machine learning algorithm, developed in collaboration with the Swiss Data Science Center, offered the researchers different sophisticated design options. The propositions differed as to the shapes of the pods and their spatial arrangement relative to each other. AI also highlighted how each design can affect individual target variables, such as irrigation for the pods.
According to Matthias Kohler, Professor of Architecture and Digital Fabrication at ETH Zurich,
"The computer model lets us reverse the conventional design process and explore the full design scope for a project. This leads to new, often surprising geometries."
Art the campus augmented reality lab, the team of researchers was able to explore the different designs in 3D and fine-tune them together in real-time. Thanks to software developed jointly with ETH's Computational Robotics Lab the scientists can adapt the designs of the wooden pods, which are composed of about 70 wooden panels, easily. The researchers can for example move a single point within the geometry of one of the pods and the software will automatically adjust the entire geometry. At the same time, the software takes into account the relevant manufacturing parameters, such as a panel's maximum possible weight, meaning it always generates the most efficient and most load-bearing configuration.
The Dance of the Robots
The structure is currently being manufactured in the Robotic Fabrication Laboratory at ETH Zurich. Always in sync, four suspended robotic arms each pick up the wooden panel assigned to them, perform a high-precision dance and finally put the panels into place according to the computer design. An algorithm calculates the movements of the robots in such a way that no collisions occur during execution. Once the machines have placed their four panels next to each other, craftspeople first temporarily join them before gluing them together with a special casting resin. Each of Semiramis's five wooden pods comprises between 51 and 88 of these wooden panels.
Compared to traditional wood construction, robotic manufacturing has several advantages: the robots relieve humans of the heavy lifting and precise positioning and the assembly process requires no costly, resource-intensive substructures.
The architectural sculpture is expected to be finally planted out in spring 2022. S