Italian automation experts Comau and IUVO, a spin-off company of the Sant'Anna School of Advanced Studies, Pisa, are seeking new industrial applications for the MATE-XT exoskeleton.
Giuseppe Colombina, Head of Comau Pontedera Innovation Hub and CEO of IUVO, explained they are teaming up with Heidelberg University in a bid to find more uses for wearable robotics in human-machine collaboration.
"Heidelberg University will now research the impact of using the exoskeleton within a multifaceted manufacturing context, looking at biomechanical and productivity results, among other factors. In particular, this project will analyze the biomechanics of using MATE-XT for new applications, under new conditions and within new industries and outdoor environments, while verifying users' learning and motor adaptation speeds."
The university's research aims to further quantify the degree to which MATE-XT can reduce physical stress during strenuous tasks involving repetitive shoulder flexion movements.
"Although the project will focus on the German industrial context, the results achieved can be applied in similar conditions within other contexts all over the world."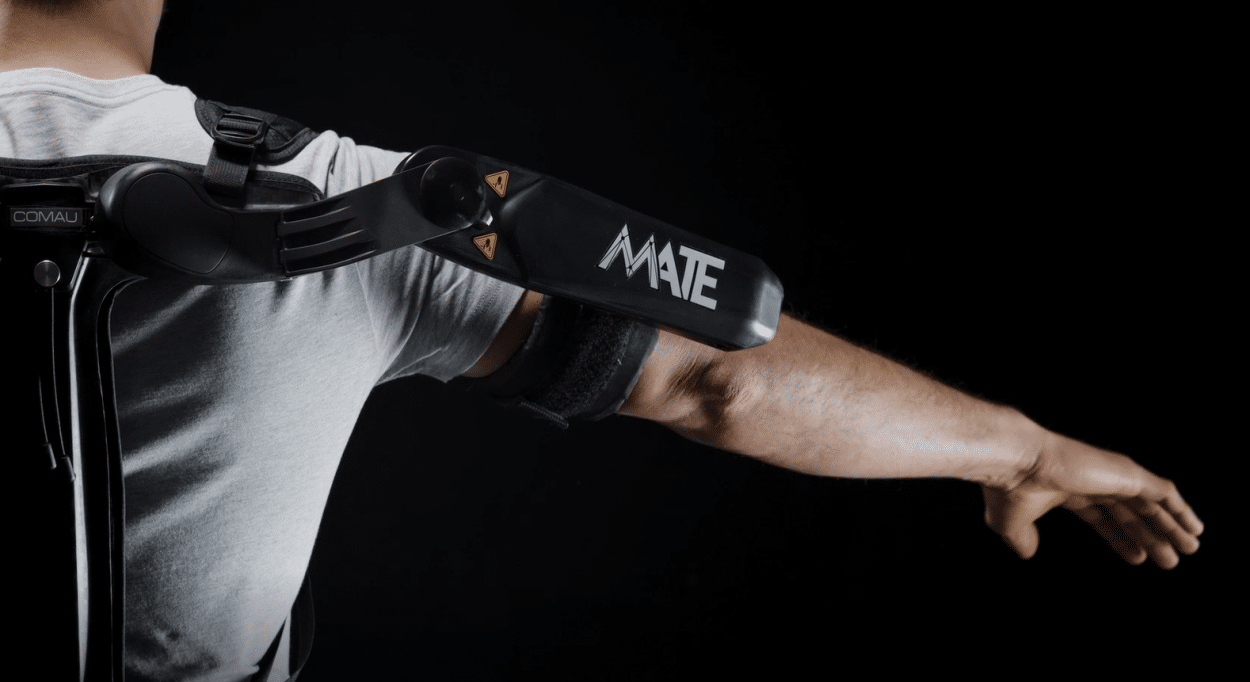 Combining Technologies
The latest version of Comau's MATE (Muscular Aiding Tech Exoskeleton) is rugged, lightweight and highly breathable.
It is suitable for indoor and outdoor use and designed to accommodate the extreme conditions of construction, industrial cleaning and powder coating.
It aims to provide consistent, ergonomic support for the shoulders and upper body to ease muscle fatigue and facilitate movement for overhead and repetitive tasks, explained Mr. Colombina:
"To design MATE-XT, Comau's biomechanical engineers leveraged their extensive field experience across multiple industry sectors and the latest available technologies to increase the comfort, performance and flexibility of the exoskeleton. In particular, the mechanical shoulder chain was redesigned to guarantee protection from external outdoor conditions like water, dirt, heat and UV light. The back of the exoskeleton now features a carbon fibre structure, with a new captive design and shape to better support ergonomic posture."
A patented kinematic mechanism guarantees all the degrees of freedom of the shoulder and is able to reproduce the physiological movement of a user's shoulders.
A special lock and unlock system prevents the risk of activating the torque generator box while taking the exoskeleton on and off.
Growing Interest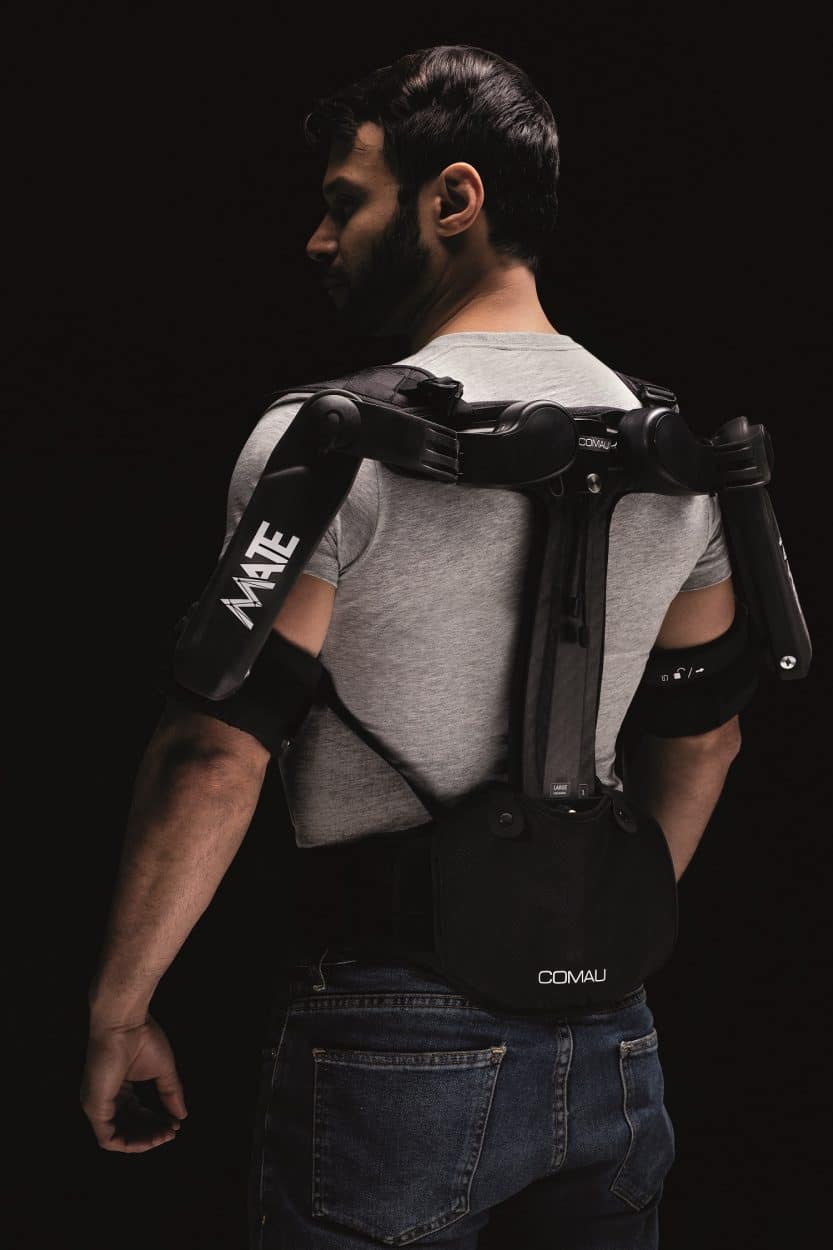 Comau estimates MATE-XT can help workers increase accuracy during overhead tasks by 27% and execution speed by 10%; it can also reduce cycle times by at least five percent.
So far, the wearable exoskeleton has been deployed to improve the ergonomics and precision of various manual tasks involved in the production of semi-truck cabs.
In the kitchen manufacturing industry, it is being used in logistics, order picking and the loading and unloading of kitchens at the customers' homes.
It is also helping workers in the electromedical sector, the food and beverage industry, and a variety of other applications ranging from agriculture and carpentry to plant and equipment maintenance.
Mr. Colombina said he expected to see passive exoskeletons take an increasingly important role inside and outside the smart factory over the next few years:
"We are already seeing this in terms of novel and non-industrial applications, and growing interest for deployment within construction, warehousing and logistics. Our estimates suggest a potential five-year compound annual growth rate of up to 40% for the wearable exoskeleton market, of which half will come from the industrial sector."