From humble beginnings, Taiwan's manufacturing sector has climbed the technology ladder to become one of the world's smart machinery powerhouses driving Industry 4.0.
Taiwan is well-known for its semiconductor fabrication plants. But silicon chips are not the only thing it has to offer manufacturers across the world. Taiwan's smart machinery leaders are helping global manufacturers embrace the future. From high-precision CNC cutting machines, power presses and machine tools to industrial automation and collaborative robots, let's take a tour of Taiwanese smart industry.
Taiwan was One of the Four Asian Tigers
Taiwan was one of many economies which embraced manufacturing as part of the post-war economic boom, beginning in the 1950s with textiles, small appliances and white goods. Taiwan followed the trajectory of countries like Japan and South Korea, which modernized in the 1980s in order to move further up the manufacturing value chain.
This included the establishment of the Taiwan Semiconductor Manufacturing Company (TSMC) in 1987, which then became the world's largest dedicated independent semiconductor foundry. By the 1990s, Taipei's booming electronics sector saw it dubbed one of the "Four Asian Tigers" along with Hong Kong, South Korea and Singapore.
In the last decade, the island has found itself squeezed between emerging economies and industrially developed economies. It has turned to smart machinery and smart manufacturing to protect its position on the world stage.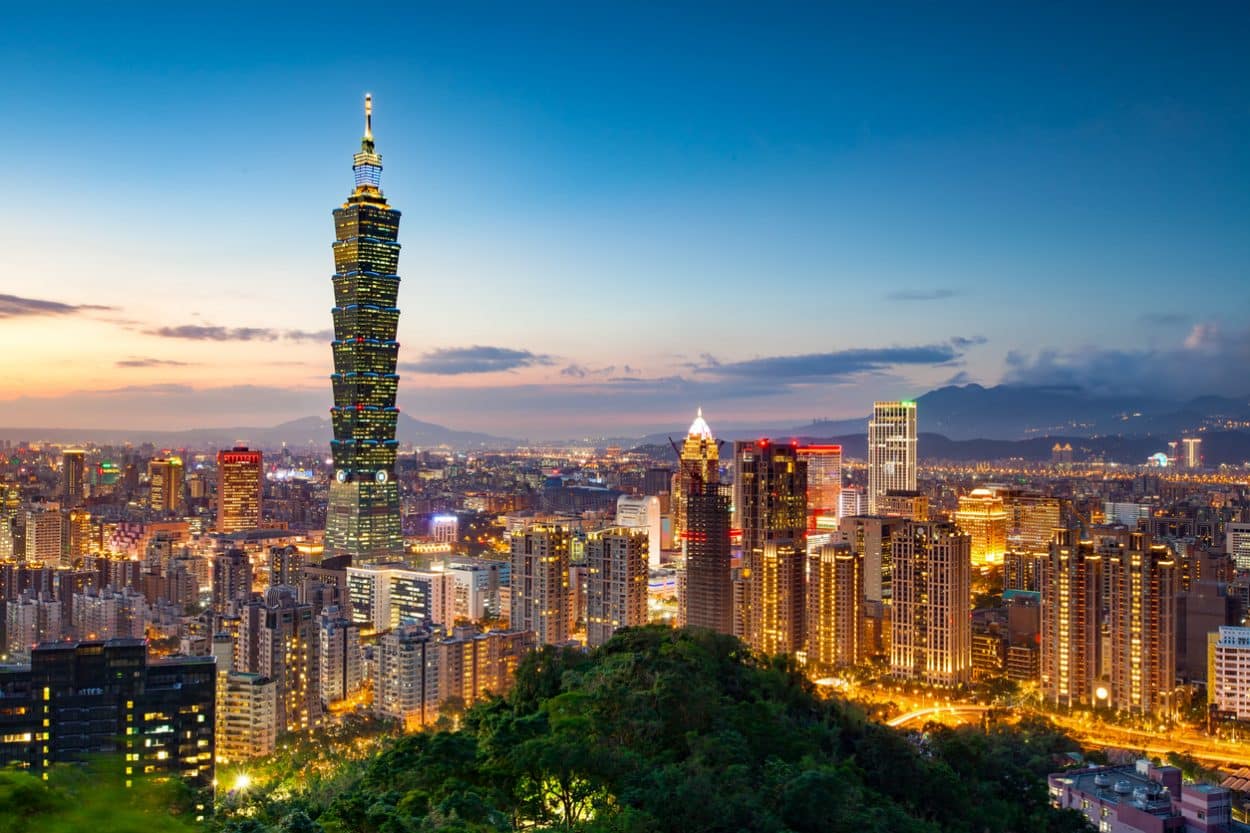 The Smart Machinery Initiative
Today, the success of Taiwan's manufacturing sector results from a number of factors. These include an export-oriented economy, investment in high-tech manufacturing sectors, a highly educated workforce and a culture of continuous improvement.
In 2017, Taiwan enacted the "5+2 Industrial Development Plan", which included a $117 million Smart Machinery Initiative. The next year, the Industrial Technology Research Institute launched its Intelligent Manufacturing Pilot Production Site.
Taiwan's Taichung City Precision Machinery Innovation Technology Park (TCPMP) is also driving the development of smart machinery and smart factories, and revolutionizing the manufacturing sector.
Located in Taiwan's "Golden Valley" in Taichung City, TCPMP is part of a national policy to upgrade the technology of the machinery industry. Taiwan has developed a complex machinery and machine tools ecosystem. As a result, TCPMP contains the highest concentration of machine tool manufacturing in the world.
Machine Tools Manufacturing
Victor Taichung Machinery is one of the largest Taiwanese machine tools manufacturers. It is specialized in CNC lathes, machining centers and plastic injection molding machines. Its smart factory in TCPMP features eight unmanned production lines. Beyond robotic arms and smart machine tools on the lines, they extend to incorporate smart logistics including automated warehouses and automated guided vehicles.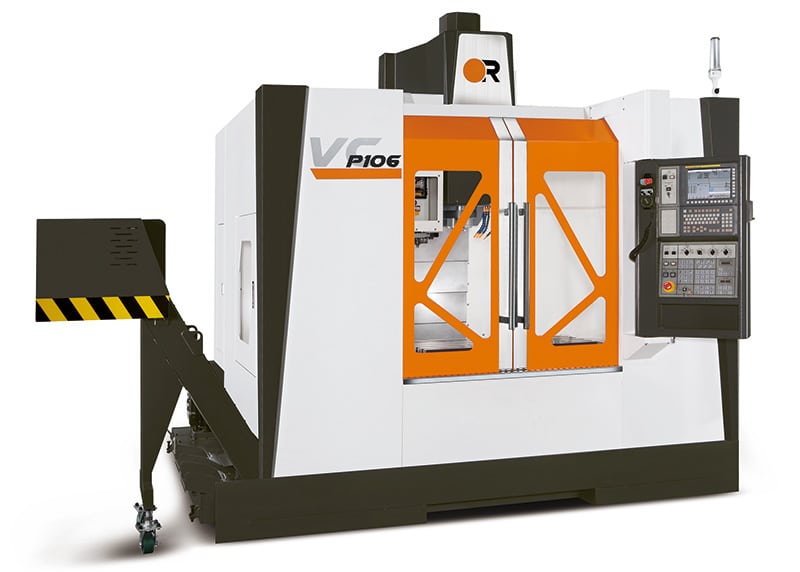 Another highly successful Taiwanese smart machine tool manufacturer is Buffalo Machinery. The company builds a range of metalworking machine tools including CNC lathes, vertical machining centers, 5-axis simultaneous machining centers and horizontal boring machines. Other key players include Tongtai, Chin Fong Machine and FFG.
Meanwhile, Delta Electronics and Solomon specialize in industrial electrical power components which support smart machinery and smart manufacturing.
Along with improving Taiwan's own onshore manufacturing, these successful Taiwanese companies also bring smart machinery and automation to manufacturing plants across Asia and the world, including their own offshore operations.
This supportive smart machinery ecosystem is one of Taiwan's key strengths, says Dr Paul Chang, Buffalo Machinery's President and General Manager.
"A supportive supply chain, combined with lower production costs, certainly helps give Taiwan a competitive edge on the world stage. But When it comes to exporting to the world, the challenges include high transportation costs and the need to undersell European and Japanese machines even though we offer the same quality and technology."
The Rise of Robots
When it comes to industrial and collaborative robots, Taiwan faces tougher international competition from the likes of Europe.
Taiwanese robotics leaders include Hon Hai Precision (Foxconn). Key component suppliers include Delta Electronics, Solomon and Toyo Automation. Meanwhile, Techman Robot is leading the way for Taiwan in terms of collaborative robots.
Cobots are designed to work side-by-side with humans and can handle more complex and repetitive tasks. But they are only one aspect of what Techman Robot brings to smart manufacturing, says CEO Haw Chen:
"Robots are our core business, but we also provide the AI and machine vision capabilities to power AI quality inspections. Along with this, our TMmanager SCADA software solution connects smart machinery and IoT devices to power smart manufacturing."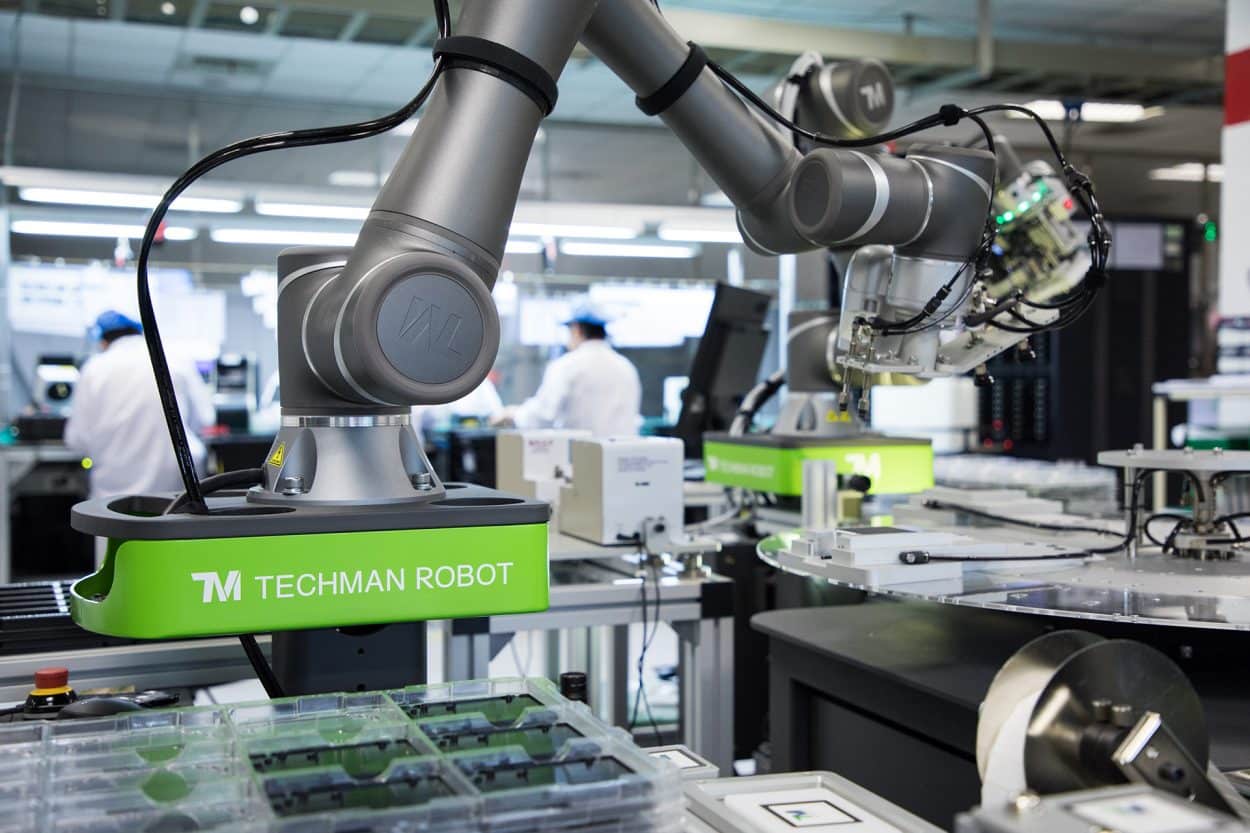 High-tech Manufacturing Success
A strong culture of pragmatism and continuous improvement allows Taiwanese manufacturers to remain flexible and move with the times. According to Monique Appeldoorn, Delta Electronics' Marketing and Communications Manager,
"Smart manufacturing is a perfect example of Taiwan's culture of continuous improvement at work. Small-scale manufacturing, testing and R&D tend to happen in Taiwan while, once processes are honed, the Taiwanese are very pragmatic about moving large-scale manufacturing across to China or other locations around the world."
A close, yet complex, relationship with Beijing has also allowed Taiwan to find ongoing high-tech manufacturing success where some other Asian powerhouses have stumbled. Taiwan is indeed taking advantage of mainland China's strengths when it comes to the economies of scale that come with a large landmass and population. Some of Taiwan's manufacturing is also offshored to neighbors in Southeast Asia such as Thailand and Vietnam.
Taiwan tends to retain less labor-intensive manufacturing onshore, along with research and development, which is where its smart machinery sector shines. As industrial robots and smart machinery learn to handle complex delicate tasks, rather than simply welding cars, it is allowing Taiwan to retain even more high-end manufacturing onshore.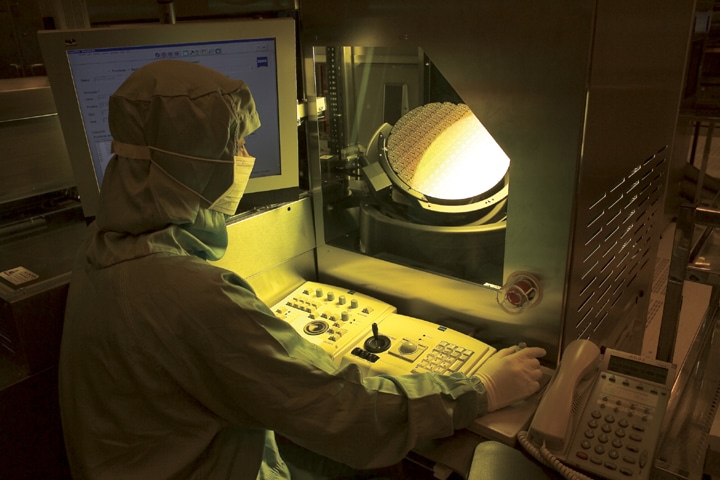 Embracing Industry 4.0 in a Post-Pandemic World
The disruption of the COVID-19 pandemic is increasing the global demand for manufacturing processes that are less reliant on human laborers.
Meanwhile, the US-China trade war is seeing companies diversifying manufacturing beyond China. There is a push for the US and Europe to revitalize their own manufacturing sectors to reduce their reliance on China.
This trend also drives demand for Taiwan's smart manufacturing technologies, says Techman Robot's Chen:
"A limited labour pool and high land costs are a challenge in Taiwan, but smart manufacturing technologies help us overcome those challenges. The US-China trade war creates an opportunity, as Taiwan's advances in automation, robots and cobots will allow more manufacturing to shift to Taiwan. It will also allow Taiwan to provide the technologies for smarter manufacturing around the globe."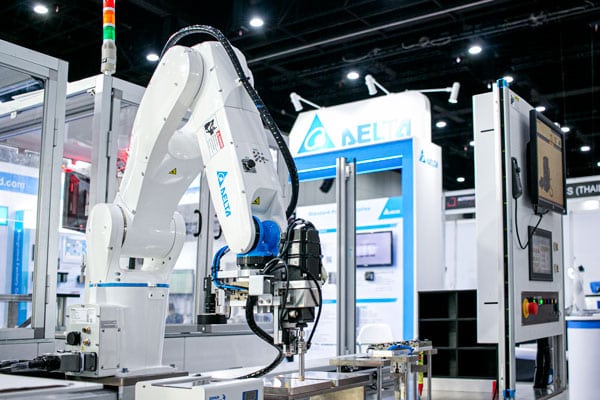 Taiwan's complicated relationship with Beijing will continue to present challenges, says Victor Taichung Machinery director Wayne Hsueh. For example, it is difficult for Taiwan to participate in international agreements such as the Regional Comprehensive Economic Partnership Agreement and Free Trade Agreements. This can see Taiwan pay higher tariffs.
Despite the challenges, Taiwan's manufacturing sector is well-placed to assist companies around the globe with embracing smart manufacturing and Industry 4.0, says Hsueh:
"These are not technologies that can be achieved overnight. However, many Taiwanese companies have been developing smart manufacturing over decades and have already achieved Industry 4.0 manufacturing."
He then adds:
"Due to Taiwan's manufacturing reliability and shared democratic values, Taiwan can be a key global supplier in the information and communications technology and other supply chains, such as the smart machinery industry, in the post-pandemic world."