Located in Copenhagen, Denmark, CopenHill is a power plant that is able to turn 400,000 tons of city's waste into clean energy. What makes it extraordinary is that CopenHill also features a ski slope on its roof.
This article was originally published in our sister publication ArchiExpo e-magazine.
Until very recently, strolling through central Copenhagen with your skis in tow would have drawn quizzical glances; the famously flat city is several hours away from popular mountain resorts across the border in Sweden. But now the Danish capital has its very own slope, situated in the most unlikely of locations.
CopenHill was conceived as an original urban hybrid, combining its core function as a power plant with a park, hiking trail, cafes, the world's tallest climbing wall and—of course—a 400m ski slope. According to David Zahle of the Bjarke Ingels Group (BIG), the architecture group that designed CopenHill:
"The facility becomes part of the city and redefines the relationship between production and recreation,"
Inside, massive machinery is arranged by height in order for the roof to become an artificial hill with a metallic chimney at its peak. Architects at BIG envisioned an "urban metabolism" that turns city waste into its own energy source, symbolically transforming mountains of trash into power for 100,000 homes without polluting the environment.
Approximately half of the 41,000m2 space is dedicated to cleaning smoke from burning 440,000 tons of garbage every year.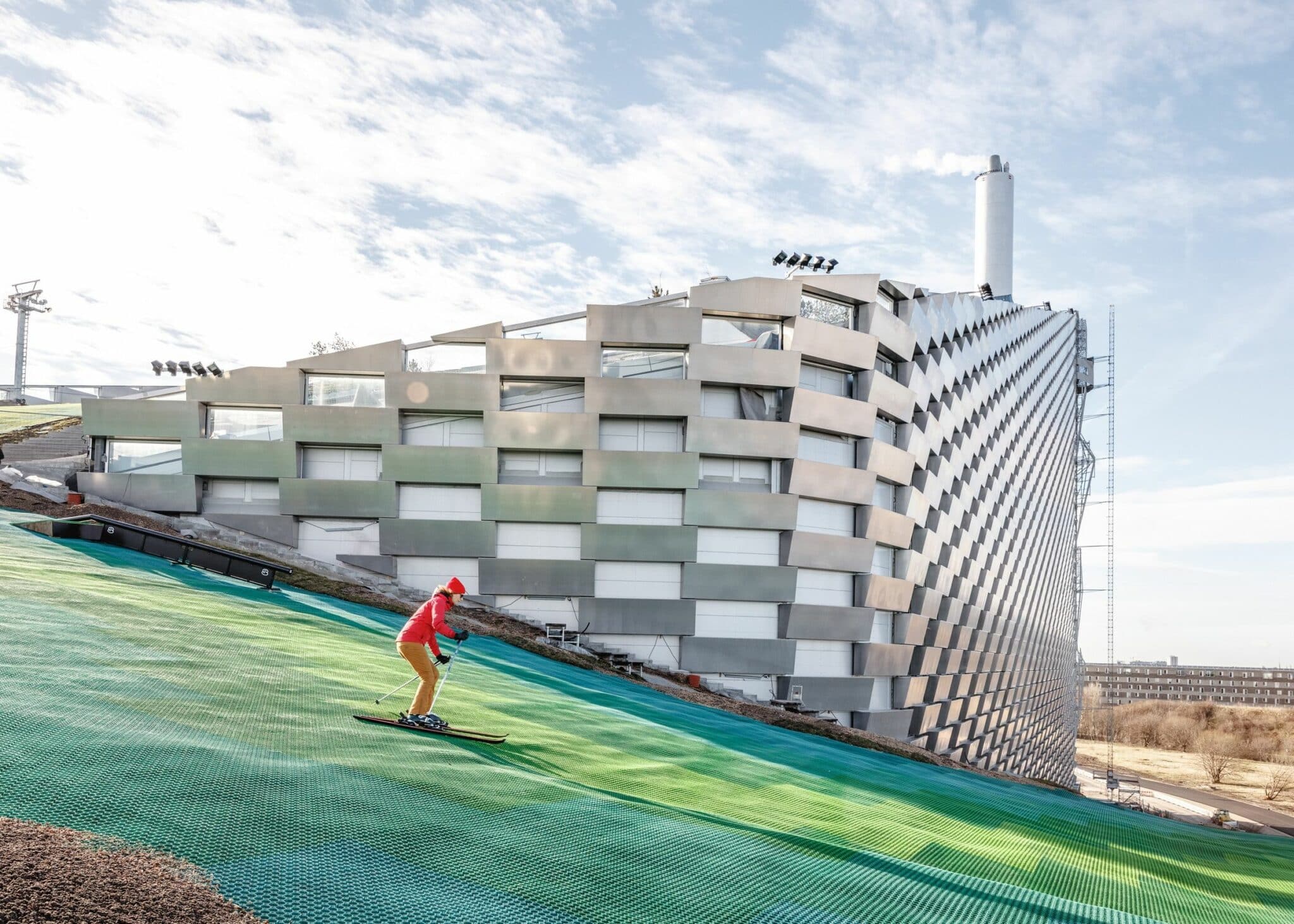 (Credit: BIG / Credit: Photo by Laurian Ghinitoiu)
While placing such facilities in the middle of a city feels counterintuitive, it is essential to maximize efficiency by minimizing waste transportation time and energy transmission loss. A commitment to producing zero toxic emissions was the key starting point for designing a building that sits only 200m away from neighboring homes—and less than two kilometers from the Amalienborg royal palace.
From afar, CopenHill appears to be made of metal, but closer inspection reveals the 3.3×1.2m stacked aluminum bricks of its façade double as planters that form a vertical garden that filters light entering the building. Along with a 10,000m2 roof park which contains 7,000 bushes and 300 trees—carefully landscaped for the delicate microclimate at up to 85m altitude—it brightens up a distinctly industrial neighborhood.
Designer Rasmus Astrup of the SLA landscaping studio, which collaborated with BIG and seven other partners on the project explained:
"It acts as a generous 'green gift,' forming a completely new urban ecosystem for the city."
As well as providing a pleasant public space, the rooftop absorbs heat, removes air particles and minimizes rainwater runoff.
CopenHill is a statement of intent for Copenhagen's ambition to become the world's first carbon-neutral capital by 2025. And Denmark as a nation is on the right track: Recycling rates increased to 69 percent in 2015, with household waste at 46 percent.