With green initiatives popping up, the benefits of rooftop farms are becoming worldly-recognized. We spoke with Thomas Schneider, co-founder and director of Rooftop Roots in Washington DC and Michelle Hong of Rooftop Republic, based in Hong Kong, China to know how to create and run a rooftop garden or farm.
(This article was first published in our sister publication AgriExpo)
Hong Kongers and city-dwellers are increasingly concerned about the food they put on their dinner tables, According to Michelle Hong of Rooftop Republic, people are increasingl demanding food that is safe, healthy and sustainably produced. With green initiatives popping up, the benefits of rooftop farms are becoming worldly-recognized. One prime advantage is locality— reducing transport mileage equates to lowering emissions, but there's more to it than a couple of miles here and there.
When bare roofs receive more heat than they emit, they increase emissions and greenhouse gases. Rooftop farms are also helping to cool buildings as they defer this "heat island" effect. The greenery of rooftop farms absorb CO2 and release oxygen, so buildings don't diffuse as much heat—a good thing since the United Nations confirms our planet is warming much faster than we think.
There's more still. Rooftop farming can offer low-income families a new source of revenue and better access to quality products—in the US, only 7% of low-income families eat the proper amount of fruits and vegetables, according to a report done by CBS This Morning.
The Rooftop Society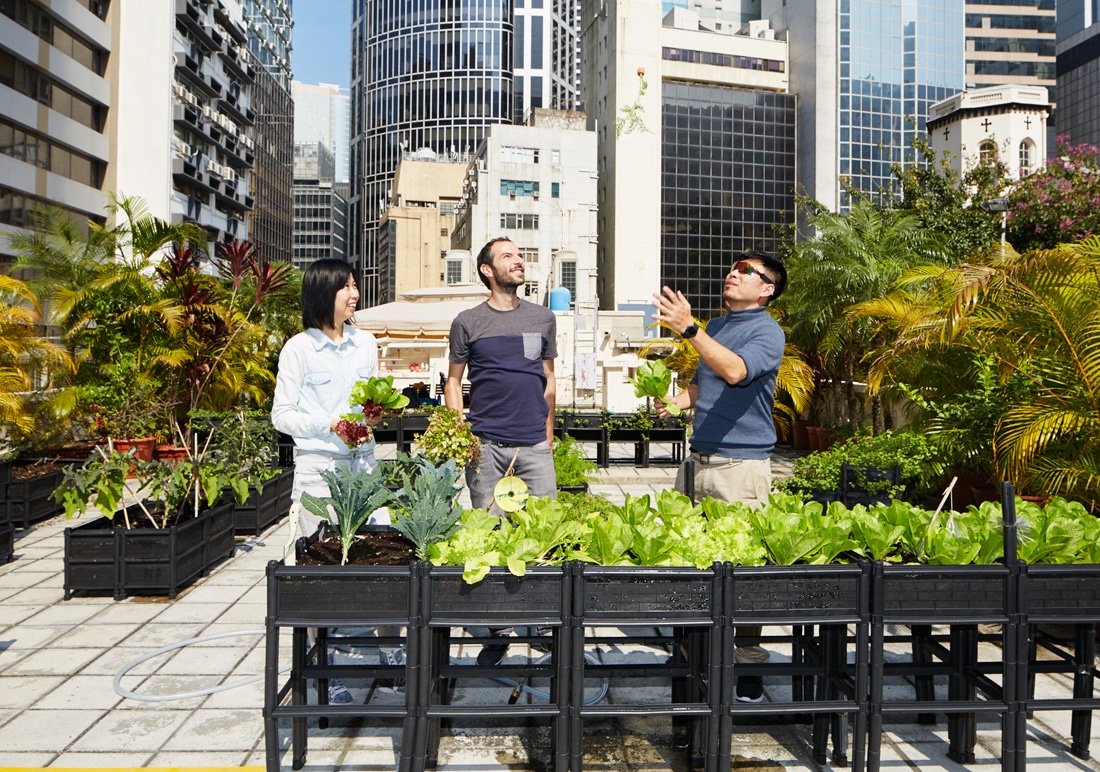 Both the Rooftop Roots and Rooftop Republic were born from the realization that there was untapped potential in the city and that there was a real rupture between people and their food sources, health and community.
Rooftop Republic provides services to help install, maintain, learn and understand how to grow gardens on the top of the buildings. Some of the gardens act as a platform for corporate employee engagement or for students to immerse themselves in the educational experience of growing their own food. Through these actions, they're taking a step forward to reconnect people to food explains Michelle Hong,
"Only by addressing this disconnection—this broken relationship—will we be able to change people's mindsets and behavior and help them make more informed decisions about their food."
Rooftop Roots was also created with the intention of rekindling this disconnect through providing economic, environmental and social justice. Their ambition is to generate jobs, offer a new source for fruits and vegetables, and establish a community for food deserts.
Choosing the Right Location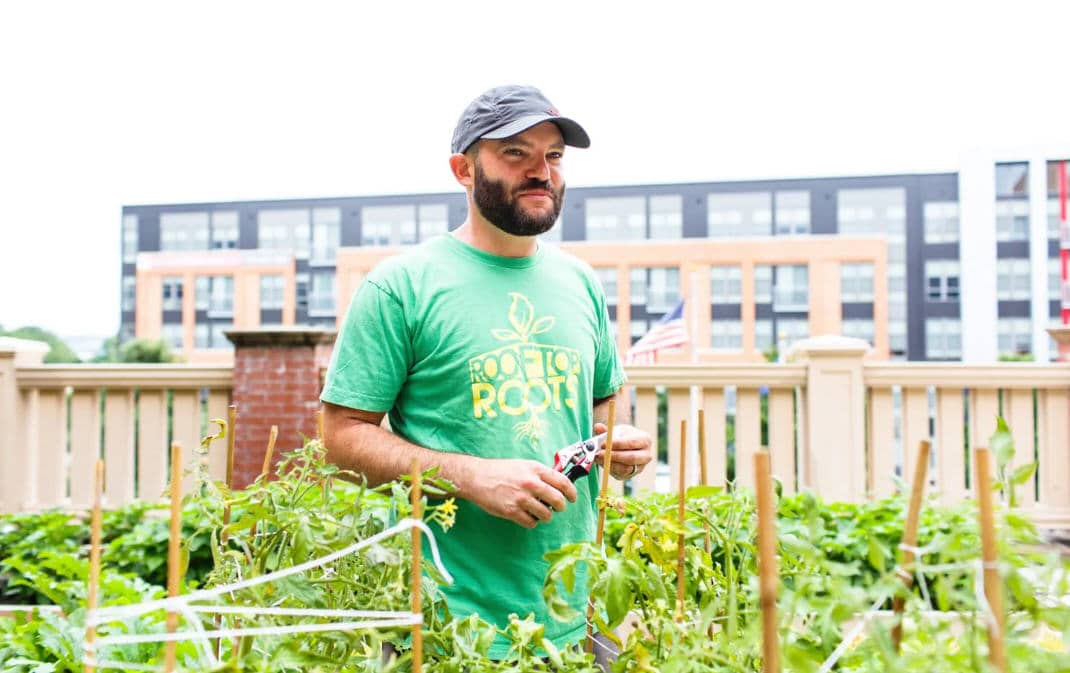 Although the benefits are shiny on paper, Schneider reminds us that it's not easy:
"Rooftop gardens are not going to end world hunger, weather conditions and temperature swings that occur high up render farming a lot more difficult than ground farms. Plants tend to prefer the earth."
One can't forget that rooftop farms are on roofs, literally vulnerable to strong winds on structures that need to be secure and have fundamental integrity. In the Hong Kong context, the first thing to consider when starting the urban farming revolution is to identify a good location that has easy access to water, explained Hong.
"Most herbs/veggies require a minimum of 4 to 5 hours of direct sunlight. No matter what containers you use, the bigger the better. The more space you give to your plants the easier they will find it to develop their root systems, to find nutrients in the soil, etc."
Rooftop Republic is embarking on training more urban farmers of the future, and with the growing demand for urban agriculture, the company is optimistic that the potential of urban farming in creating employment/vocational opportunities, can be huge.
Immeasurable Benefits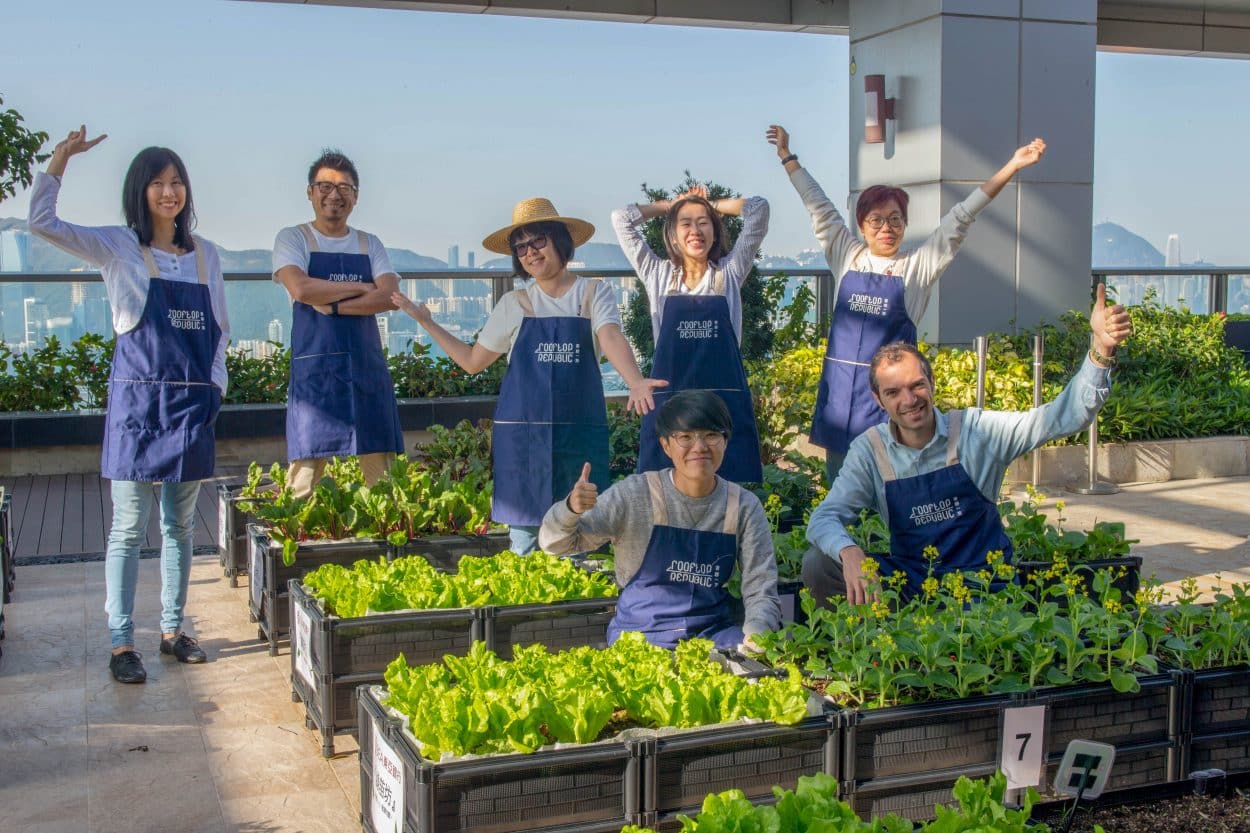 Rooftop farming doesn't require that one purchases land for farming. Underutilized spaces such as rooftops, terraces or even ground surfaces can be re-utilized and re-valued. Although difficult at times, the perks of building community and giving others' access to natural processes at work are priceless, Schneider maintained. When people begin to understand the tough work involved, a stronger sense of respect for food develops. Hong emphasized:
"People who grow their own food are likely to understand the processes of nature on agriculture, and are more likely to accept 'imperfect' produce, as well as be more conscious to treat food purchases with care. We are aiming to change the concept that food is something that we only engage with at the supermarket."
Rooftop farms and gardens are being implemented to provide greenery and produce just as much as they're learning experimentations. Today there still aren't enormous amounts of data concerning the success or results of rooftop projects, which is why Rooftop Roots took it into their hands to initiate a pilot project in 2016 in collaboration with the University of the District of Columbia, in order to establish the best methods and plants for maximum production.
With the intent to improve food scarcity and help other urban growers, the project focuses on the testing of 6 varieties of both strawberries and tomatoes, because as Schneider put it,
"Tomatoes are the gateway drug to gardening."
In other words: tomatoes are the plant one usually starts out with. Tomatoes are also exceptionally nutrient-dense and somewhat temperamental, so they are an interesting fruit to work with.
Although the teams have been working on this for about 2 years, results are still not definitive and the farmers are not in a position to report their findings. Yet, they can say that tomatoes are definitely not easy on rooftops.