American 3D printer manufacturer MakerBot is launching today MakerBot CloudPrint™, its next-generation cloud-based 3D printing platform designed to streamline and optimize 3D print workflows in the 'new normal' of remote working. We spoke with MakerBot vice president of product development Johan-Till Broer.
The 3D printing industry is facing an unprecedented challenge, with more people working remotely than ever before. Without the right tools, this can lead to a disruption in work and, ultimately, a decrease in performance. CloudPrint overcomes many of the common challenges associated with 3D printing, such as optimizing utilization and managing print jobs, while also enabling individuals and teams to work together collaboratively and creatively, from any device, anywhere in the world – regardless of how many printers are connected.
What is MakerBot CloudPrint and who is it for?
Johan-Till Broer: MakerBot CloudPrint is a cloud-based service that allows remote teams to better collaborate. Users can prepare, queue, print, monitor and manage 3D print jobs from a centralized cloud-based application. CloudPrint is designed for groups like engineering teams that share 3D printers, allowing them to create an online workspace. It features full workflow tools, which include handling slicer and print preparation tasks in the cloud, which is especially useful at the moment with so many people working at home.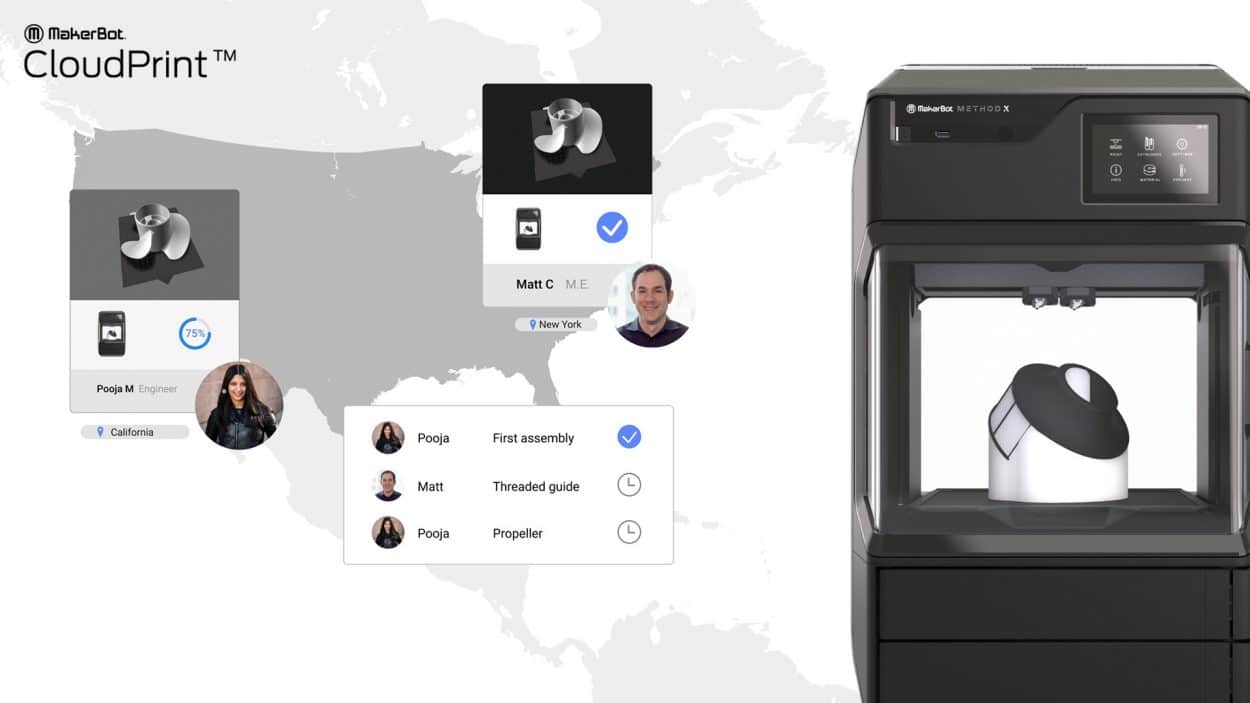 Why release it now and what are the immediate benefits?
Johan-Till Broer: MakerBot started out focusing on the maker movement and education, but as our products and ecosystem become more sophisticated we're winning over more and more professional users. We want to cater to their needs, which is why we're developing these kinds of collaboration tools for users such as engineers. There are also benefits in moving to the cloud in terms of managing our software, to ensure users always are running the most recent version with the latest updates. It makes it easier for us to add new features and improvements more often. Our users also benefit by shifting demanding tasks – such as print preparation and print preview – from their local machine to powerful cloud servers. This helps with speed and performance, which again is especially useful if you're working from home. It also becomes easier to manage multiple 3D printers, with the cloud-based dashboard providing a central location for tracking and viewing prints directly from a browser. Printers can be grouped into workspaces and shared with teams, granting different users specific access rights and prioritize print jobs by project or reorder the print queue based on shifting priorities.
How will cloud-based printing evolve?
ferent materials and calibrating the printer. A lot more can be done to make the tools smarter and help users achieve the best results, such as automating some of these processes.
Down the track, running in the cloud will make it easier to expand our service and offer tighter integration with more third-party applications and services. For example, we already integrate with SolidWorks CAD software which many engineers use to design parts. Looking forward, I don't want to name specific companies, but we are looking to integrate with the tools that engineers use to improve their models, such as analysing their designs, checking for errors and offering feedback depending on the intended use for the design. There are many smart applications out there, so we don't need to reinvent the wheel when we can just integrate with them. This will also make it easier for users to print with a wider range of materials such as plastics and carbon fibre, allowing them to get better results while also expanding the practical applications for 3D printing.