Infarm was founded in 2013 by Osnat Michaeli and brothers Erez and Guy Galonska. They built the world's largest in-store farm in Metro's flagship store in Paris.
Labeled as the new generation of farm, German startup Infarm farms everywhere—in supermarkets, restaurants, bars and warehouses—lowering the carbon print by cutting out millions of miles between the farm and the final consumer.
It all started when two people from Israel came to Berlin and couldn't find their typical herbs—and couldn't understand why, when they tried, the herbs wouldn't grow in Berlin. They picked up the idea of vertical farming and a hydroponic method of farming to create their farming system which resembles a giant glass-door fridge. They understood, then, that people would no longer need to import herbs from distant countries because they could be grown on-site, explained Key Account Manager at Infarm Jakob Peter
"We can grow herbs throughout the year at the same price. We're focusing on cities for our pilot projects, but we'll go into rural areas and plan on producing 1000 farms in the next years."
The startup always looks for places in need before deciding where they should implement their idea in order to fill in the gaps. They've already put their farm in restaurants, including Good Bank Restaurant in Berlin, with several other projects underway. They're currently operating more than 50 farms across Berlin in supermarket aisles, restaurants kitchens, and distribution warehouses.
The company has deployed operational farms in Copenhagen, London and Seattle. One thousand in-store farms are being rolled out in Germany alone. Infarm is expanding to other European markets every day, partnering with leading supermarket chains and planning its North America expansion program. For co-founder Osnat Michaeli,
"Recognizing the requirements of our customers, we have recently launched a new product: the DC farm, a 'Seed to Package' production facility tailored to the needs of retail chains' distribution centers."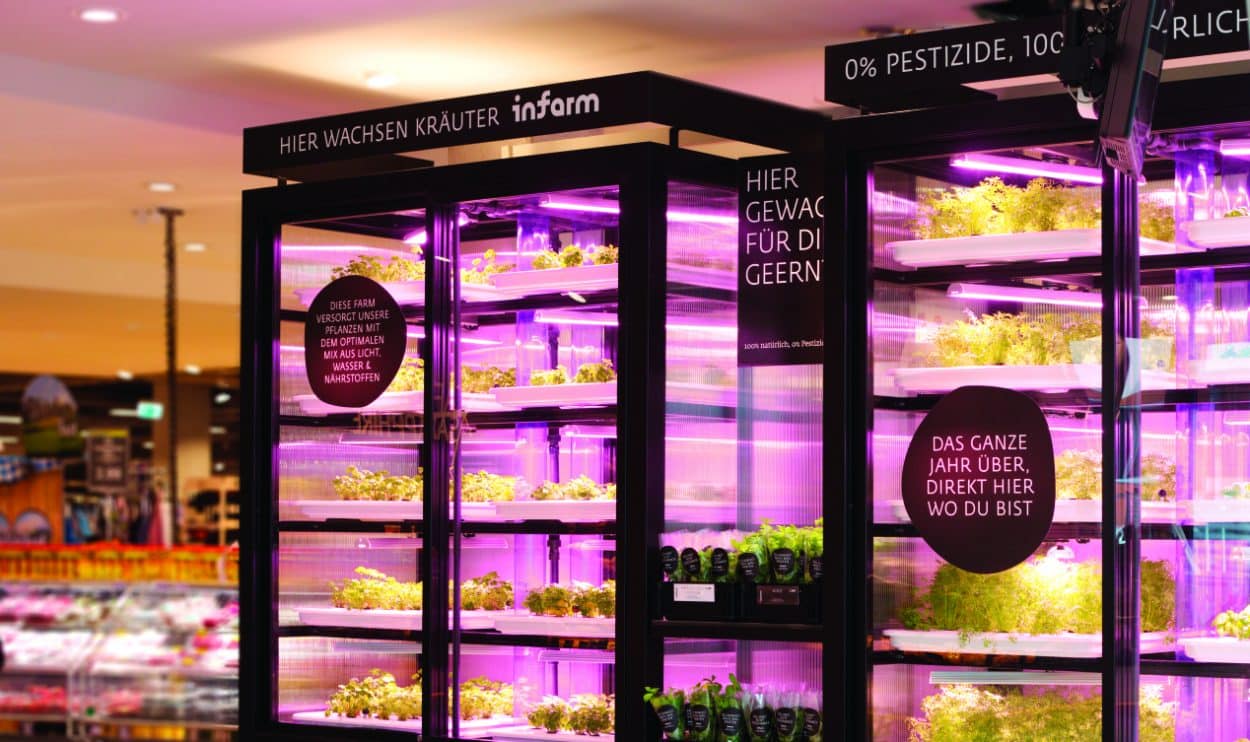 How the Farm Functions
The farms are connected to the internet and information is exchanged via the cloud. So they can "communicate with all the farms" no matter where they are. This hyper-connected solution is all about urban precision farming.
It's 2m² with several levels and can produce 1,200 herbs per month (per farm), or 800 heads of lettuce at 800 grams each. It's a modular system and can have both herbs and lettuce. It can be placed in offices, dead space, storage facilities and idle buildings.
The farm allows exact monitoring of light, climate, pH value of water etc. and can be tailored depending on the type of produce. The company ensures transportability and availability of herbs and lettuce via the information stored in the cloud, attributing the system the title "harvest on demand". Infarm generates transparency for end-users and can initiate discussion between family members when they see the farm. But the product has to be good for this concept to work.
"A fancy vertical farm with the best LED lighting system would be useless if the end result equalled bad produce."
Its hydroponic system uses 90% less water than conventional farming and only needs water replacement twice a month for hygiene purposes. No pesticides are needed and the product can be taken directly from the farm, so it's convenient. Herbs are always delivered with the roots and must be placed in water to remain fresh and good for two days. The door of the farm is always locked and only trained InFarm employees can open the door for hygiene reasons.
"We offer a service. We don't sell a farm. We own the farm and you pay a monthly rent. We harvest for you. Our technicians come when there are issues with the farm."
As each member thinks like a farmer, having a background in farming, they define themselves as a farming business. They even produced all the technical products involved in the farming system themselves.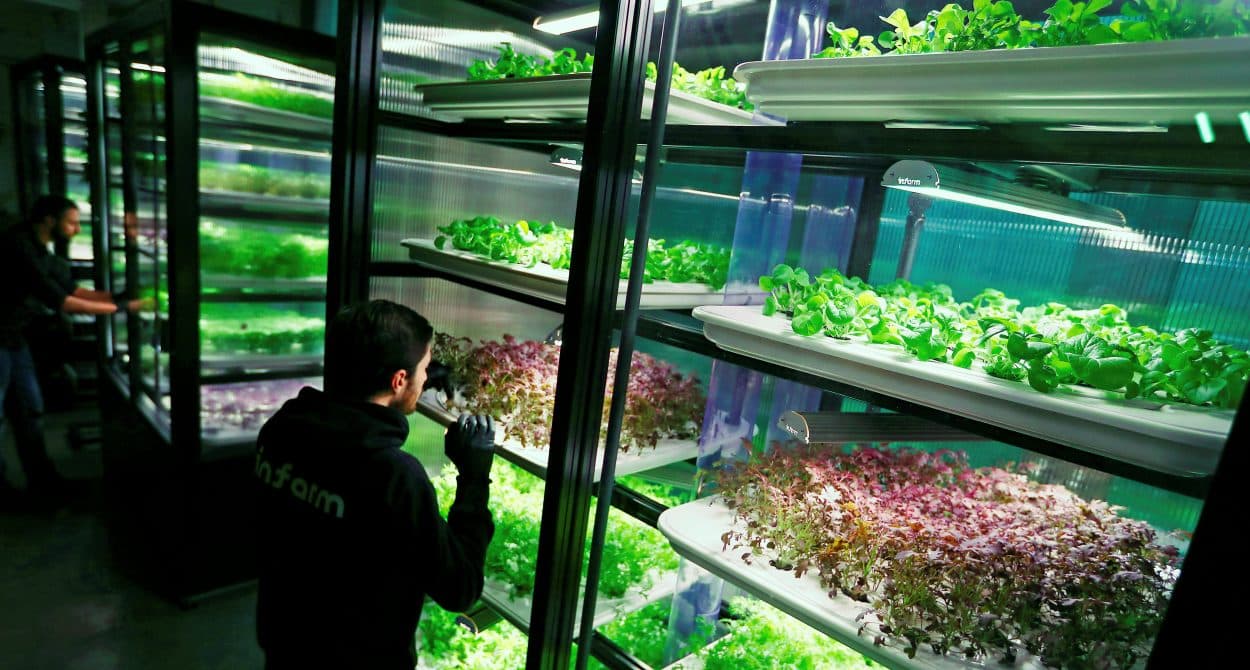 Retailers willingly welcome the concept as it provides a larger variety for clients, and an added bonus is that retailers can set their own price.
After introducing the concept of in-store farming to the world from Metro Cash & Carry in Berlin, Infarm and Metro partnered again. In 2018, they inaugurated the world's largest in-store farm in Metro's flagship store Paris. The 80 m2 vertical farm produces approximately 4 tonnes of premium quality herbs, leafy greens, and microgreens annually. Metro will become completely self-sufficient in its herb production with its own in-store farm.
This urban farming solution of in-store farming impacts the environment in a positive way: It reduces CO2 simply by cutting down the supply chain, avoiding major transportations from various countries. The startup is currently in contact with universities to do research on how much CO2 they're reducing compared to the typical supply chain.