Personal Protective Equipment (PPE) used to be crude and simplistic: steel toecap boots, safety shoes, mechanical protection gloves, goggles, construction helmets and ear defenders. Now, comfort, ergonomics and style are becoming just as important as practicality and protection.
Industry is a hazardous place and workers need protection from the dangers posed by impacts, dust, gases, fire and all the other threats they face, but employers and manufacturers of PPE have to think about more than just protection, says David Matthews, a former UK government advisor on health and safety and personal protective equipment, and now a consultant with Fire and Industrial PPE Ltd:
"PPE has changed over the years. It used to be crude but now, people using it are aware of the hazards and want more from their PPE."
He says part of the change in attitudes towards PPE has been the development of legislation, such as Directive 89/656/EEC – The use of personal protective equipment –that considers more factors than just the protection.
Ergonomics

For Matthews,
"Ergonomics and comfort has become a big thing now. If something doesn't fit, you are creating a hazard, not protecting from one."
Richard Graveling, a member of the Chartered Institute of Ergonomics and Human Factors and Principal Ergonomics Consultant for the UK's Institute of Occupational Medicine (IOM), agrees.
"It can kill. If somebody takes off a safety harness because it is uncomfortable, then it could end in a fatality. The directive makes it clear that a PPE assessment has to include an assessment of the wearer and that includes things like their state of health," says Graveling, who adds that the first line of defense should be to remove risk in the first place so that PPE is not needed."
However, he suggests that employers take account of several factors when choosing PPE.
"It should be a good fit. With some forms of PPE, size and shape can really matter. Any impediment to the wearer should be minimized, and it has to work with other equipment, such as if the user wears spectacles."
Intelligent Eyewear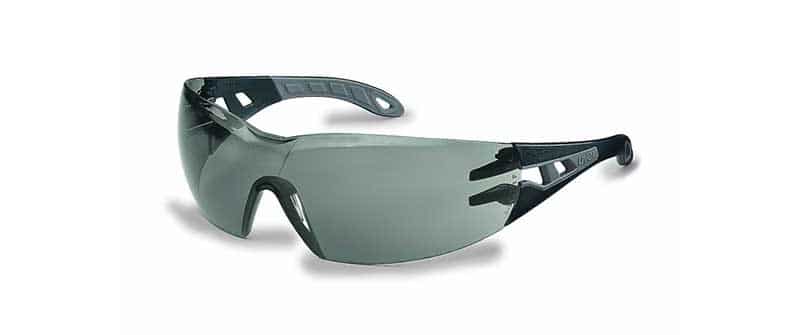 Clair Weston, Marketing Manager at UVEX Safety, one of the most innovative protective eyewear brand, says ergonomics is now a central part of what they do.
"Any technological development in protective equipment that increases comfort, hygiene, functionality and ease of wear and relieves muscular tension, discomfort and even pain will automatically help to reduce tiredness and keep wearers alert and productive."
Eyewear, therefore, has evolved, says Weston:
"Goggles and spectacles now boast a panoramic field of vision; increasing the range of peripheral vision and reducing the stress on the eye will help stave off eye fatigue."
UVEX also incorporates anti-fog, light reactive and scratch-proof coatings to its polycarbonate lenses. Tougher and lighter than glass, the lenses have an extra UV and glare protection for use in outdoor or brightly lit reflective environments.
"The issue of glare in the workplace is often underestimated, but glare can be very disabling and even dangerous."
Glare was the reason Paul Chick, Head of Transport Services for the UK's Dorset Police, approached UVEX during the 2012 Olympic Games. Chick had been tasked to provide policing on the waterways during the international sailing and watersports events, and needed to protect his officers from sun glare reflected off the water.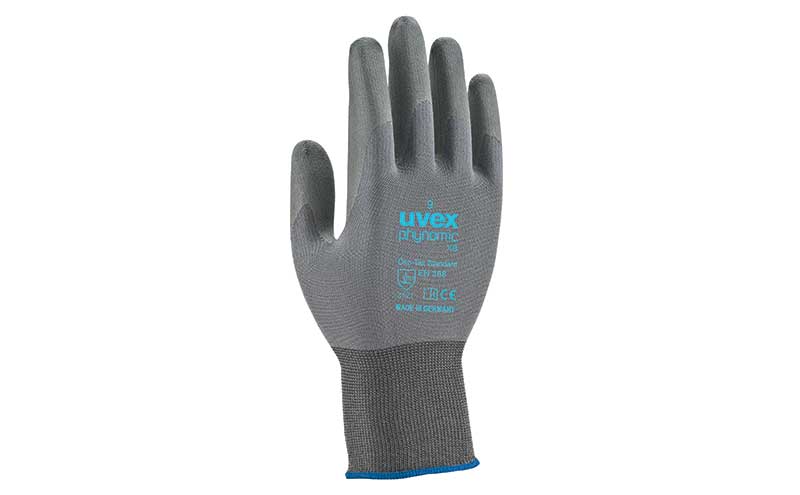 Changes in industry, such as touch screen monitors have also led to innovation. "Those using touchscreen monitors require gloves that are compatible with this type of work," says Clair Weston.
UVEX now produces thin, light and flexible gloves impregnated with an aqua elastic polymer coating called Phynomic XS. The combination of these elements makes the gloves sensitive enough to react with the surface of a touch screen and prevents users from having to remove them every time they touch a screen and potentially putting themselves at risk.
Having the Style
Style can also be a positive factor in PPE. If Paul Chick opted for UVEX Pheos glasses, it was because they cost approximately $7 a pair, adhered to EN 166 (Safety) and EN 170 (UV) and also because they are stylish (leading them to win the German Design Award in 2013). According to him, "wearers take ownership of the product, look after it and make it last longer".
Richard Graveling confirms the idea.
"You can now get protective footwear that looks like trainers. Users expect choice, so if something looks good and encourages people to wear it then it is a good thing."