Heralded by some experts as more effective than masks at protecting the eyes, nose and mouth from the coronavirus—and deemed essential by others as an additional barrier layer—face shields and their parts are being produced on small and large scales.
While COVID-19 is still there and more and more countries are recommending people to wear masks in public places, companies and institutions continue to design and manufacture face shields.
Tech giant Apple, sportswear label Nike and even Foster + Partners, the architects behind France's famous Millau Viaduct, are among the big names that have risen to the challenge to produce face shield models while the world was facing a mask shortage. But universities, schools and even individuals are also pitching in to help the global effort, making models that feature transparent visors to prevent wearers from touching their faces and make it easier to communicate.
Many are making their designs freely available for other manufacturers to download and produce themselves. Ted Turnbull, Senior Lecturer in the School of Creative Technologies at the University of Portsmouth, in the UK, said their design has been downloaded several hundred times by national and international organizations:
"We wanted our face shield to be able to be produced locally, as rapidly as possible, anywhere in the world with suitable equipment to help meet critical healthcare needs. Ultimately the university is not an industrial manufacturer so in order to have the greatest positive impact as rapidly as possible this was the only logical move to make."
Easily Made and Disinfected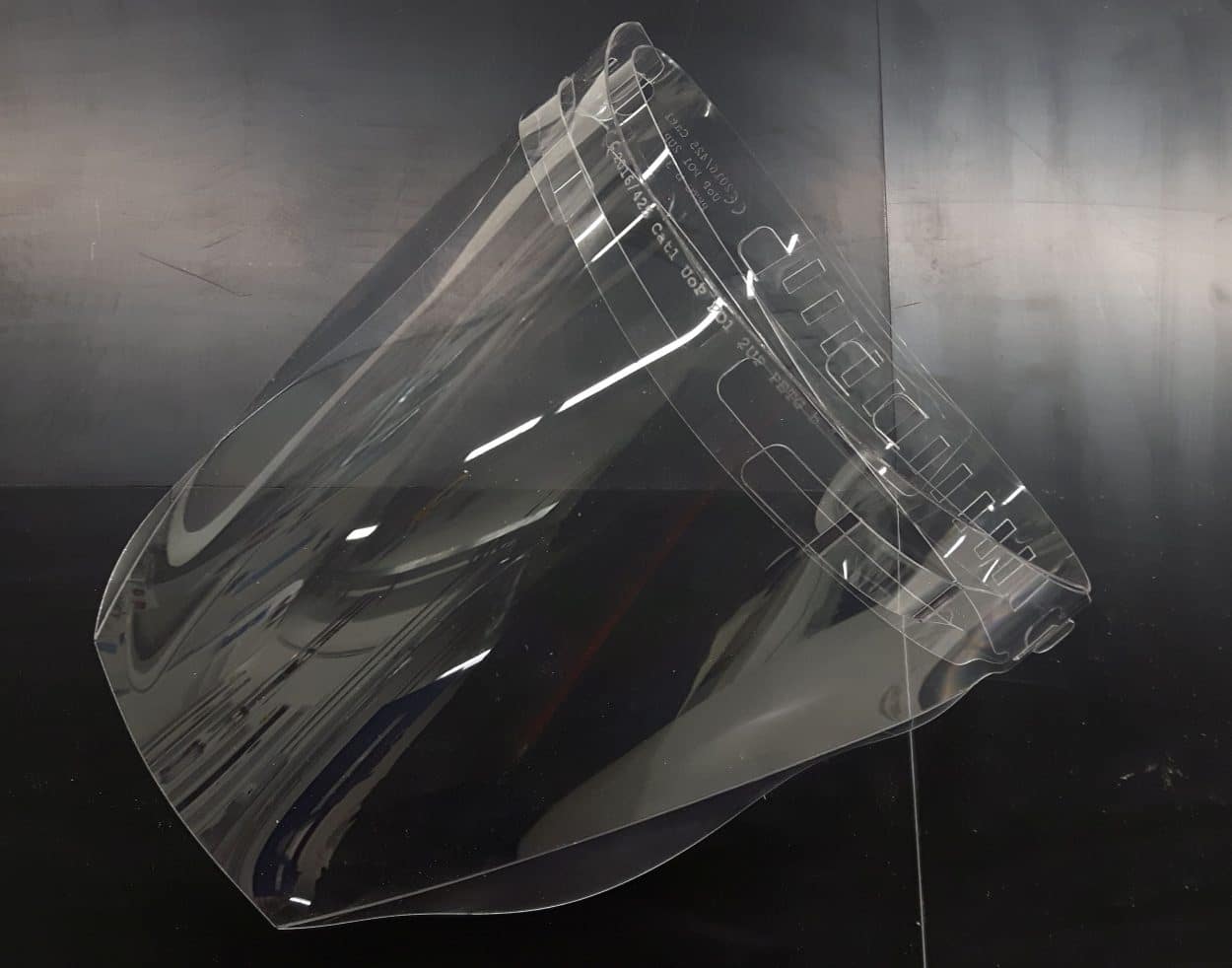 The university decided to focus on a design that could be laser cut and produced in under two minutes. Ted Turnbull explained:
"The entirely laser cut design also allows for the shield to be easily and reliably disinfected or potentially chemically sterilized between uses. The design is intended to be straightforward to produce in more or less any facility with access to laser cutters: in theory, most schools, colleges and universities could make many hundreds of these to meet local demand very rapidly."
At the University of Sheffield, the iForge engineering facility has become a hub for the volunteer 3DCrowd UK initiative, making face shields for frontline workers. It has set up a Just Giving page to help with distribution and the purchase of plastics. Dr Sam Pashneh-Tala, Research Fellow in Tissue Engineering, said:
"At the beginning of the pandemic, there was a great mobilization by the maker and 3D printing communities. A number of designs for PPE that could be manufactured using 3D printers or laser cutters appeared online and we decided to manufacture a face shield design produced by 3D printing company Prusa. This design was simple, with a headband that 3D printed in under one hour, a plastic face shield that we could laser cut, and an elastic band to secure around the user's head. We have now also developed our own face shield design that uses only laser cutting and does not require 3D printed parts. This has allowed us to use our equipment more efficiently, as laser cut parts can be more rapidly produced."
Equipment and Expertise
Dr Pete Mylon, Senior University Teacher and Academic Lead for iForge, said the facility's equipment is highly versatile and ideal for quickly producing new designs:
"Additionally, we also had the expertise to harness our equipment. A team was assembled, including academic, research and technical staff, and we set to manufacturing."
The 3D printed parts are also being made in small quantities in people's homes or offices and are sent to the university for assembly, cleaning and distribution. Dr Pashneh-Tala said:
"3D printing offers people the opportunity to manufacture on a small-scale like never before. As 3D printer costs have reduced over the last few years, a large number of people have access to this technology at work or at home. This has allowed them to engage with and contribute to a nation scale manufacturing effort like never before in history."
RELATED ARTICLE