Since the onset of the COVID-19 pandemic, innovators have been exploring the most effective ways of covering the face to prevent transmission of the disease. Now French start-up CIVILITY has come up with its own pioneering piece of high-performance PPE and hopes its ground-breaking design will be a clear-cut success. It is up for pre-order now.
The coronavirus keeps circulating and the number of contaminated people is still rising. In order to avoid any new lockdown, many countries are starting to require wearing masks in public areas. Surgical masks, barrier masks and even respirators are now increasingly visible in our streets. But such masks are often uncomfortable to wear, especially for a long period of time and prevent from interacting normally with one another.
So a French start-up has designed a transparent mask that will make it possible to protect the wearer from the virus while offering comfort and connection with people. Created by a team of 14 designers and 15 engineers coordinated by French engineer Pierre Blondon, the CIVILITY mask is made out of transparent plastic and a TPE seal that contacts the wearer's face.
Maxence Gourou, Director of Development at CIVILITY, explains how company founder Pierre Blondon came up with the idea for the transparent mask.
"Pierre is a product engineer who is experienced in design, distribution, importing and merchandising. Like all of us, he was very concerned about the virus, but he was especially worried about his three-year-old daughter and his grandmother and so started thinking about how he could protect them."
He tried to source masks in France and to import them from China but was unable to due to the shortages, so he decided to make something protective and highly effective himself.
"Pierre's idea was to make a mask that was transparent so he could see the smile of his child and other members of his family. He wanted to create something to enable the wearer to keep a connection with other people, so they could try to interact normally, even during this difficult situation."
An FFP2 Certified Mask
Since conceiving the idea in February, CIVILITY has been working closely with the French government to ensure the mask meets the required standards. The team working on it wanted it to be suitable for those who were deaf or disabled and faced challenges trying to communicate while either wearing a mask or talking to someone with one on. In addition, the product needed to be multi-use, eco-friendly, lightweight and comfortable to wear.
The result, Mr Gourou explains, is an FFP2 certified mask, fitted with two changeable filters, each with a 12-hour lifespan.
"The mask – which is sold with a month's worth of filters – is made from PEPG, a highly efficient plastic, and has a seal created from a thermoplastic elastomer, which is skin friendly and does not cause allergies. It can be worn in an industrial setting and protects from dust; we are currently working on a version that will protect the wearer from fumes as well."
Available in children's, as well as adults' sizes, the masks are adjustable and can be cleaned after use with a 70% alcohol solution.
"One of the challenges for us was with a transparent mask was to ensure it did not fog up while being worn. We found a solution through great filtration, which allows enough air to circulate around the mask, and coating the glass."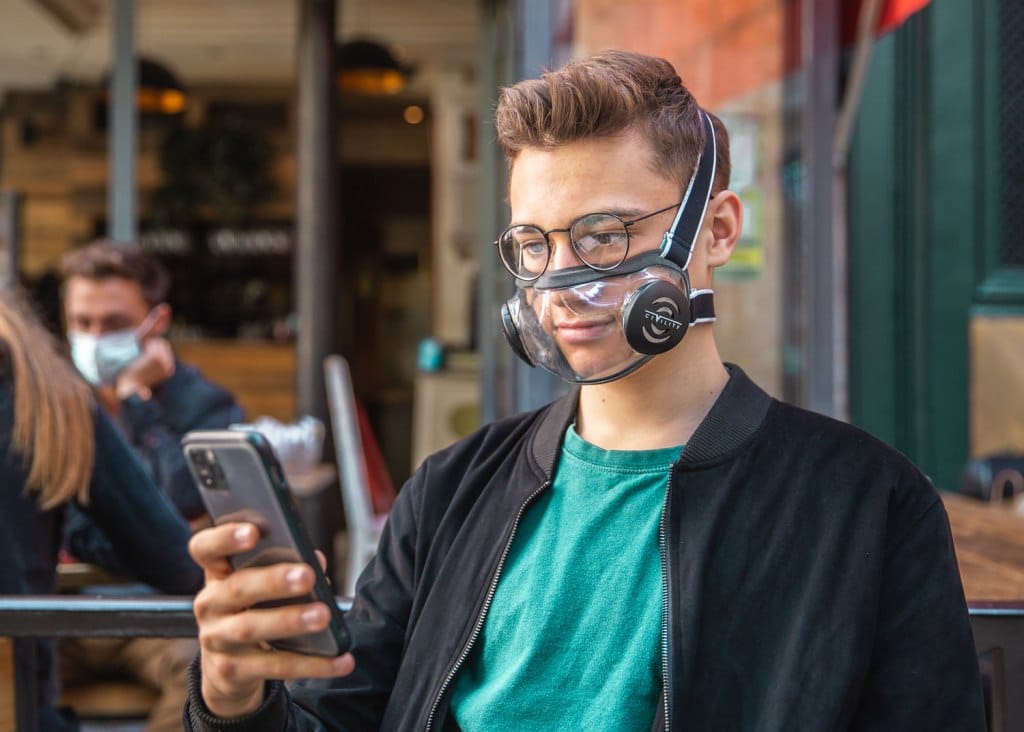 Soon Available
Currently available to pre-order, the CIVILITY mask is expected to be certified by the French government for its protection levels by the end of August.
"It is being manufactured in France and we plan to start higher volumes of production at the beginning of September."
The company says they already have orders from across the world and hope to produce 100,000 pieces by the end of the year. They are also in discussion with places such as shopping malls about how they can make the masks easy to buy.
"It is important to us that it is available as soon as possible to those in most need across the world, as well as in France – and anyone who is looking for something comfortable and wants people to see their emotions."
Up on IndieGogo, the masks cost €35 and come with a month's worth of filters. One month's worth of replacement filters cost €10.