On the occasion of the 20th anniversary of our publisher, the industry sourcing company DirectIndustry, we are celebrating 20 years of industrial innovations by giving the floor to the players that brought these innovations to life. In this interview, we focus on the automation industry. Sylke Schulz-Metzner, Vice President SPS Mesago Messe, gives her insights into 20 years of innovations in industrial automation.
SPS is the international exhibition for industrial automation that takes place every year in Nuremberg (Germany). It covers the entire spectrum of smart and digital automation – from simple sensors to smart solutions. The exhibition also reflects the digital transformation of the industry and highlights the convergence of automation and IT in the industry. Nearly 65,000 visitors and over 1,500 exhibitors attend the event every year.
DirectIndustry magazine: What are the giant leaps in automation of those last 20 years?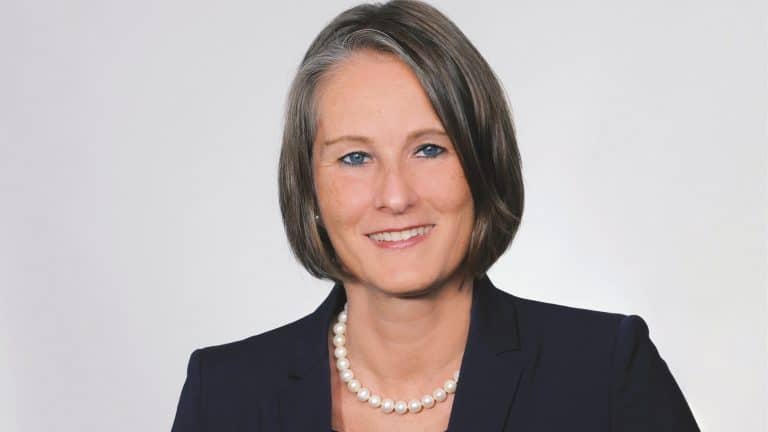 Sylke Schulz-Metzner: Twenty years ago, we were still going through the Third Industrial Revolution, which began back in the early 1970s. Since then, the automation of industrial production has been characterized by the increasing use of electronics and IT. Between 2000 and 2010, a major focus was on establishing standard computer technologies in automation. The PC, after taking the office world by storm from 1980 to 1995, increasingly found its way into the manufacturing world between 2000 and 2010, with accompanying technologies like Windows, browser technologies, as well as communication technologies such as Ethernet.
Besides prompting a sea change in factory control technology, the emergence of Ethernet technology also caused factories to turn away from the proprietary fieldbus systems commonly used in automation. This evolution – which is still taking place to this day – laid the foundation for end-to-end communication from the sensor to the cloud; a basic prerequisite for the realization of Industry 4.0.
DirectIndustry magazine: What are the most striking technologies in automation today compared to 20 years ago?
Sylke Schulz-Metzner: Today, end products, as well as the machines and production facilities used to manufacture these products, can be mapped digitally, meaning that the products exist not only as real, tangible products, but also in a digital model. The advantage of this is that both the products and the manufacturing process can now be digitally simulated before the product is physically manufactured, highlighting manufacturing problems at an early stage and allowing changes to be made in a very cost-effective manner, completely digitally. This greatly shortens development processes, saves significant costs, and allows for extremely rapid change management. Automation technology has therefore entered an evolutionary stage that just 20 years ago was inconceivable; a digital transformation in manufacturing technology that at that time was little more than a pipedream.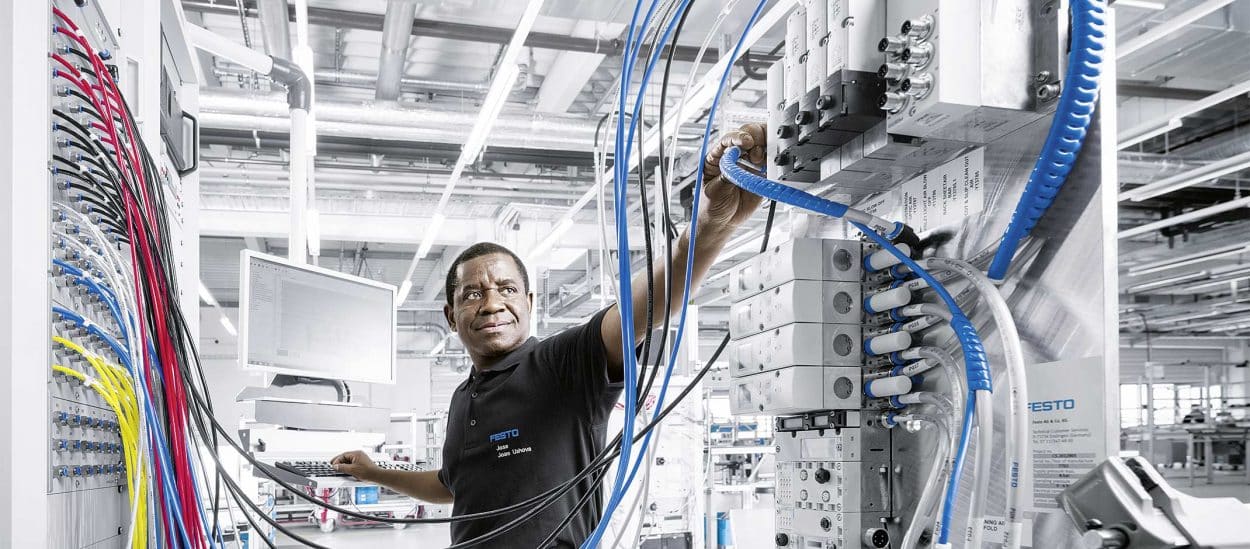 DirectIndustry magazine: Could the increasing prevalence of robotics also bring a similar increase in automation?
Sylke Schulz-Metzner: We are genuinely witnessing an increasing prevalence of robotics within the manufacturing environment. Human-robot collaboration is also becoming increasingly established in the factory. In the coming years, we can expect jobs in manufacturing to be replaced due both to the rise of robotics as well as the onward march of digital transformation in general. However, we should not expect there to be factories completely devoid of humans. It is purely the type of work performed by the employees that will change, in some cases significantly.
DirectIndustry magazine: How strong is the influence of AI in manufacturing? Is AI the 2020 name for automation technology?
Sylke Schulz-Metzner: There is a lot of hype surrounding artificial intelligence at the moment! In fact, AI has been around for many years: Artificial intelligence as an academic field in fact dates back to 1956. AI is a sub-field of computer science that deals with the automation of intelligent behavior and machine learning. Upon first hearing about AI, many people do not realize that AI methods have been around for many years.
What is new is that, thanks to modern computer technology, AI methods have become more affordable for use in automation technology, and are now therefore becoming more established in the industry. As a consequence, AI may play an important role in the automation of tomorrow – as part of automation technology – but there are many other important areas that will also shape the world of automation.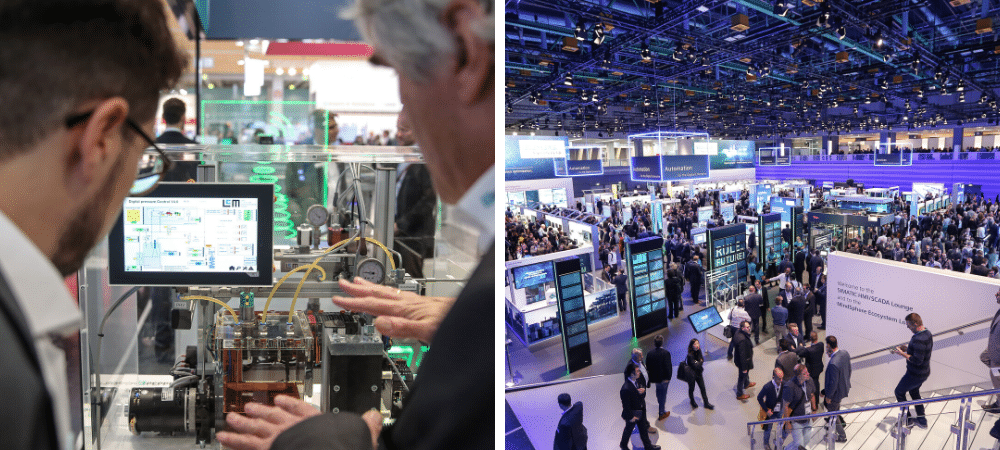 DirectIndustry magazine: What have you observed regarding the exhibitors at SPS in the course of the years?
Sylke Schulz-Metzner: Generally speaking, we can say that the immense growth in automation has also driven the growth of established automation manufacturers like Siemens and Festo. The German and European automation industry is in a very strong position. There are, of course, also suppliers from Korea or China who are gaining more of a presence in the classic automation market. At the moment, however, it does not look as if they pose a threat to the incumbents.
It should not be overlooked either that the digital transformation is also pushing IT providers into classic automation. Companies like Microsoft, Amazon, Cisco, and Huawei are now all thoroughly involved in factory automation.
This trend is of course also reflected at the SPS: The infiltration of technologies from the IT world, such as artificial intelligence or cloud and big data technologies for example, has been observed by trade show exhibitors for a number years now. IT providers are therefore increasingly represented at the SPS – often in association with automation providers.
DirectIndustry magazine: How did the products offer change? Now the trend seems to be turnkey totally integrated solutions.
Sylke Schulz-Metzner: Yes, the trend is toward complete solutions, as evidenced by Siemens' Totally Integrated Automation, which has sent out a clear signal to the industry. Thanks to a number of targeted acquisitions, Siemens is now able to offer the customer a complete package, encompassing product design, production planning, production engineering, production, and services. Smaller automation companies, of course, cannot afford this. Many technology partnerships have arisen as a result of this with a view to also enabling the creation of complete solutions.
DirectIndustry magazine: How will the future of automation look in the next 20 years?
Sylke Schulz-Metzner: The evolution in automation is progressing at a relatively slow pace because of the long life cycles of automated machines. These machines often keep going for 30 or 40 years! So what does this mean for the next 20 years? The term Industry 4.0 first came up at the Hannover Messe in 2011. Today, we are ready to start implementing the Industry 4.0 philosophy. It will certainly take another 10 to 20 years for Industry 4.0 technologies to be widely used and for us to consider the digital transformation of manufacturing complete.