Industry 4.0 is transforming the world of manufacturing and on-demand manufacturing or manufacturing-as-a-Service (MaaS) has an essential role to play.
Digital platforms marrying companies seeking fast, cost-effective production with others who have manufacturing capacity are increasingly streamlining supply chains, bringing benefits to all parties. MaaS operators in areas such as machining and 3D printing are offering the demand/capacity balancing that has been seen in other areas like Uber and AirBnB, suggests Professor Rab Scott, Head of Digital, University of Sheffield Advanced Manufacturing Research Centre (AMRC).
"This can be attributed to connectivity and improved modeling capabilities – the ability of companies to more accurately predict when spare capacity is going to arise, and then the ability to monetize that spare capacity through these platforms. The growth of these platforms is also enabled by the acceptance of these sorts of platforms following the success of Uber etc."
Professor Scott says there are a number of challenges, including data trust, data security, certification, to overcome, but adds:
"Eventually we may move towards a zero-capital factory where the equipment is funded (and run) by finance houses."
Quotes in Seconds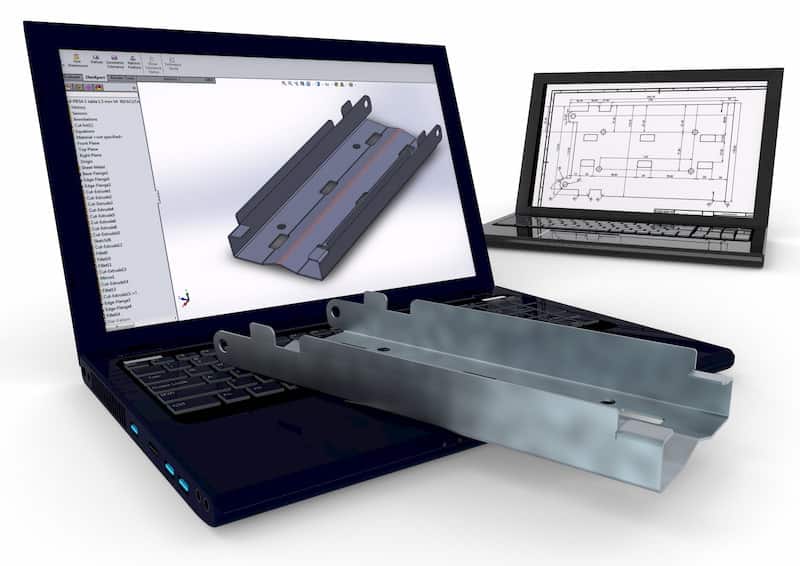 The online metal fabrication platform Fractory was founded in Estonia in 2017. Customers upload their CAD files for instant pricing; algorithms then choose a manufacturer from pre-vetted partners. CEO Martin Vares, says:
"The large network of partners makes great quality, short lead times and competitive prices possible. Engineers can get manufacturing quotes in a matter of seconds: that helps them price products for their own customers at the start of a project and lower procurement times at the latter stages."
They also get a fair price as Fractory does not get a quote from all the partners but calculates one price based on the data from partners.
Engineers have access to numerous capabilities in one place and can cover for most work without needing to look elsewhere. Furthermore, the platform gives quotes based on 3D model eliminating the need for manufacturing drawings, which can take up about 20% of an engineer's time. Fabricators can only accept work if able to provide short lead times, Martin Vares says,
"The idle times of machinery reach up to 50% at any given company, but customers do not know where and when to look for these available slots."
Mr. Vares says the growth in MaaS shows industry is ready to change.
"People are using online services in their private life all the time and they are starting to understand that they should not take three steps back in their professional life. Progressive companies who aim to grow see they need to evolve not only with their products but also their processes. MaaS offers them flexibility and freedom to focus on adding value."
Democratizing Manufacturing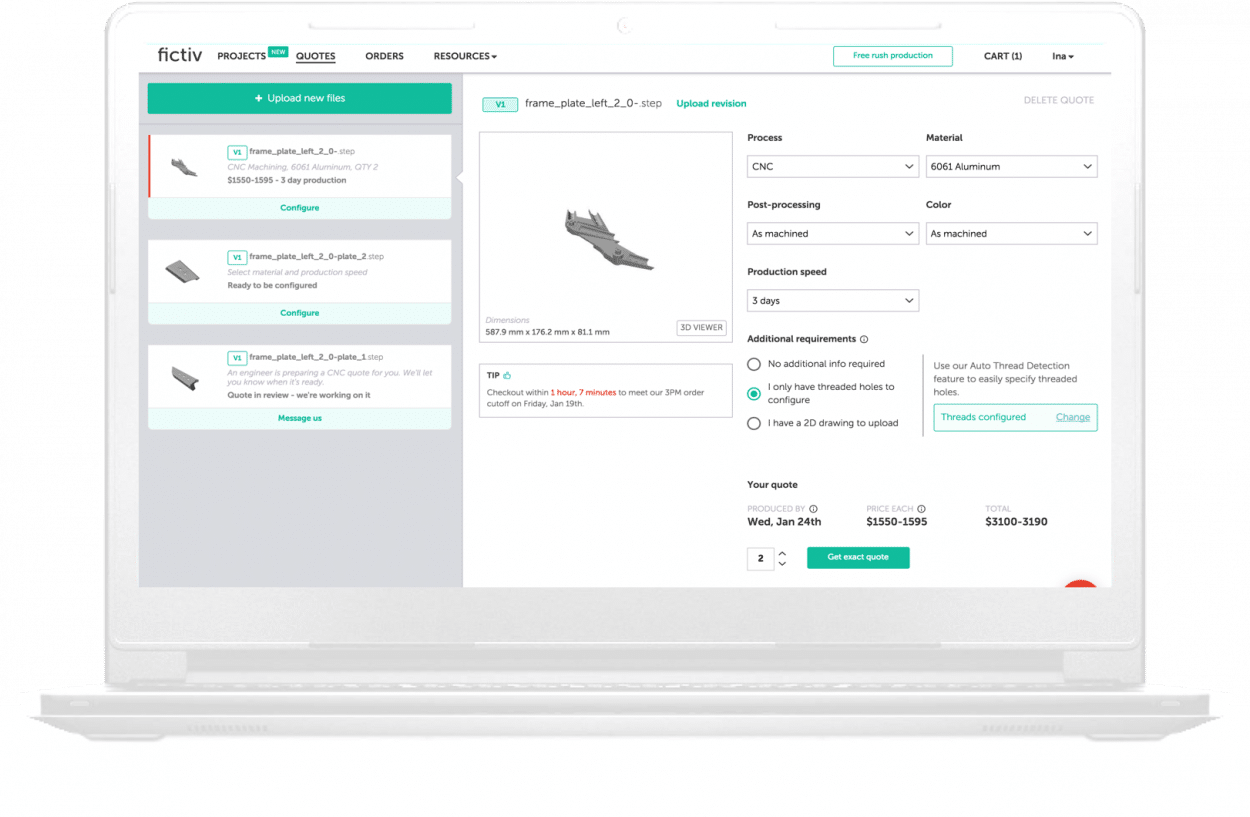 Dave Evans, CEO of US-based platform Fictiv agrees.
"Manufacturing stands on the precipice of a truly disruptive 'tech moment' driven by faster innovation cycles and demand for agile manufacturing that allows companies to respond to market demands. But the reality is that the majority of products still don't ever make it to market because this capacity is simply inaccessible."
Fortunately, a number of new (and old) technologies are helping make quality, affordable capacity accessible to the masses. Evans's mission is to democratize manufacturing:
"What started as an idea for improving local, rapid prototyping for Silicon Valley hardware entrepreneurs evolved into a full service, digital manufacturing ecosystem that pairs intelligent workflow and collaboration software with a global network of highly vetted manufacturers."
Since its inception, Fictiv has manufactured over 10 million parts for early-stage companies and large enterprises alike, helping to streamline development cycles and get to market faster.
"The company's mission to help enable faster development and agility is backed by an average production time of fewer than two days for 3D printed parts and less than six days for CNC machined parts."
Mr. Evans, who founded the company with his brother Nate, says manufacturing continues to be based on old technologies and outdated processes.
"It is an industry that is increasingly in need of digitization, similar to what has already swept through industries like transportation, grocery, and hospitality. Fictiv believes that machine learning and the introduction of software platforms and systems to centralize communications will shave days – even weeks – off production timelines."
From Prototype to Production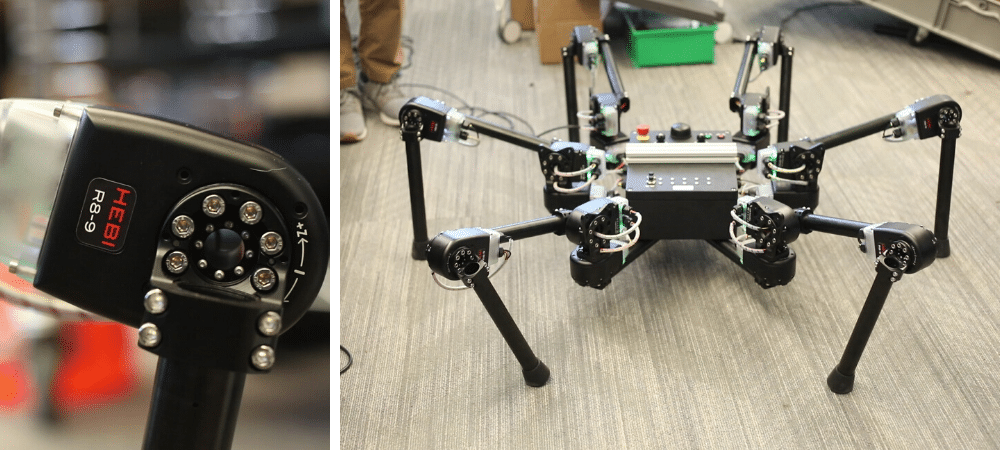 One of Fictiv's many success stories is HEBI Robotics, which makes smart modular building blocks for building custom robotic systems. Dave Rollinson, Co-Founder, Mechanical/Controls, says sourcing parts has been difficult in the past.
"One of the big challenges in robotics is going from the prototype to production, even in small batches (100 to 1000s). Getting to the next step frequently requires specialization in all sorts of different directions. And with that specialization comes the need to connect with niche manufacturers."
For HEBI Robotics, Fictiv allows communicating and connecting their expertise with the expertise of various specific manufactures.
"Once you get past just 3D printing and machining straight from a CAD file, the manufacturing world and supply chain get more fractured and harder to wrangle. As new companies like Fictiv are able to aggregate the myriad of specialties needed to a single service, I think we'll be able to provide an amazing boost to production-level manufacturing."
Embracing Industry 4.0
Tim Figures, Director of Technology, Sustainability and Innovation at British manufacturers' organization Make UK says the concept of MaaS will assist the transition to digital manufacturing.
"We all remember the days when computer software required a big upfront cost – now we pay for it as a service. There is real potential to see the same shift in how we pay for manufacturing capability."
This could help this sector embrace the opportunities the 4th Industrial Revolution is bringing.