Milk protein, cornstarch, and even seaweed – the world is finally waking up to the problem of plastic packaging and the race is on to find the best alternatives.
According to the United Nations Environment Programme (UNEP), over 8.3 billion tonnes of plastic have been produced globally since the 1950s and we now generate 300 million tonnes of plastic waste every year. The organization suggests only 9% of all plastic waste ever produced has been recycled, with 79% ending up in landfills, dumps or the natural environment. With drink bottles, lids, food wrappers, grocery bags, straws and stirrers second only to cigarette butts as the most common type of plastic waste, the food and beverage industry is forced to take action. Not only is the sector trying to address the problem of single-use plastic, it is also attempting to find sustainable replacements for materials such as polyethylene terephthalate (PET) in water bottles and biscuit trays; high-density polyethylene (HDPE) in milk bottles and ice cream containers; and low-density polyethylene (LDPE) in food trays, containers and packaging film.
It is also looking at polypropylene (PP) in chip bags, microwave dishes, ice cream tubs, and bottle lids; polystyrene (PS) in cutlery, plates, and cups; and expanded polystyrene (EPS) in protective packaging and hot drink cups.
In Your Element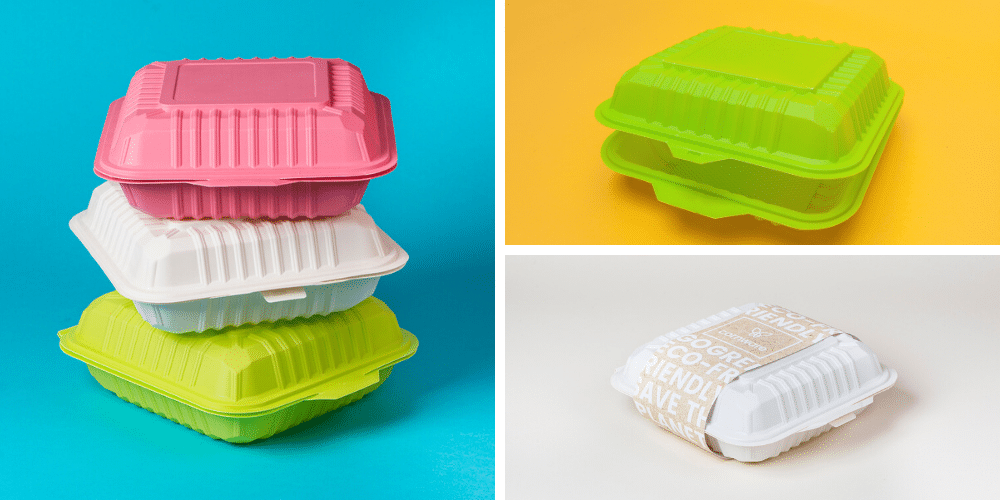 UK-based Element has developed bio-based, compostable materials to replace some of these plastics, explains director and co-founder Rohit Belani. This includes using cornstarch in plastic-free cups, takeaway cutlery and clamshell boxes, and polylactic acid (PLA, derived from cornstarch) for food box linings.
"PLA looks, feels and acts just like traditional plastics such as PET but has some of the strongest eco-credentials available."
Initially, the products were only home compostable, but now the company is working to ensure they can be thrown away in special bins within restaurants after use.
"Recycling company First Mile collects the food packaging waste, sorts it and sends it to the right waste stream."
Milking it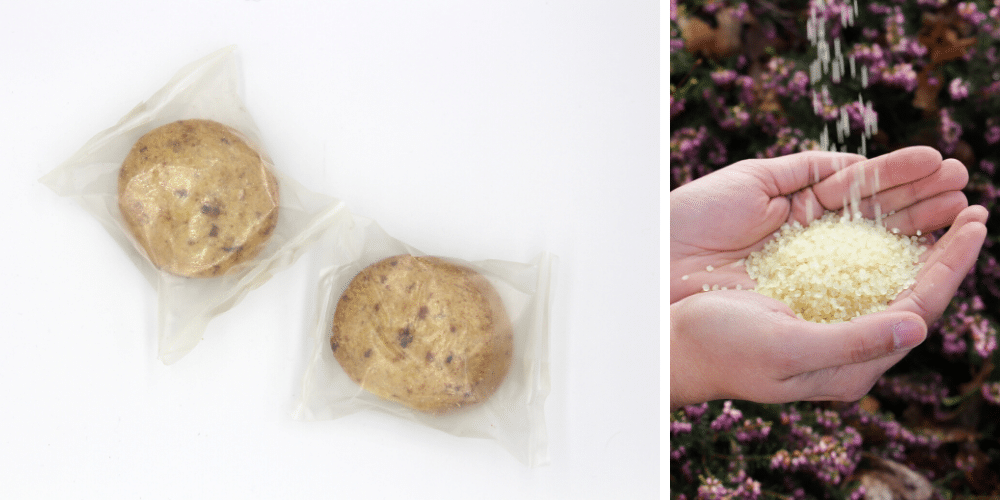 In France, Lactips has come up with a different solution, using a milk protein to create water-soluble and biodegradable thermoplastic pellets to make packaging. Marie-Hélène Gramatikoff, CEO, says:
"100% bio-sourced and biodegradable, this material has the properties of a specialty plastic – it is water-soluble, customizable and edible, and acts as a gas barrier. It represents a real opportunity to transform non-biodegradable flexible packaging and to replace single-use plastics."
The granules can be used in cereal bar, chocolate, fruit paste, sports food and sauce packaging, as well as for lids and disposable cutlery.
On the Label
Creating packaging that can be eaten is an exciting new field. UK start-up Label Says has created edible labels in partnership with the University of Sunderland.
Their idea is to eliminate the need for any packaging required for the attachment of labels –replacing it with scannable printed codes made from edible ink on edible labels.
Suitable for fish, meat, fruit, vegetables, baked goods and drinks, the labels (using a technology with patent pending) can be stuck straight on to the product itself or on to minimal required packaging.
Scanning the code with a mobile phone reveals product details, including price, ingredients, allergy and nutritional information as well as preparation instructions, explains Managing Director Peter Woods.
The augmented reality technology can go even further, revealing details about sourcing, production and recipes through videos and games before, during or after purchase.
"Where other packaging is still required, such as when a food is perishable without it, the code can provide information about how to recycle it. This is very exciting – we are already in discussion with food producers and supermarkets."
Racing Ahead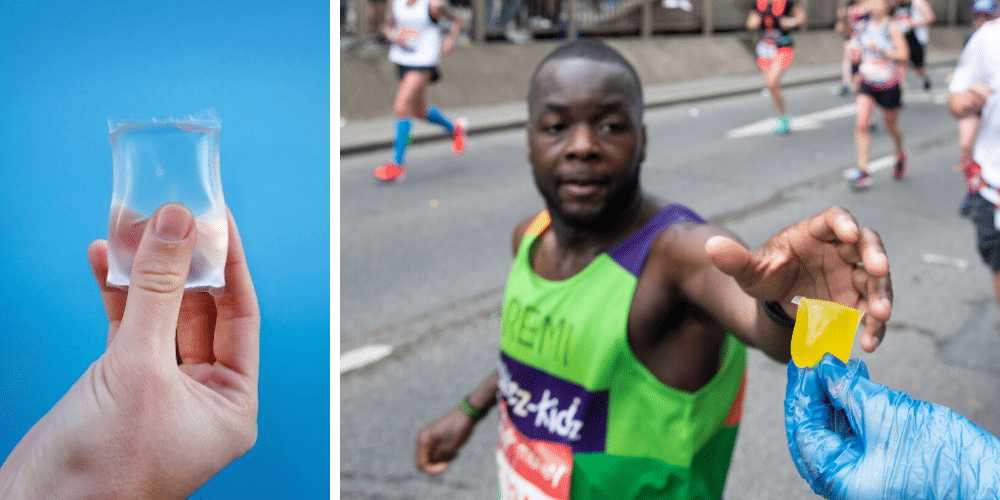 Skipping Rocks Lab in the UK has used seaweed to develop a material called Notpla, which is also 100% edible, biodegradable and compostable.
This has been used to make Oohos, a plastic-free bubble that can contain up to 200 ml of liquid and may be eaten afterwards.
Jo Padwick, Business Transformation Manager at Lucozade Ribena Suntory, explains Notpla has used Oohos to replace packaging for Lucozade Sport drinks and gels.
"Lucozade Sport Oohos were first trialled at the Richmond half-marathon in 2018. Since then, we've successfully sampled over 42,000 Ooho capsules with consumers at races including the largest distribution to date at the 2019 Virgin Money London Marathon, when we distributed over 36,000 to runners."
Taking Steps
Lucozade Ribena Suntory has joined major industry players, such as Nestlé, Unilever, Mars, PepsiCo, and the Coca-Cola Company, in signing the New Plastics Economy Global Commitment. This aims to eliminate unnecessary plastic by moving away from single-use towards reusable, recyclable or compostable materials by 2025, says Jo Padwick.
"Lucozade Ribena Suntory is tackling the issue of plastic waste by focusing on using less and better packaging, and generating less waste. We are taking action in three areas – making our drink containers 100% recyclable in order to facilitate bottle-to-bottle recycling; moving towards only using sustainable plastic to make our bottles; using the power of our brands to reinforce the importance of recycling in our marketing communications."
The company has set out its plan to move to 100% sustainable plastic bottles within a decade, aiming to use fully recycled or plant-based materials across its entire bottle portfolio by 2030.
SEE ALSO: Biodegradable and Good-Looking: the Two New Faces of Eco-Packaging