MUNICH — Nov. 2019 —The Fujitsu Forum revealed a number of new products and services such as the supercomputer Fugaku and the company's global gateway center recently opened in India. The event brought together clients and partners, including tech experts, to discuss responsible business responding to societal challenges using a combination of technologies including the Digital Annealer.
"There's a difference between digitized and digitalized", started Dr. Joseph Reger, Fujitsu fellow and chief technology officer in Europe at the Fujitsu Forum in Munich.
When you transform physical content into a digital format, you're digitizing. However, digitalizing involves a transformation, rendering the various digital formats intelligent to the point they can interact.
For example, a company turns its conventional mail into a digital format such as email and, using AI, the system can detect what the letter is about, who it's from, etc., and react using automation.
Our goal is to help current industries that need to adapt to or create a new economy become digitalized. We need a tool that will turbo charge this transformation, that will optimize time and tasks, because everything is on a gigantic scale today. When several robots work together at light speed, they follow a sequence; cost and time will be different in function to the selected sequence.
According to Dr. Reger, quantum computers combined with AI will show mindblowing results. While waiting for quantum computers to enter the commercial market, Fujitsu launched the 2nd edition of its Digital Annealer (DA) in April 2019 to help clients through their digital transformation process.
Quantum computers are in labs but they're not available for the commercial market yet. But, using the technology available today, Fujitsu managed to mimic the concept of "the brain" of the quantum computer and plugged it into classic hardware.
It's a special hardware whose sole purpose is to handle mathematical problems. All the industrial challenges we face are retraceable to one function, so this is not a small application area. Everything needs to be optimized; the DA can be used to optimize traffic systems, for example, by controlling all the traffic lights at the same time for optimized flow. Telecom companies can use this tool to optimize network congestion, so the network will always work.
Dr. Reger reckons this is a bridge technology, though:
It is interesting until quantum hits the world. It is not supposed to [stand the test of] time but until then it is the best tool and the way we use it is an incredible skill. If the DA is not enough one day, people will carry on with the quantum computer once it's available.
Fujitsu says the Digital Annealer is currently solving large-scale combinatorial optimization problems in sectors such as the automotive industry, bio-material sciences, financial services, distribution and warehouse operations, disaster recovery, deliveries and scheduling and route optimization i.e. transportation planning.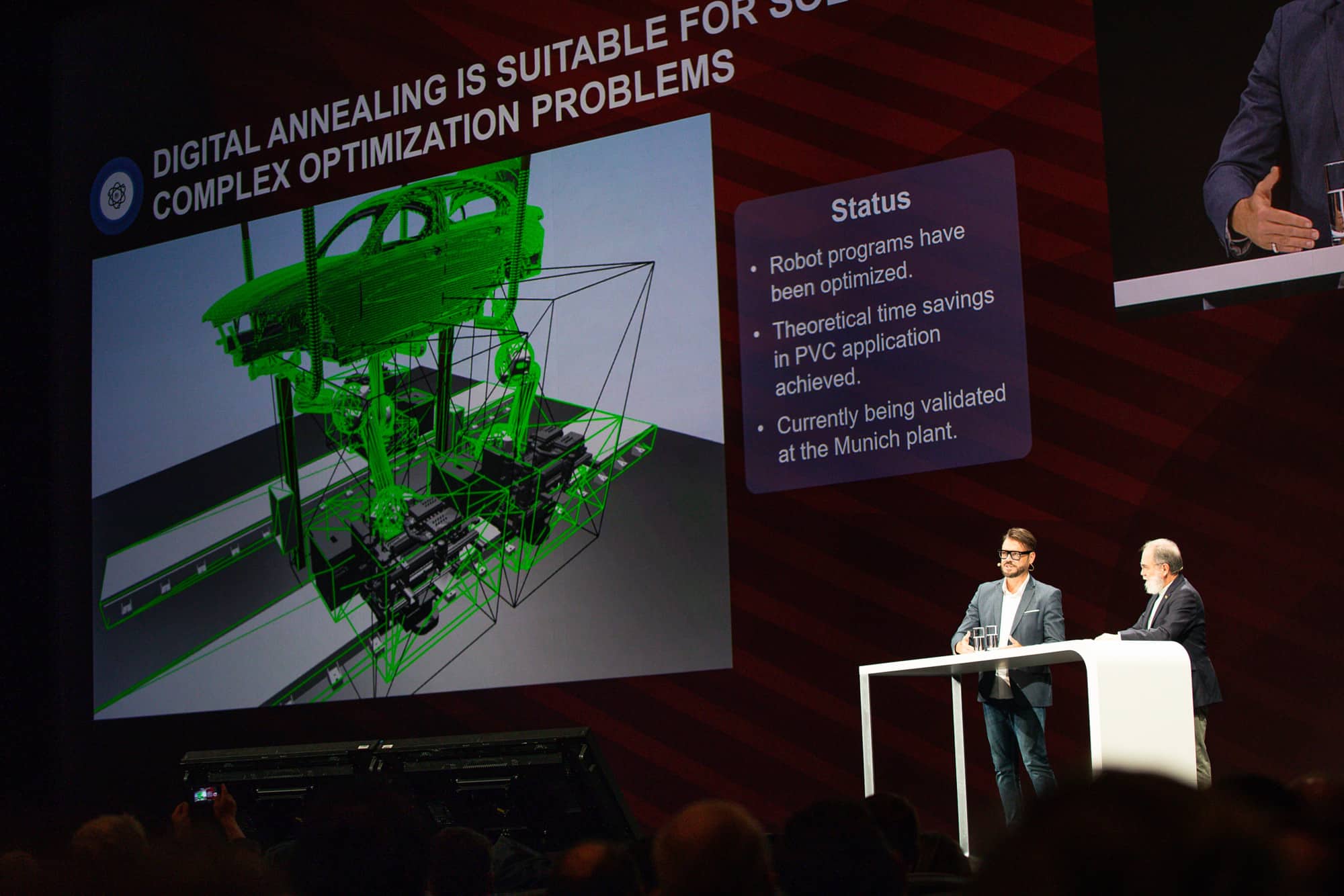 During the forum, clients spoke about how they co-created a business strategy with Fujitsu and, using the DA, have started optimizing workflow and generating economic savings that result in positive social impacts. When the 2nd generation of the DA came on the scene, the Hamburg Port Authority jumped on board, said Hermann Grünfeld, head of traffic management, at a roundtable discussion.
It has the capability to solve problems that other systems cannot.
They're using the DA to solve traffic route issues for the port of Hamburg, one of the largest seaports in the world. They went on to use it for the entire traffic management system—ships, railways, city roads—, making the grid intelligent. They currently have a proof of concept with future plans that will reduce fuel consumption in order to positively impact the environment and lower costs.
For Dr. Reger,
This tech is the key element to helping clients in their transformation to a digitalized company. It's not always the product that needs to be digitalized; it could be the production process and management or delivery logistics. Here's the question to ask: Is there anything I can optimize? We haven't seen a case yet where the client responds, 'There's nothing.'
In order to help its clients go digital using quantum-inspired tech, Fujitsu created digital co-creation workshops. During these sessions, Fujitsu sits down with its customers and tries to come up with three projects that they'd like to try to optimize.