Parts for cars, planes, boats and now Formula One racing cars can be 3D printed. McLaren has formed a partnership with Stratasys to make small parts, even trackside. DirectIndustry e-magazine met the McLaren F1 team in London to discuss the first-ever racetrack print trial that took place at the Bahrain Grand Prix last April.
Trackside at a Formula One race is usually a scene of frenetic activity. But tucked away in the McLaren F1 team's workshop at April's Bahrain Grand Prix was a piece of equipment that not only ran quietly, but embodied unprecedented activity in such an environment.
The machine was a Stratasys uPrint SE Plus FDM 3D printer. It enabled the McLaren team to make small car parts on-site in response to needs identified during two days of pre-race testing. This used to be impossible because of the distance between F1 tracks and the team's home in Woking, southwest of London.
According to Neil Oatley, McLaren design and development director, the printer can be used to make parts from design data generated at headquarters and transmitted via the internet.
All programming is done at Woking and the machine uses an ABS-type plastic material to make parts, such as airfoil sections that are not highly loaded.
The team also operates a battery of ten additive manufacturing machines in the UK—eight FDMs and two simpler PolyJet types. The first objective is to increase the range of parts made using additive techniques. The second is to provide insights from one of the most arduous applications available. Stratasys can use this experience in its own product development programs.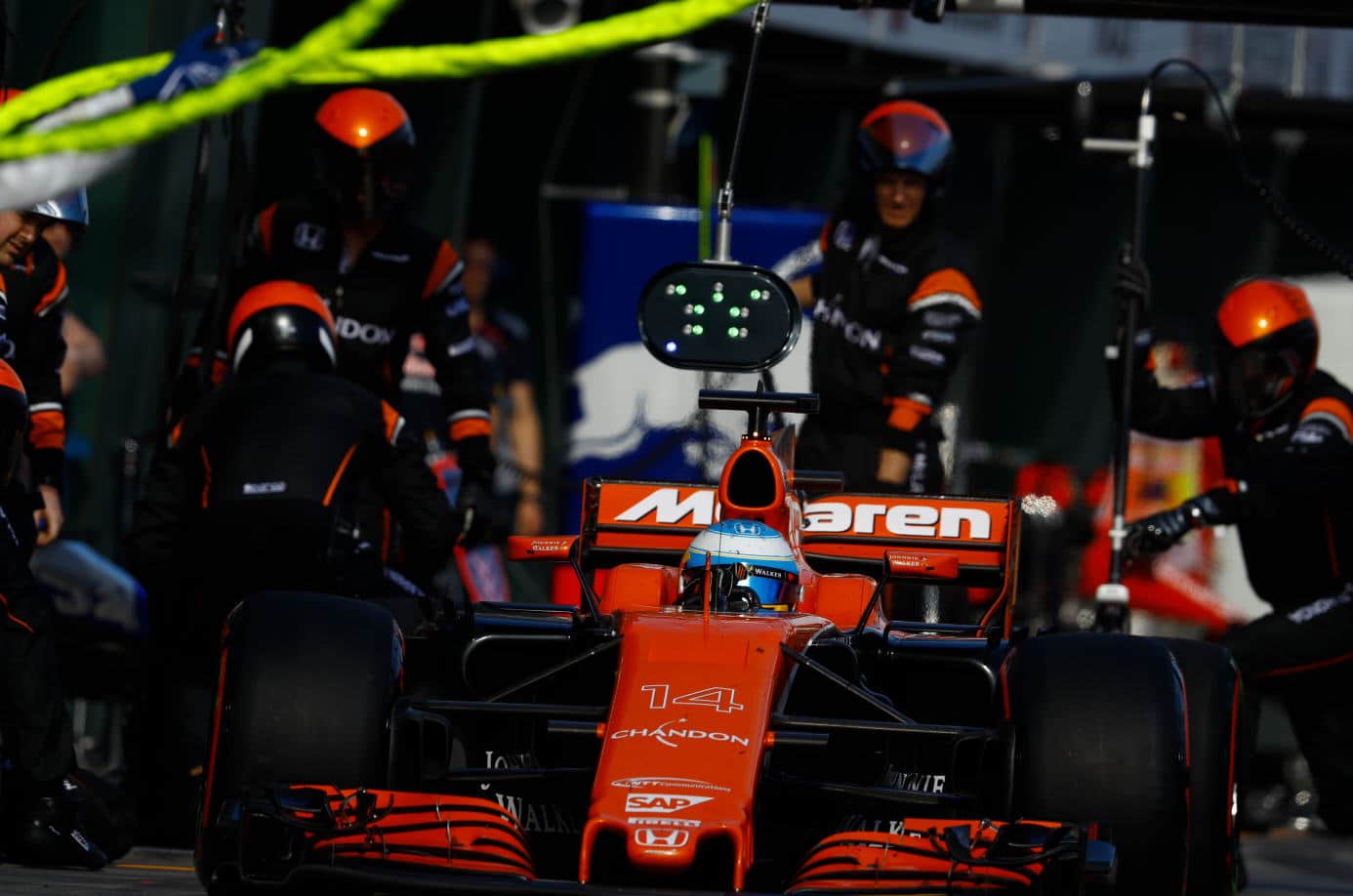 McLaren has already revealed details of such parts to be used in its 2017 MCL32 F1 car. These include:
a hydraulic line bracket made from nylon-type material reinforced with strands of carbon fiber using a Fortus 450mc printer, a machine still in beta-testing and not yet available for sale

a radio harness made from a rubber-like material with a J750 printer
These two components illustrate the contrasting capabilities of the FDM and PolyJet techniques. The first is for rigid components with great physical resilience, while the second produces parts for applications requiring flexibility.
Oatley says that McLaren also has exploited PolyJet's ability to print multicolor objects. It was used to produce mock-ups of F1 steering wheels and control panels to enable drivers to test ergonomics, including how easy it is to reach switches.
The team is also using additive techniques to produce mold tools to speed the manufacture of carbon fiber-reinforced composites. For instance, it took just three days to make a 900 mm wide tool capable of withstanding a temperature of 177°C. This is used to autoclave mold a complete rear wing flap.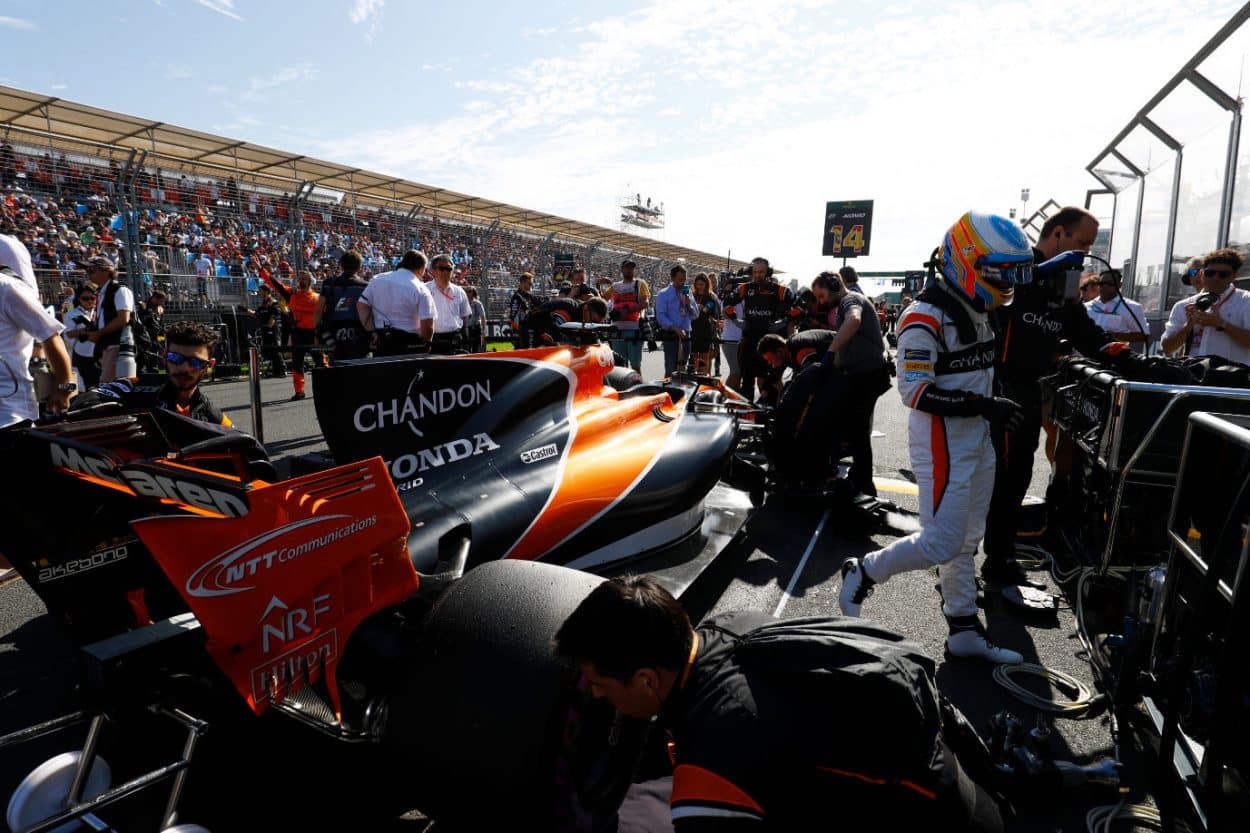 Another application involves using a special soluble material as the core around which carbon fiber brake cooling ducts are formed. After the part is made, it can be released from the mold by immersing the two in a bath of caustic soda that dissolves the tool but leaves the part unaffected.
Amos Breyfogle, lead Stratasys engineer for the EMEA region, identifies rapid new parts development as the "biggest challenge." The interval between races can be as little as seven days. He adds that some of what McLaren is doing with Stratasys equipment and materials is "pushing the limits of the technology." For example, the three days required to produce that rear wing mold is "many days less" than was previously the case.
Meanwhile, the ability to make the brackets directly by an additive process shortcuts machining a mold tool from metal, laying up the material in the mold by hand, curing it in an autoclave and then trimming it.
For Breyfogle,
the fact that you can get the part directly from the machine means that from design on-screen to part in-hand now takes about two and a half hours.