Apps have embedded themselves seamlessly into our everyday lives. Now, they are becoming integral to the world of machining, too. With a simple download and the touch of a screen, machine tools can be controlled by apps and other intuitive interfaces.

Smart CNC systems can now monitor and adjust productivity via a phone, tablet or laptop in another location, explains Brad Klippstein, Controls Product Specialist at advanced machine and control builder Okuma.
"We have our own app store where we offer about 40 apps for our customers to download free. These can be customized to meet their own needs."
One example is the Part Flip Monitor for lathes and machining centers.
"This checks whether a part has been flipped over as required in a machine and prohibits the operator from starting it up unless it has been done. No extra programming is required and it reduces potential downtime caused by the machine going wrong."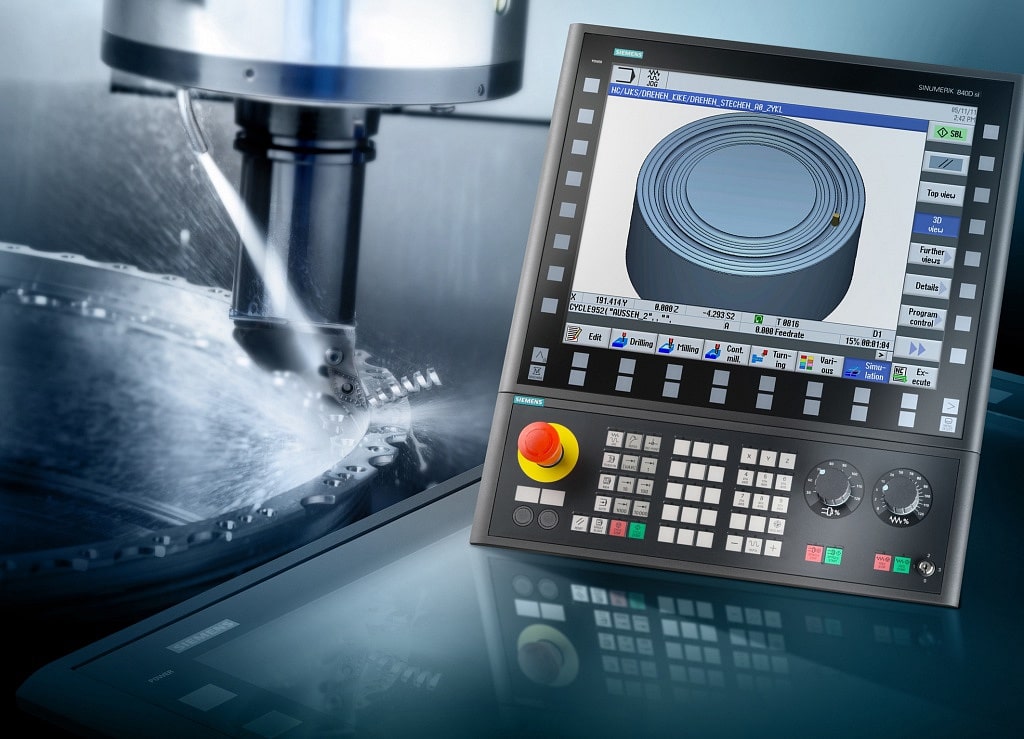 Simple and Intuitive
Siemens also has simplified its CNC controls with new interfaces.
Mark Coombes, Account Manager, Siemens UK & Ireland, explains that SINUMERIK Operate is the user interface for the SINUMERIK range. This includes entry-level CNC machines right through to high-end modular models.
"This gives the user an easy-to-operate human-machine interface with help screens and intuitive animated graphics. The 828D and 840D SL also have touch screen variants that provide all of the touch and gesture features commonly used on phones and tablets."
Advantages include enhanced usability, accessing and managing paperless manufacturing data and ensuring mobile devices can be used in the machine tool environment to view the status and utilization of shop floor machines.
"The range also has the benefit of only requiring minimal training. Often, no prior knowledge of the controls is needed before using them, as they are so simple to navigate and intuitive in their operation."
Sparking Change
Dr. Fabio Caparrelli, Senior Research Fellow with the Materials and Engineering Research Institute at Sheffield Hallam University, UK, has been developing a smart embedded vision system for detecting faults during CNC operations.
This will automatically detect a significant amount of sparks generated by a milling tool, shut the CNC machine down and alert an operator by SMS or email.
"Using such systems, CNC machines can potentially work uninterrupted and unmanned for long periods of time, reducing the machine idle time and increasing production and therefore sales. This system has been used to run a machine unattended safely during a night shift with a supervisor monitoring the machine from a remote location."
Human Experience
As these control systems evolve, however, it will be vital to find ways to incorporate practical human experience and knowledge, says Bill Young, Fabrication Specialist, at ShopBot Tools, Inc.
His US-based company has developed Handibot, a comprehensive, portable CNC tool, which can cut the same materials as a full-sized CNC tool. It is also the first tool to reach the mass market using the new Open Source motion control system, FabMo.
Any smartphone with a WiFi connection can control it. Based on JavaScript and HTML, it will run in any modern browser, with an engaging interface that is familiar to the user.
"Custom apps can be quickly written and distributed. Its roots in the Open Source movement leverage the power of sharing to grow its software ecosystem, giving programmers an easy entry into developing for digital tools."
In the future, these interfaces will become simpler and require less operator expertise. This will, however, require developers to integrate 'experience' into the controls. Young adds:
"A universal control system like FabMo will enable the integration of all available digital tools into the manufacturing of products in a digital factory, with each part or feature being sent to the most appropriate tool for fabrication."
Achieving Freedom
Ryan Bankel, owner and CEO of Imago Manufacturing, LLC, has first-hand experience with smart CNC controls. He started his company in his Illinois garage 10 years ago with one lathe and now has a facility housing state-of-the-art equipment. Bankel now uses Okuma's OSP Alarm Notifier and VNC viewer to view and navigate controls remotely from his smartphone, enabling machinery to run unattended.
"This has allowed me to continue to increase capacity without adding additional equipment or people. It has enabled me to harness the remaining hours in the day that other shops are not taking advantage of when they only work standard shifts. I frequently run my machines completely unattended. A current job has been running non-stop since Christmas."