In 2015, China unveiled a plan to become a "world manufacturing power" within a decade, with a shift toward value-added, high-tech industries. The "Made in China 2025" blueprint called for "promoting breakthroughs in 10 key sectors," one of which was aerospace equipment.
While China's homegrown stealth fighters have captured recent headlines, the country is also making headway with its passenger aircraft. The Chinese aviation industry is now working hard to develop its own commercial products to satisfy a burgeoning domestic demand.
Rob Morris, global head of aviation consultancy FlightGlobal explains:
China's air travel sector continues to grow strongly, with total passenger capacity in 2017 expected to be almost eight times greater than in 2000. Key drivers here are economic growth and the emergence of a middle class with greater wealth and a desire to travel.
In May 2017, China celebrated the inaugural flight of the Comac C919, a narrow-body, 160-seat aircraft it hopes will enable the country to compete with Boeing and Airbus. As of the following September, over 700 C919 aircraft had been ordered by 27 leasing companies or airlines—almost all Chinese.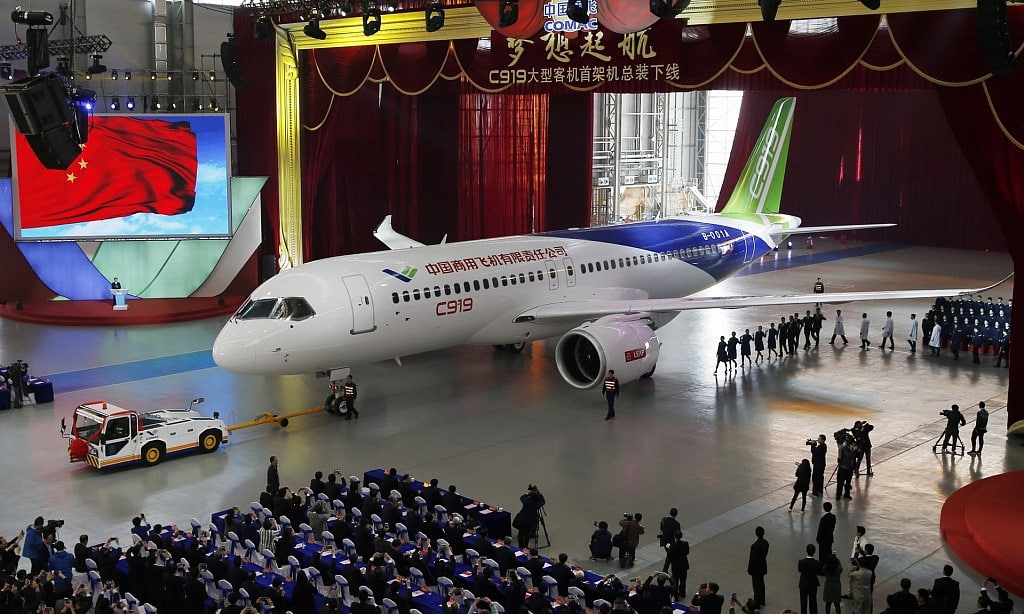 State-owned, Shanghai-headquartered Comac was founded in 2008 to develop a range of aircraft. It recently entered a joint venture with Russia to produce the wide-body C929, and expects to deliver its first ARJ21, a 78-seat regional jet, in 2018. The company also has held talks with ailing Canadian plane maker Bombardier about taking a stake in the company.
Chinese progress in materials technology will help Comac. The country's first commercial-scale production line for T800 carbon fiber, a high-strength product widely used in aerospace, became operational in May 2016. It is noteworthy that foreign companies are currently banned from exporting carbon fiber to China by that country's government. While the C919 only uses carbon in its tail and secondary structures, Comac aims for wider use in the C929.
On paper, the C919 is competitive with the Airbus A320neo and Boeing 737 Max, since it uses many similar technologies, including the CFM LEAP-1C engine. But building and flying prototype aircraft is only the first step in the journey to certification, delivery and in-service support. Comac already has revised the C919's timetable on several occasions, with delivery unlikely before 2020, at the earliest.
According to FlightGlobal's Morris,
The barriers to entry for development, manufacture, certification, delivery and in-service support of commercial aviation products are high. China's aviation industry has a long way to go before it becomes an internationally established competitor.
International sales will be possible only on the basis of a delivery and support track record.
We predict in excess of 1100 sales for the C919 through to 2036, with 20% of these sales to airline operators outside of China. But this international penetration is expected to extend only to African and Asian operators.